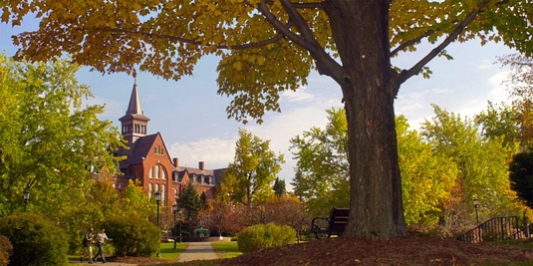 Tax administration support for staff, faculty, & students in navigating tax laws (VT sales & use tax, unrelated business income tax, payments to foreign nationals & corporations, etc) is provided by the Payroll & Tax Services team within University Financial Services (UFS). We also administer all of the University's required federal, state, & local tax filings.
2018 Tax Law and Job Cuts Act
Effective January 1, 2018, the Tax Law and Job Cuts Act has the following impact on individuals, departments, and the University:
UVM individuals
The tax withholding tables have changed, and PeopleSoft HCM has been updated. Employees should have seen changes reflected in their February 2 (bi-weekly) and February 15 (semi-monthly) paychecks.
Departments
The biggest change is the
taxability of relocation reimbursement.
In the past, part of this was allowable/non-taxable. Effective 1/1/18, amounts paid to a new employee for the reimbursement or payment of relocation expenses, including payments made by the University to third parties on behalf of the employee (i.e. payments to moving companies), will be subject to federal withholding tax and FICA.
If your department is hiring and providing relocation assistance, please note in the hiring documentation to the new employee that all relocation expenses will be fully taxable.
All relocation payments will need to be paid through Payroll via an Additional Pay Form to be taxed accordingly using a new earnings code (429). The
Relocation University Operating Procedure (UOP)
is being revised to reflect these changes.
University-level
Activities subject to Unrelated Business Income Tax (UBIT) can no longer be aggregated to offset gains with losses. Under the new law, each activity must be segregated: those with profits will have to pay UBIT, and those with losses will accumulate losses. Payroll & Tax Services will be working with units that have activities subject to UBIT. In addition, some fundraising activities may be affected; for example, when athletic tickets are given in exchange for a donation, the donation is no longer tax-deductible. Many other provisions for colleges and universities in the law do not apply to UVM because we are too small. Contact Payroll & Tax Services at 656-6600.
Foreign nationals/nonresident aliens
Unrelated Business Income Tax (UBIT)
UVM is exempt from federal income taxation as a 501(c)(3) tax-exempt organization; however, the university is required to pay federal income tax on net income from activities that are unrelated to the three key components of the tax-exempt mission of the university: teaching, research, and public service. Unrelated Business Income Tax (UBIT) is the federal income tax imposed on the Unrelated Business Income (UBI) generated by tax-exempt organizations. Read more about UBIT . . .