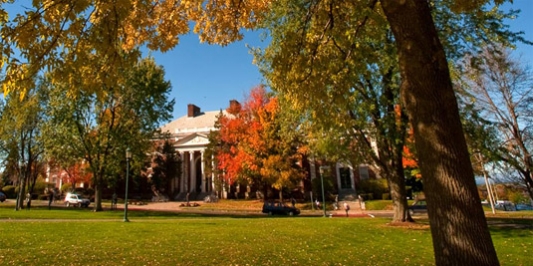 Purchasing News
Staples Business Advantage
UVM is once again partnering with Staples Business Advantage as our mandated office supply provider. Here are some contract highlights:
Small online orders $20.00-$49.99 can be placed with no additional fee (or discount)
Online orders $50.00 and up will receive an instant 14% discount upon checkout
100% recycled copier paper price will remain the same at $32.50/case
Continued dedicated Account Representatives for UVM's customer service needs
Deep discounts on UVM's top 350 items most frequently purchased in previous years, including environmentally friendly green products
IT Contracts Footprint System
Contracts involving software or hardware require additional review for IT security compliance. Purchasing Services is working with ETS to roll out a Footprints workflow to coordinate review by multiple UVM offices. These types of IT contracts (previously sent directly to Purchasing) will now be entered directly into Footprints by the departments and will require specific questions to be answered, which will replace the current IT Checklist.
The Footprint system will offer transparency to the department as they will receive email updates on the status of the contract as it moves through the review process. More information on roll-out and effective start dates is coming soon from ETS.
School Bus Services
Due to the current shortage of bus drivers in the industry, Purchasing Services has partnered with additional suppliers.
First check for availability with the Contracted Suppliers. If the contracted suppliers are not available, please contact the supplemental suppliers for availability in the order listed below.
UVM's Contracted Suppliers
*If you have a small number of passengers and have drivers that are certified by Risk Management, please consider using 12-passenger vans. These can be rented from AVIS or Hertz using the UVM contract or potentially borrowed from internal departments depending on availability.
Additional Suppliers
These suppliers are to be used only if UVM's contracted suppliers are not available to accommodate your reservation. Please contact the additional suppliers for availability in the order listed here:
Once you have a confirmation reservation cost estimate from a supplemental supplier, please submit a requisition in PeopleSoft.
Uniform Guidance Purchasing Requirements on Sponsored Projects
Effective July 1, 2018, all purchases between $10,001 and $25,000 directly charged or transferred to a Sponsored Project (GCA01) require a minimum of two quotes from different suppliers prior to the purchase, unless using an approved contracted supplier or the purchase is deemed a single/sole source.
If two quotes are not obtained, the charge will not be allowed on a sponsored project as a direct charge or cost transfer from other funds, and the PI's department or the Dean's office will be responsible for covering the expense.
Whom to Contact with Questions
If you have questions about the following transactions/processes, please contact the applicable department.
New supplier set-up and management ("supplier file")
Payments (ACH/checks/ePayables, credits, voids, reissues)
UVM Costco Card
UVM's purchase order process is administered by the Purchasing Services department within University Financial Services (UFS). Purchasing Services is responsible for establishing, providing oversight of, and ensuring compliance with all University procurement requirements. The Purchasing team helps faculty and staff identify, select, and acquire needed goods and services as economically as possible. All University personnel are required to follow University purchasing and procurement policies and procedures to ensure that quality and service standards are met and to provide accountability of University expenditures.