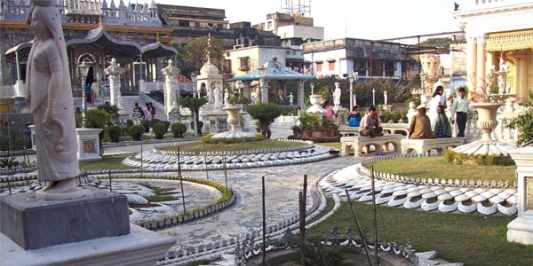 Each semester usually around 25 or 30 of our students are pursuing the educational opportunity of a lifetime by taking some time to study in another country. UVM students have the opportunity to study in over 120 countries around the world, and UVM's Office of International Education works with students in order to find programs that fit their academic, linguistic, and cultural aspirations. With careful planning almost all Honors College students are able to complete their HC requirements and study abroad.
If you are thinking about studying abroad, first you will need attend a Study Abroad 101 workshop (required of all UVM Students). The workshops schedule is available on the Study Abroad Website:
Next, you will need to find a program. The Office of International Education webpage is an excellent place to begin.
Then, you need to consider your course requirements and fitting Honors College into your study plans. The following 30-minute tutorial is also available for Honors College students to learn more about study abroad considerations, processes, and resources on campus.
Interested in talking to an Honors College advisor about study abroad? During the Fall 2017 semester the Honors College is offering HCOL Study Abroad information sessions on . The Honors College workshops will be held on the following days:
Friday, September 29
Friday, October 6
Friday, October 13
Friday, October 20
Friday, October 27
All workshops are from 8:30 am-9:30 am in the Honors College Conference Room (034E University Heights North).
The Honors College & the Principia Program at the University of Glasgow
The Principia Consortium is a group of more than 26 Honors programs at liberal arts colleges and universities from across the United States that participate in an Honors study abroad program at the University of Glasgow. This program is open only to Honors programs/colleges and their students.
Here are some quick facts about the Principia Program in the UVM Honors College:
The Principia Program is open to HCOL sophomores and juniors, but in the UVM context, it makes by far the most sense for HCOL sophomores in their spring semester of sophomore year to participate in the program.
The requirements for the program include good standing in the Honors College, as well as a thoughtful and considered application.
Application to the program will involve two steps (internal, and external—see below), and the completion of the UVM iAbroad process that the student must begin 12-15 months before going abroad (see also below).
There is no quota on the number of students we can send to Glasgow, but acceptance is not automatic. In other words, we will base our own decisions about who to send on the quality of the application. That said, students that the UVM Honors College recommends for the program will typically be accepted into the University of Glasgow on our recommendation (provided the student has submitted to Glasgow a complete application).
The Principia Program operates as a separate study abroad program, not as an exchange. This means that students will be on a study leave from UVM during the semester they are in Glasgow, and they will pay their fees directly to the University of Glasgow. This also means that any UVM-specific financial aid (including merit aid) will not go with the student to Glasgow. Federal financial aid, however, will go with the student.
Tuition fees (as of the 2015-16 academic year) for an international student at the University of Glasgow for one semester are £7450, or about $10,332 USD. The University of Glasgow estimates living expenses for a semester to be around £3,000 (about $4700 USD).
All students from UVM participating in the Principia Program are considered international students.
Students are guaranteed housing in one of the University of Glasgow residence halls. All the rooms are suite-style accommodations with cooking facilities.
The Principia Program in Glasgow has an extremely helpful staff; students are very well taken care of, and answers to all questions are a quickly-answered email or a phone call away.
All the Principia students take the Scottish Enlightenment seminar, which will count for their second Honors sophomore seminar at UVM (either HCOL 185 or HCOL 186).
Principia is organized such that students on a science track can get their requirements done—particularly in Organic Chemistry, Physics, and Anatomy—in Glasgow. But the Principia program is not just for students in science disciplines. Hundreds of courses are available for the Principia students to take at the University of Glasgow, allowing the program to accommodate most other majors (with the exception of engineering, nursing, and probably education majors).
For more information, please browse through the websites below:
Principia site:
http://www.gla.ac.uk/subjects/scottishliterature/undergraduate/principia/
University of Glasgow information for international students:
http://www.gla.ac.uk/study/visiting/studyabroadexchange/studyabroadprogramme/howtoapply/
Application
There is a two-step process in order to apply to the Principia program:
1) Honors College internal application – DUE MARCH 31, 2018
By 4 p.m. the day of the deadline, all students seeking an Honors College nomination must have, 1) Attended a Study Abroad 101 Session offered by UVM's Office of International Education, and 2) Submit a complete nomination application. The application will consist of a short essay explaining why you want to study abroad with the Principia program in Glasgow, and a letter of recommendation from one UVM faculty member. Once the spring semester is complete, we will add your transcript to the application (no need for you to send it to us).
Download the Honors College internal application here.
2) Complete your Glasgow University application and related parts of the iAbroad process by September 15, 2017. This is UVM's deadline for all students planning to study abroad on an external program in Spring 2018.
Once you have been approved for the program via the internal application, you will apply directly to the University of Glasgow. Your part of the application will consist of your uploading the same essay you wrote for the internal application and your transcript (and filling in the other information asked as part of the application). The application also asks for two letters of recommendation, both of which will be sent in by the Honors College under separate cover. You will be able to access the application on this website:
http://www.gla.ac.uk/international/abroadexchange/studyabroadincoming/studyabroadprogramme/howtoapply/
While the University of Glasgow study abroad application is due October 2017, you will already have your application completed via UVM's study abroad process.
A FINAL IMPORTANT NOTE: As you are planning to study abroad, be sure to complete UVM's Study Abroad planning process through the iAbroad system.. OIE suggests that you begin the iAbroad process 12-15 months before you plan to leave on your study abroad semester.