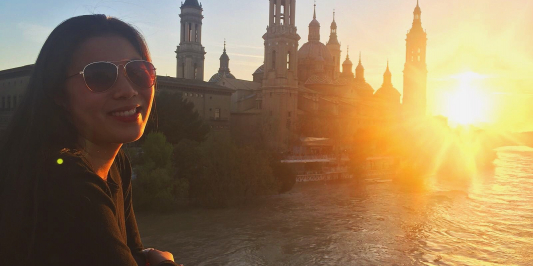 Congratulations! You are about to start the process toward one of the best experiences of your life: study abroad.
Studying abroad is a phenomenal opportunity, but it does take some work – which is why we, the Office of International Education, are here to help.
To start the study abroad process, students need to either:
Attend a 45 minute-long Study Abroad 101 information session in the Hub (Davis Center ground floor, by the tunnel under Main Street) View upcoming Study Abroad 101 sessions on the Calendar of Events
OR Review all the information below on our Getting Started page and our Understanding iAbroad page
Once students do one of the above options, they will take an online quiz. Students are required to get 100% on this 10-question quiz, and can re-take it until they reach 100%.
Keep reading to complete the second of the above options, and to find out more about how to get started on the study abroad process at UVM.
Passports
Anyone planning to study abroad will need a valid passport. Most study abroad programs will require you to submit a copy of the photo page of your passport as a part of their application. Your passport should be valid for at least 6 months after your return from abroad, though some destination countries will require a longer period of validity. If you do not have a valid passport with this amount of validity beyond the end date of your program abroad, you should apply for a passport or renew your old one before you apply to study abroad. In the US, passport applications typically take 6-8 weeks to process.
To apply for or renew a US passport, visit the State Department's passport website.
If you are an international student, visit the Office of International Education during walk-in hours to let an International Student Advisor know you plan to study abroad. They will help you make sure your US visa will be in order while you are away.
Check your eligibility to study abroad
UVM requires that any student planning to study abroad:
be a matriculated student (which means that you are fully enrolled in a degree-seeking program)
have sophomore standing

transfer students need to have completed at least 1 semester at UVM before applying to study abroad

have a GPA of 2.5 or higher
have good behavioral standing
Individual study abroad programs often have higher eligibility requirements, especially regarding GPA (some programs require a 2.75, 3.0, or even higher GPA) and language-level (some programs require up to 6 semesters of college-level language experience or the equivalent). Always check your program's requirements before you apply to see if you are a good candidate for that program. Do not hesitate to ask your Study Abroad Advisor in OIE for help.
For more information about study abroad eligibilty, please see Application Deadlines and Eligibility. If you have questions about your own eligibility, please contact the OIE and we will be happy to discuss your specific situation.
Study abroad program types
UVM offers several different types of programs. For more detailed information, please see Types of Programs and review the Study Abroad Programs Grid for a visual comparison between program types, and see Finances for more detailed information about the financial differences between them.
UVM Bilateral Exchanges and ISEP Exchanges

These programs are always a semester or year in length (no summer options)
Students are fully immersed in a foreign university, often with local students and other exchange students from other universities
Exchange programs are fairly independent and require a good level of initiative, responsibility, and maturity from students
Currently, Vermont resident students pay the UVM in-state tuition rate, and out-of-state students pay tuition at the "exchange rate" which is equivalent to a 40% reduction on out-of-state tuition. Financial aid, including UVM grants and scholarships, can apply to exchange programs. UVM grants and scholarships are reduced for out-of-state students to account for the reduction in tuition
As long as students get the equivalent of a C or better in their courses abroad, their credits can transfer back to UVM, but they will not affect their UVM GPA and their grades from abroad will not show on their UVM transcript

External programs

Available for semester, year-long, and summer experiences
These include program provider options, ISEP Direct, direct-enroll options, and field-based programs, so many different types of experiences are available, which means that the independence level varies from program to program
No tuition is paid to UVM, and instead students pay all fees to the program provider or host university. This means that costs vary from program to program. Your study abroad advisors at OIE can help you compare costs between programs
Students participating in approved external programs will not qualify for UVM grants and scholarships during their time abroad, but may continue to use federal and state aid to assist in financing their study abroad programs
As long as students get the equivalent of a C or better in their courses abroad, their credits can transfer back to UVM, but they will not affect their UVM GPA and their grades from abroad will not show on their UVM transcript

UVM Semester Programs

Currently there is one UVM Semester Program in Costa Rica. This has been offered in Spring semesters only but starting in 2020, it will be offered for Fall semester as well.
These programs are taught by UVM faculty, with UVM students, which means that the independence level required is lower
Students pay their usual tuition to UVM, plus a program fee that covers other costs like housing, local transportation, class activities, etc.
UVM grants and scholarships are eligible for use on these programs, as are federal and state financial aid
Because students take UVM classes on this type of program, students get UVM credit (not transfer credit) and grades from abroad do affect their UVM GPA and are visible on their UVM transcript

Travel Study programs

These are short-term programs offered over winter, spring, and summer breaks
Travel Study programs are UVM courses taught by UVM faculty with UVM students for a short period of time, so independence level is low
These programs are visible in iAbroad and at Continuing and Distance Education's Travel Study website
Since these are UVM courses, they do affect students' UVM GPAs and their grades show on students' UVM transcripts
Application deadlines
Summer, Fall Semester, Academic Year:
January 10: Exchange application deadline
February 15: Final deadline for all study abroad programs (including all external programs and any exchanges with spaces left open after the January 10 deadline)
Spring Semester, Calendar Year:
August 10: Exchange application deadline
September 15: Final deadline for all study abroad programs (including all external programs and any exchanges with spaces left open after the August 10 deadline)
All UVM students must follow these deadlines, unless your program's deadline is earlier. External program providers may publish deadlines that are later than UVM's deadlines, in these cases please ignore them- you need to submit your program application by UVM's deadline. For more information, see Application Deadlines and Eligibility.
Please note: Travel Study and the UVM semester program have their own deadlines.
Keeping your parents/guardians updated
It's important to discuss your study abroad plans with your parents and guardians. You should keep them up to date on the finances and costs of study abroad, location information about where you want to go and what you want to study while abroad, and general information about the study abroad process. When you are preparing to study abroad, your parents and guardians should not conduct your research for you, fill out your application, or work in your iAbroad account. You are responsible for your study abroad experience, and you will need to use the information and knowledge that you will get from the study abroad process while you are abroad.
Study abroad advisors in the OIE do answer general questions from parents/guardians regularly, but we do not share personal information with them about students' plans to study abroad, or about the progress they've made in their applications. Please make sure you, the student, are sharing any pertinent information with them that they might need.
The study abroad fee
All students studying abroad on approved exchange, UVM semester, and external programs pay a study abroad fee to UVM. For more information on this fee, please see our Finances page.
$500 for a semester or year-long program
$250 for a summer program
This fee keeps you enrolled at UVM while you are abroad, which allows for the appropriate release of financial aid. It also allows students to retain access to UVM resources including the UVM library, class registration, Transfer Affairs, and the assistance of the Study Abroad Advisors. It also enrolls you in International SOS, an emergency assistance program. For more information about International SOS, please see our Health and Safety Abroad page, or visit the International SOS website.
Learn about the visa process
First, a few definitions:
A visa is permission from a foreign government for you to visit their country for a specific amount of time, and for a specific purpose. If you've ever been to a foreign country and gotten a stamp in your passport- that is an example of a visa (typically a visitor/tourist visa) given to you upon arrival to that foreign country.
An embassy is a country's official representation/location in another country- where their diplomats are based in their host country's capital city. In the US, these are all located in the Washington DC area.
A consulate is a smaller diplomatic office in a different city of the same host country. For example: the Government of Chile has an embassy in Washington DC, and also a consulate in Boston.
Most students who study abroad for a semester or longer, and some students going abroad for a shorter period of time, will need to apply for a student visa before they leave to study abroad.
Visa regulations and processes are different for all destination countries. There may even be different regulations between consulates of the same country (for example, students applying to the Italian consulate in Boston must follow different rules for getting a visa than the students applying to the Italian consulate in New York City).
Many visa processes will require applicants to make an appointment at the consulate or embassy in their region for an interview or to turn in documents in person.
The length of time a visa process takes is very different from country to country- ranging from a day or two, to several months. That's why it's important to start your research early!
Visa regulations may be different depending on your country of citizenship.
If you are doing an internship or otherwise planning to work while abroad, some countries will require you to get extra authorization, in the form of a work permit or visa.
You cannot apply for a student visa until you've been accepted to a study abroad program and have a valid passport. So focus on acheiving those first, but also do your research to find out what the visa process will be like for you, and what documentation you will need to gather for it.
You should take all final visa advice and guidance from your host country's embassy or consulate. If you are participating in an external study abroad program through a program provider, your provider may be able to provide you with some guidance on your visa process. OIE cannot provide official visa advice to students, but the Study Abroad Advisors in OIE can point students in the right direction to find and understand visa advice from their consulate.
Things to consider when choosing a destination
There are many factors you might want to consider while choosing where to study abroad. The Study Abroad Advisors in OIE can discuss any of these factors with you, and provide you with resources to help you find a program that best suits your needs.
Academic needs: What courses or subject areas do you need to take, and what programs would offer those? Are you planning on doing an internship- and if so, what programs offer those in your discipline? Do you need academic accommodations, and what program options would offer the support you need?
Cost: Programs can vary greatly in cost. See our Finances page for detailed information about how each different type of program works financially. When choosing an external program, make sure you know what the costs are (they are always published on the program/host university website) and what additional scholarships could be available to you through your program provider.
Program dates: Some programs have very different semester dates than a typical US university does. For example, the academic year in the Southern Hemisphere is typically from February to November, so if you plan to study abroad in Fall, your semester might be from July to November. For some universities in Europe and elsewhere, their Fall semester may start in October and last until February or so, and their Spring semester may be from March to July. Keep in mind any commitments you might have that could interfere with your program's dates.
Medical history/needs: Do you have any mental or physical health conditions? If so, talk with your medical professionals about starting to create a plan for you to handle your condition while you are abroad. If you take medication or need accommodations or care while abroad, your medical professionals can help you sort this out. Our Health and Safety Abroad page and its associated links might be helpful for you. If you have a documented disability, Student Accessibility Services can give you advice on how to proceed with getting appropriate accommodations abroad, and our Students with Disabilities Abroad page offers some tips and resources. While some countries or programs may not be able to offer suitable accommodations, there are likely many that would be able to provide what you need. It is helpful to talk with the OIE and your program provider/host university about this as well so that you can be sure you know what is available in your host country.
Dietary needs: Do you have food allergies or intolerances? Are you a vegetarian, a vegan, do you eat gluten-free, or have any other special dietary needs? If so, you should do some research into the food options in your host country and on the programs you're considering to make sure they would suit your needs. Talk with the OIE and your program provider/host university about how you can manage these dietary needs abroad.
Host language: Do you need to take all your classes in English, or do you have several semesters of a foreign language you'd like to put to use by taking your classes in that language? For most programs that teach classes in a foreign language, from 4-6 semesters of college-level language (or the equivalent) is required. If you have that much foreign language experience, OIE would definitely encourage you to think about taking your courses in your foreign language- there is no better way to improve your fluency. If you don't have that much foreign language experience, there are many programs that are offered in English even where English is not the local language, but some programs may be more limited in subject area offered in English. You should do your research into the language requirements of the programs you are considering.
Personal connection or identity: Is your family ancestry from Ghana, and you want to learn more about it? Are you really interested in learning about the Finnish education system, one of the best in the world? Do you identify as LGBTQ and want to find out more about the history of LGBTQ rights and social movements in the Netherlands? Did you have a pen pal from Chile when you were a kid and you want to learn more about her country? Do you love the Lord of the Rings movies and you want to visit New Zealand? We all hold a myriad of personal identities and interests, and so we all have many different personal connections to countries around the world. Consider your identities and personal connections to different countries, and think about whether or not you'd like to explore any of these connections or identities while you are abroad. Some of our identity-focused pages may be able to help guide you:
Plan your UVM housing
In Burlington's tight rental market, off-campus housing decisions typically need to be made very far in advance. Many students report that it is difficult to find a subletter for their off-campus apartment during their semester abroad. Some landlords will not even allow subleases. You may find it easier and less stressful to sign up to live on campus for the semester before or after your semester abroad. UVM on-campus housing is available to you as a full-time undergraduate student, even if you have already fulfilled your residency requirement. Please see Residential Life's page for information about completing a housing contract and selecting a room.
If you do choose to live off campus during the semester before or after your study abroad semester, you should plan ahead to make sure that your landlord will allow you to sublease your apartment and that your roommates are happy with the arrangement. You should also allow for plenty of time to find a subletter. The University of Vermont Off-Campus Housing Service provides a way to post a free sublet listing, and has message boards and other resources.
iAbroad
iAbroad is UVM's searchable study abroad program database. It also functions as a personalized checklist for all students to use throughout the study abroad application and pre-departure processes. All students must complete their iAbroad checklists by the end of classes in the semester preceding their study abroad experience. Please visit our Understanding iAbroad page to read more about how to search for programs that suit you, learn how to log in to iAbroad, and to learn more about the timeline and contents of your iAbroad checklist's four phases. Reading Understanding iAbroad thouroughly is required for the Study Abroad 101 quiz.
Meet with your academic advisor
Once you have attended a Study Abroad 101 Session or read this website and successfully completed the Study Abroad 101 quiz, you should meet with your Academic Advisor. With their help, you will need to complete the Academic Advising form for your College- these forms are available on the right side of this page as well as on the Study Abroad Forms page. Your discussion with your advisor should include the following topics:
When is the best semester to study abroad?
Do you need to take classes for your major, minor, or general electives?
Are there classes for your major that you must take at UVM?
After your meeting with your academic advisor, follow the instructions at the bottom of the page to find out where to bring the form.
Your next steps
Your first step after reading this guide is to log in to iAbroad using the "Inquiry phase" link under the "My Academic Interests" box, as the page Understanding iAbroad describes under the section "Logging in to iAbroad for the first time". After that, you will need to complete the first form of your Inquiry phase checklist: called "Begin the iAbroad Process and Attend a Study Abroad 101 Session". Once you complete this form, it will show as pending.
You will also need to take the Study Abroad 101 quiz. Once you get all ten questions correct, we will be able to approve your "Begin the iAbroad Process and Complete Study Abroad 101 Quiz" within 3 business days. That will allow you to move forward in the study abroad process in iAbroad, and to schedule an appointment with a Study Abroad Advisor if you wish to meet with one.
After you've done that, you should continue through your Inquiry phase. The phase is designed to guide you through the process of choosing a study abroad program, determining your eligibility, and starting the application.
If you would like to meet with a Study Abroad Advisor, before scheduling an appointment please make sure that you have:
Researched study abroad programs using the iAbroad search function, and have some in mind that you would be interested in
Read and completed as much of the Inquiry phase forms as possible
Met with your academic advisor to discuss your academic needs while studying abroad, and completed the Academic Advising form (to the right on this page and also available on the Study Abroad Forms page)
Please complete these steps on your own before meeting with a study abroad advisor. This will help ensure that your meeting is as useful to you as possible. After you have completed these steps, you can call our office to set up an appointment with a study abroad advisor. We cannot schedule meetings via email, but we can take general questions at studyabroad@uvm.edu.
Our Study Abroad Preparation Timeline handout (PDF) gives a good summary of the whole study abroad process and when each step should be completed.
Get connected with UVM Study Abroad
We are so excited to work with you as you prepare to study abroad!