Checking Registration Status
1) Follow the link and log into myUVM - https://myuvm.uvm.edu/cp/home/displaylogin
2) Click on the "Registrar" tab.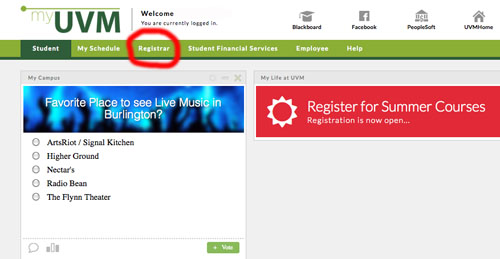 3) Click the "Check Registration Status" option under the Your Courses sub menu.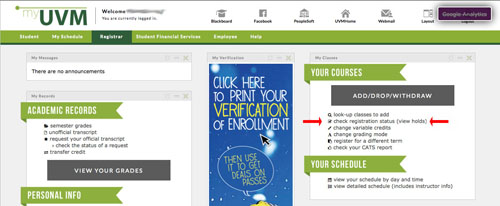 4) Select the semester you are registering for in the "Select a Term" drop down menu. Then click the "Submit" button.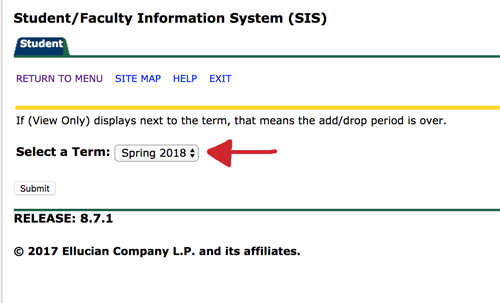 5) You are now on the Check Your Registration Status Page
For students with First Day Priority Registration – 7 AM on the first day of the registration schedule
For students with In Class Priority Registration – 6:30 AM on the day of your class/credit status
arrow pointing to section with "your time slots for registration are as follows"
This page displays your registration time slot, as well as various items which may affect your registration: holds, academic standing, student status, class standing etc.
If you have ANY holds, contact the registrar's office. SAS CANNOT RELEASE HOLDS ON YOUR ACCOUNT
If you do not know your User ID and/or password, or are having difficulty navigating through this process to determine your Registration Status, contact the Registrar's Office: 802-656-2045
If you have received Priority Registration, you may have two dates listed.
Use the schedule on the following page for more information:
http://www.uvm.edu/~rgweb/?Page=registration/r_registrationmain.html&SM=r_menu.html
If you have questions or concerns about any of the above, please contact your Specialist in SAS .
Best wishes in planning and scheduling a successful course load for next semester!