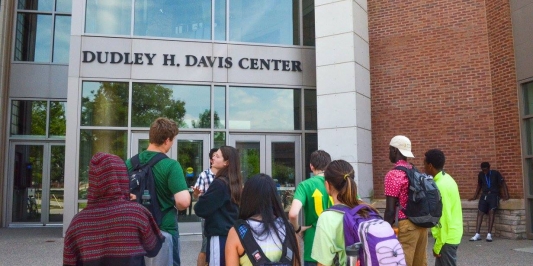 Each year, Upward Bound runs a non-residential 6-week summer program (UB Summer College) on the UVM campus for up to 50 local high school students. Three summer positions will open up, all of which are AmeriCorps service positions through CEDO EACH Youth.

All summer AmeriCorps members are expected to serve as positive role models for students throughout the summer and to be with them during all program hours. They will use their experiences in college to reflect on challenges they faced during the transition from secondary to postsecondary education and initiate deliberate conversations around college aspirations and career pathways. They will also plan and facilitate afternoon activities, lead college and career exploration workshops, and oversee students during off-campus trips and community service events. This includes accompanying students on the Leadership Trip, a trip with 40-50 program participants to a location TBD to explore area colleges, visit local museums, and take in other unique cultural experiences. Successful candidates will receive a $3703 stipend distributed bi-weekly and a $1453 education award after successful completion of 450 hours of service.
If interested in applying, please forward a resume, cover letter, 3 references, and a copy of an unofficial transcript to adam.hurwitz@uvm.edu.