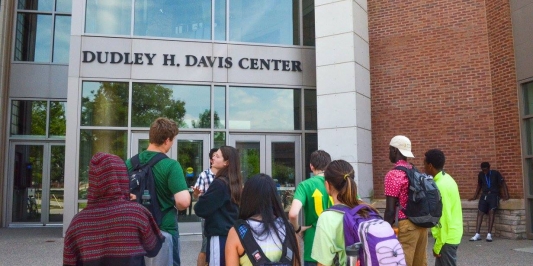 SCHOOL YEAR:
Upward Bound provides free 1-on-1 tutoring to participants, and pays tutors hourly based on experience. Common tutoring subjects include: Math (Geometry, Algebra, Pre-Calculus, Calculus), Chemistry, Biology, Physics, Foreign Language, and English. 
Tutors must be able to meet students at Burlington or Winooski High School for sessions. If interested, please contact Program Director - Adam Hurwitz at: adam.hurwitz@uvm.edu.
SUMMER:
The University of Vermont TRIO Upward Bound is hiring for 6 summer internship positions!
The University of Vermont TRIO Upward Bound (UB) is a federally-funded college access program for limited-income high school students who would be the first generation in their families to attend college. Our goal is to support students throughout their time in high school, preparing them to apply to college and be successful once they arrive there. From June 15th – July 24th, 2020 we will run a six-week, non-residential summer program (UB Summer College) on the UVM campus for up to 50 local high school students. Summer staff are also expected to attend Staff Orientation/Training from June 8th – 12th.
This is an amazing opportunity to be part of a creative and impactful program to support high school students in their aspirations to attend college. We are hiring for the following internship positions:
6 Tutor-Counselors:
• Partner with course instructors to assist them in delivering course content 
• Serve as an academic liaison between instructors, students, and UB staff
• Tutor students in specific academic subjects to help them improve academic skills
• Use your experiences in college to reflect on challenges students may face during the transition
• Initiate deliberate conversations around college aspirations and career pathways
To apply, please submit the following to Program Director, Adam Hurwitz (adam.hurwitz@uvm.edu):
(1) cover letter
(2) resume
(3) 3 references
(4) copy of unofficial undergraduate transcript
Deadline is March 26th - interviews will be scheduled promptly thereafter.