Watch Online
Visit FB-Sustainability Forum Insights – Complementary, short (1-5 min.), searchable video clips on key insights from our Forums.
2021-2022 Academic Term
In these virtual one-hour sessions, family business leaders, scholars, and experts share their experiences and knowledge at the intersection of sustainability and family business.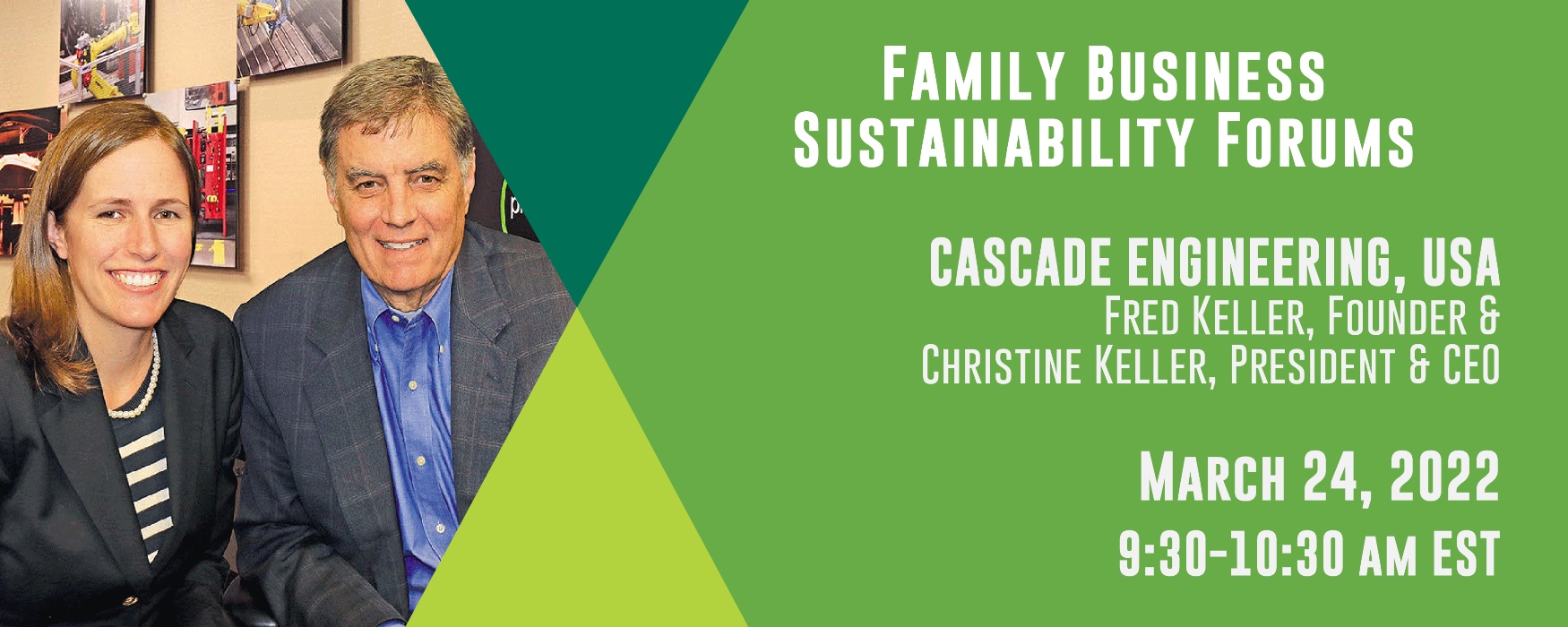 CASCADE ENGINEERING, USA
March 24, 2022, 9:30 am – 10:30 am EST
Influenced by the 1960s civil rights movement, Founder Fred Keller built Cascade Engineering over the past 40 years into a $400 million family business and registered B-Corp focused on large plastic injection molding solutions for a variety of industries. A pioneer in institutionalizing the triple bottom line as a core business strategy, Cascade's "welfare to career" program has long hired the disadvantaged. Daughter Christina became President and CEO of Cascade in 2018 after working for nearly 10 years in various roles within the company. She along with her two sisters own 51% of the company, making it a women-owned family business. Long-time friend of the company, Professor Stuart Hart, will engage Fred and Christina in a spirited discussion about their aspirations—societal and strategic—for the company looking out a decade and beyond. [Host: Prof. Dita Sharma]
More webinars to come!

STATE GARDEN INC., USA
September 24 2021, 9:30-10:30 am EST
Mark DeMichaelis ('87), President and CEO of State Garden Inc., shares how three generations of his family transformed their small celery processing and re-packaging business started in 1938, to become a top producer of sustainably sourced organic produce distributed through highly successful Olivia's Organics and Simple Beginnings retail brands. Son, Mark Jr., reveals how fourth-generation DeMichaelis cousins are preparing to continue their legacy business focused on doing well by doing good. [Host: Prof. Dita Sharma]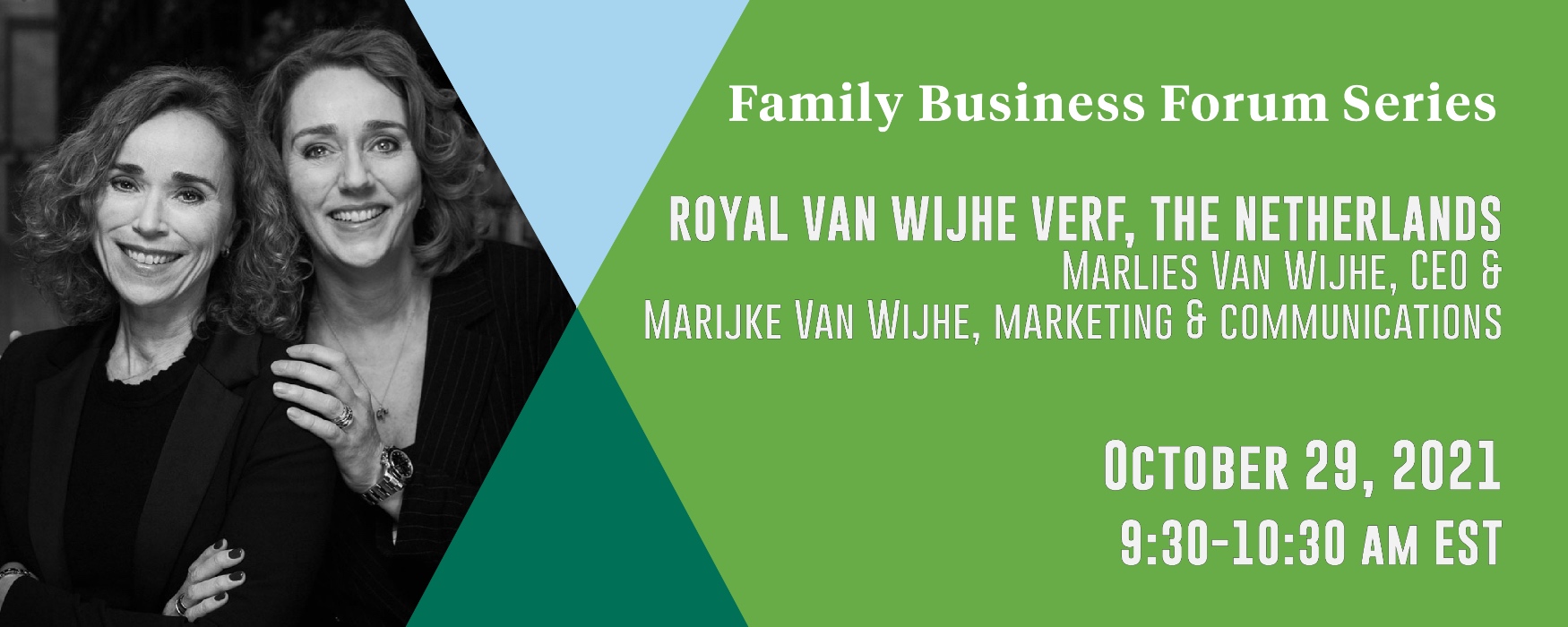 ROYAL VAN WIJHE VERF, THE NETHERLANDS
October 29, 2021, 9:30-10:30 am EST
In this interactive session, fourth generation sisters Marlies Van Wijhe and Marijke Van Wijhe of Royal Van Wijhe Verf join Windesheim University professor Judith Van Helvert-Beugels to explain the evolution of their 100+ year old Dutch paint manufacturing business into a leading producer of high-quality long-lasting paints and coatings by focusing on sustainability. As the world's first B-Corp in their industry, these phenomenal sisters discuss their experiences as they integrate environmentally friendly raw materials into their products and work towards their ambitious goal of achieving carbon neutrality by 2025. [Host: Prof. Dita Sharma].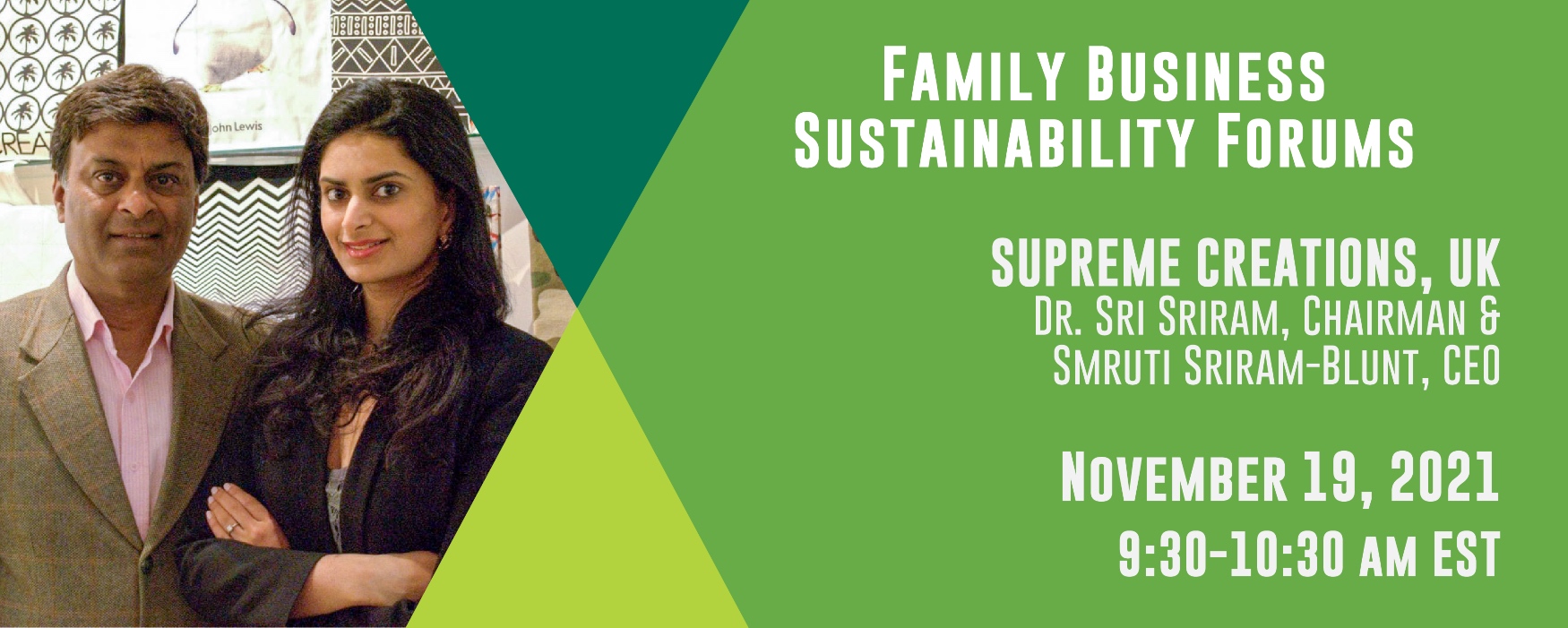 SUPREME CREATIONS, UK
November 19, 2021; 9:30 am – 10:30 am EST
Founder and Managing Director Dr. Sri Sriram and CEO Smruti Sriram-Blunt of Supreme Creations of UK, the world's largest ethical manufacturer of eco-friendly packaging discuss the transformation of the business. From a trading business dealing with textile raw materials Sri set up a manufacturing base first in the UK and then moved it to India. The business now supplies to over 60,000 retail chains around the world from Dior, Nike, Tesco, H+M, John Lewis and is favored by British royalty, American film stars and musicians. Products range from designer tote bags, beauty and food packaging and face masks. The founder's vision of employing hundreds of women from under privileged economic backgrounds and sticking to ethical manufacturing became not only socially but financially viable. In a candid conversation with Dean Sanjay Sharma, the father-daughter duo reveals the challenges of keeping their twenty-year-old trans-national sustainable manufacturing business growing amidst a pandemic. [Host: Prof. Dita Sharma]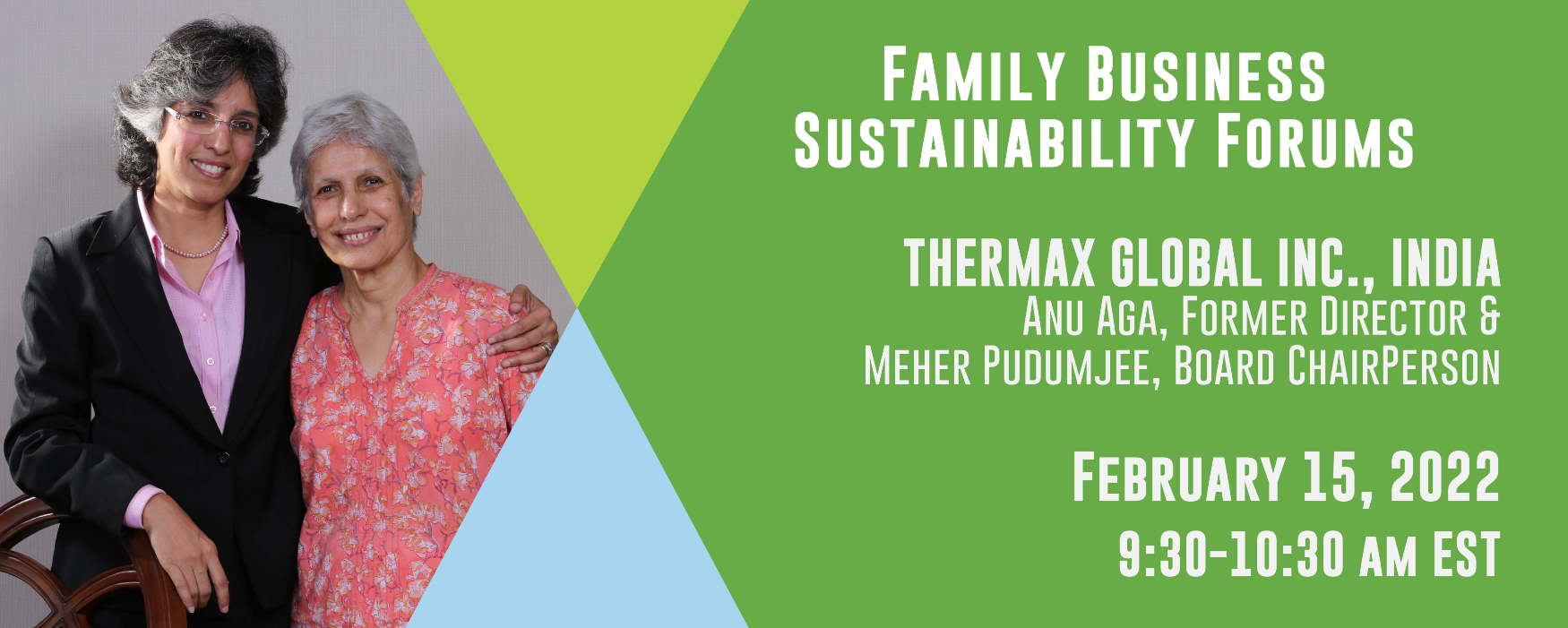 THERMAX GLOBAL INC., INDIA
February 15, 2022, 9:30 am – 10:30 am EST/ 8:00 pm – 9:00 pm Indian time
The second and third generation mother-daughter team of Anu Aga and Meher Pudumjee of Thermax Global, a highly professional publicly listed Indian company at the forefront of manufacturing energy solutions to curb environmental impact, join Prof. Kavil Ramachandran of the Indian School of Business to discuss the practicalities of governing a 40+ year old, $770 million enterprise with over 4,500 employees. Anu and Meher share how they drew energy from their deep-rooted family values to persevere through painful life experiences of losing loved ones, and grow their company's sales network across 29 countries with 14 state-of-the-art manufacturing facilities in Asia and Europe. Their deep commitment to  professionalisation, sound governance practices, and contributions to Indian societal issues continues. [Host: Prof. PramoDITA Sharma]