As a University of Vermont Dietetics major, you will graduate with a background in clinical nutrition, community nutrition, food service management, research, and nutrition education. UVM's Dietetics major is a nationally-accredited Didactic Program in Dietetics (DPD), which means you will be eligible to apply to an internship or supervised practice program in order to become a Registered Dietitian Nutritionist (RDN) upon graduating from UVM.
The DPD program at UVM prepares graduates to be successful in dietetic internships, graduate schools and/or employment. Dietetic majors graduate with the knowledge and skills in science, nutrition, critical thinking, sustainability and cultural competency to excel in their careers.
Note: Effective January 1, 2024, the Commission on Dietetic Registration (CDR) will require a minimum of a master's degree to be eligible to take the credentialing exam to become a registered dietitian nutritionist (RDN). Check out UVM's Master of Science in Dietetics program here. >>
Experiential Education in Dietetics

As a Dietetics, Nutrition and Food Sciences major at UVM, you will have the chance to explore a wide variety of experiential learning opportunities. UVM student Nicole Cirilli describes hers: "I'm having a really amazing experience in the Montana Dietetics Internship. The focus is sustainable food systems. We spend the first few weeks in a professional development rotation, then the latter half of the summer working with local farms, cooking, hosting educational events, studying culinary medicine, and learning about fermentation."  Explore Internships and Research. >>
Concentration Requirements:
Breadth of Knowledge Courses:

​NFS 043: Fundamentals of Nutrition
NFS 044: Survey of the Field
NFS 053: Basic Concepts of Food
NFS 073: Farm to Table
NFS 203: Food Microbiology
NFS 213: Food Microbiology Lab
NFS 243: Advanced Nutrition
NFS 286: NFS Senior Seminar

Depth of Knowledge Courses:

​NFS 034: Servsafe Certification Course
NFS 143: Nutrition in the Life Cycle
NFS 223: Nutrition Education and Counseling
NFS 244: Nutrition in Health and Disease Prevention
NFS 250: Foodservice Systems
NFS 260: Diet and Disease
NFS 274: Community Praticum
BIOC 263: Nutritional Biochemistry
BSAD 060, or BSAD 009, or CDAE 158
BSAD 120: Principles Mangement and Organizational Behavior
HLTH 003: Medical Terminology
*General and CALS Core Curriculum requirements are found in the 4-year Academic Plan as well as in the Checklist of Required Courses located in the column on the right hand side of this page
Advising:
The faculty advisor-student connection can be one of the most significant aspects of college life.  Academic advisors provide critical guidance and assistance with course selection and career planning each semester.  They offer valuable career information, often can help in securing useful and exciting practical experience and frequently connect graduates with their own professional network.
Nutrition and Food Science (NFS) majors will have a faculty advisor assigned to them.  Students considering majoring in NFS should contact Dr. Todd Pritchard, our faculty advisor for potential majors. In your email to Dr. Todd please include days and times you are available and Dr. Todd will let you know what day and time also works for him to meet with you.  If you are a current UVM student wishing to transfer into NFS, or you have college credits at another higher education institution and want ot transfer into UVM/NFS,  including your transcript with the email is also helpful.
Registered Dietitian Nutritionists are credentialed by the Commission on Dietetic Registration (CDR). What Are the Requirements for Becoming a Registered Dietitian Nutritionist?
Step 1: Complete a minimum of a bachelor's degree at a U.S. regionally accredited university or college and the DPD coursework accredited or approved by Accreditation Council for Education and Dietetics (ACEND) of the Academy of Nutrition and Dietetics.  By successfully completing the dietetics major at UVM, you will finish this step!
Step 2: Complete an ACEND-accredited supervised practice program at a health-care facility, community agency, or a foodservice corporation or combined with undergraduate or graduate studies. Typically, a practice program will run six to 12 months in length.
Step 3: Pass a national examination administered by the Commission on Dietetic Registration (CDR). For more information regarding the examination, refer to CDR's Web site at  www.cdrnet.org.
Step 4: Complete any material needed for licensure/certification in desired state.  Vermont does not require RDNs to be licensed, but does have a voluntary certification process.
Step 5: Complete continuing professional educational requirements to maintain registration.
Note: In 2024 a Master's Degree will be required to become an RDN.  The master's degree can be completed on its own, or in a coordinated program with supervised practice.  The master's degree can be in any field.
What is the Policy for Obtaining a Verification Statement from UVM?
All UVM dietetics majors will be issued three copies of their verification statement after completion of their B.S. degree.
Students with other UVM majors, and students graduating from other colleges or universities need to adhere to the following guidelines.
◦Complete at least FOUR NFS courses at the 200 level or above at UVM.  Verification statements WILL NOT be issued to students who have not completed this four course requirement.
◦International students must provide a foreign degree equivalency statement from a not-for-profit agency.
◦Make sure all courses on the DPD checklist are completed, and any substitutions have been approved by the DPD director.
◦Provide the DPD director with copies of all transcripts denoting courses used to satisfy the DPD courses.
◦The DPD director will complete six copies of the Verification Statement and mail them to the student.
Where Does Completing the DPD Program Take You?
When you complete the UVM DPD program, you'll be given a verification statement, indicating that you have in fact completed all of the DPD requirements. The verification statement is required by the Academy of Nutrition and Dietetics in order to apply to an internship or supervised practice program to become a registered dietitian nutritionist (RDN). Completing the DPD coursework is the first step on the path to becoming a registered dietitian nutritionist.
What Are the DPD Program Goals and Policies?
Didactic Program in Dietetics (DPD) at UVM Mission: to prepare students with the knowledge and skills to be competent entry-level dietetic/nutrition practitioners with a dedication to life-long learning, the ability to effectively communicate, analyze, problem-solve, think critically, and work with others, and an understanding and appreciation of individual, community, and cultural differences.
DPD Program Goals:
The DPD program at UVM has two overarching program goals:
Program Goal 1 - The program will prepare graduates to be successful in dietetic internships, graduate schools, and/or employment.
Program Goal 2 - To produce graduates with the knowledge and skills in science, nutrition, critical thinking, communication, sustainability and cultural compentency to excel in supervised practice, further education, and careers in dietetics.
For specific objectives for each program goal please review the
Dietetics Handbook.
Program outcomes are available upon request.
What's Next? Grad School or Interning in the Field?
Many students who complete the UVM dietetics program want to continue their education to become Registered Dietitian Nutritionists. The UVM DPD program prepares you to pursue licensure/registration in every state.
Once you've completed the DPD program, the next step to becoming a Registered Dietetitan is to enroll in a:
dietetics internship
masters degree program
or a coordinated program that combines both the dietetic internship and the masters degree into one program (like UVM's MSD program). 
A Master's Degree will be required to become a Registered Dietitian Nutritionist starting in 2024.  The Master's Degree can be in any field.
Which Program is Right for Me?
The Academy of Nutrition and Dietetics maintains databases of internship programs, grad school programs, and coordinated programs. 
Please note: If you are searching for a coordinated program make sure to select the check-box that limits your search to "Only Programs that Result in a Graduate Degree," as you will already have your undergraduate degree once you graduate from the UVM dietetics program.
The Career Services office at UVM offer expertise in how to apply to graduate school or for internships. From crafting resumes to pathways to grad school, please contact Career Services today.
Are There Multiple Pathways to Career Success for a DNFS Major?
Didn't get that internship you were expecting, or decided to wait?  Here's what some of our alums are doing with their DNFS degree:
For more information regarding the program contact:
Dr. Lizzy Pope, PhD, RDN, Director of the Didactic Program in Dietetics at UVM.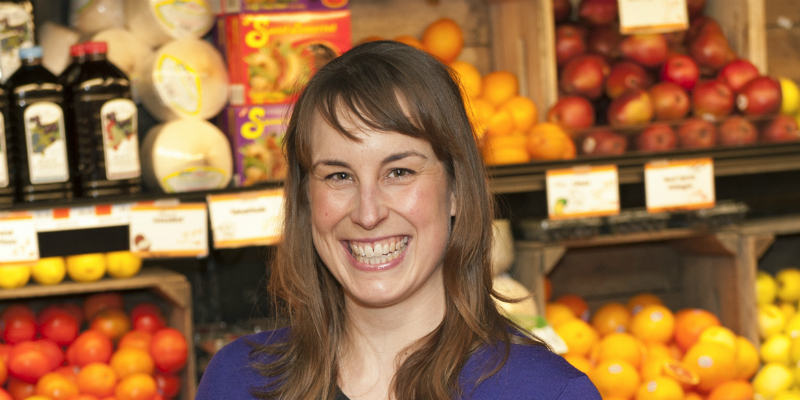 DPD Student Handbook
DNFS Juniors and Seniors: Internship/Grad Program Prep Information
At UVM we want you to achieve YOUR professional goals. We offer a senior seminar class, NFS 286, to help prepare seniors for application to internships/grad school as well as consider career planning.
For juniors, we conduct a workshop in the spring semester to provide an overview of the application process and what you can do to make your application stand out.
DICAS Required Course List
DICAS Course List
Beginning in 2014 all students planning to apply to internships through the computer matching application (DICAS) will need to include the above course list with their application materials. Any courses on the required course list should be inputted in the DICAS system as "DPD Courses," even English, Speech, and other Humanities Courses.  Because UVM requires them as part of the DPD, they count as DICAS DPD courses.
Transfer or Career-Switching Student DPD Course Checklist
DPD Course Checklist