Overview
UVM's two-year, online MSD program focuses on population health with a weight inclusive perspective. It is ACEND accredited and will prepare you for the Registration Examination for Dietitians and a rewarding career in the dietetics profession, a field with growing and varied opportunities.
100% RDN Credentialing, among students who have taken the Registration Examination for Dietitians.
100% Employment Rate, among students who seek employment within one year.
Contact us to learn more about our graduates' success and other program outcomes.
Curriculum Information
Week of Welcome Orientation
First-year MSD students come together on our beautiful campus for a week-long orientation two weeks before fall semester begins. The experience builds connections with other students in the cohort, the program director, and faculty. Attendance is mandatory, fulfilling—and fun!
Coursework
Our program uses Microsoft TEAMS and requires internet access with a minimum speed connection of 600kbps/1.2Mbps (up/down).
Coursework:
Fall Semester, Year 1
3 CH: Biostats I
3 CH: Food Regulation
3 CH: Intro to Pharmacology
2 CH: Journal Club (dietetics practice)
Inter-professional Practice (IPE) Modules; orientation, palliative care ALS video & discussion, virtual care planning clinic
Spring Semester, Year 1
4 CH: Supervised Practice
3 CH: Fundamentals of Critical Inquiry
IPE Modules: AHEC designed simulation; cultural awareness conference
Fall Semester, Year 2
4 CH Supervised practice II
3 CH: Evidence-based practice project
Spring Semester, Year 2
3 CH Elective: Nutrition for Global Health
3 CH Elective: Agroecology, Food Sovereignty & Social Movements
Capstone Presentation
Oral Comprehensive Exam
Inclusive Excellence Symposium

Community Health & Nutrition (CH&N) Concentration Competencies:
Program concentrations develop professional competency in four key areas:
CH&N 1 - Working knowledge of population health, including basic terminology, concepts, social determinants of health, weight stigma, and health inequity.
CH&N 2 - Ability to evaluate a community-based nutrition-focused health promotion intervention incorporating weight inclusivity and health equity.
CH&N 3 - Policy development skills are shaped through direct experience with legislative processes impacting population health, health inequity, or weight discrimination.
CH&N 4 - Research and presentations skills serving professional practice focused on community nutrition, population health, health equity, and/or sustainable food systems.
Supervised Practice Experience (SPE)
You'll complete 1000+ SPE hours during your second and third semesters and part of summer break. SPEs provide experience with a variety of practice settings and populations that will help focus your interests and strengthen your professional skills and your resume.
We have two SPE options—whichever you choose, we'll be by your side!
University Designed SPE:
With this option, all SPE rotations are arranged by the MSD program director and located in Vermont. Students choosing this option must reside in Vermont throughout their SPE rotations.
Self Designed SPE:
With this option, students locate SPE sites and preceptors on their own, anywhere in the U.S. following (and meeting) criteria outlined in our application materials.
Applicants interested in this option are encouraged to have their SPE plan in place before applying. In lieu of presenting a complete schedule, a statement outlining plans for identifying and securing rotations may be submitted.
Spring SPEs must be secured by Novemeber 15th of the prior semester; Fall SPEs must be secured by March 15th.
Students residing in or near Vermont may choose the self-designed SPE, but should not expect to secure rotations with sites already serving University-designed SPEs.
Comprehensive Exam & Capstone Project
Comprehensive Written Exam: All students must successfully complete an exam before advancing to presenting their Capstone Projects. The exam is taken in the fourth semester of the second year; one rewrite is granted those who do not succeed the first time.
Capstone Project: This culminating academic experience hones and showcases academic and technical writing ability, research skills, presentation skills and the application of dietetics principles to community nutrition and population health.
Graduation Requirements & Verification Statement
MSD students must successfully complete all coursework, the comprehensive exam, supervised practice rotations, and the MSD graduate capstone project in order to receive the Master of Science in Dietetics degree. Following graduation, students will receive a Verification Statement of Eligibility to write the registration examination for dietitians.
Admissions
Application Requirments & Dates
Please note UVM's MSD program does not currently participate in the DI (DICAS) match. Please apply directly through our Graduate College.
APPLICATION DATES:
December 1 - Application period opens
February 1- Applications due
April 3 - Acceptance notification
April 4 - Second round opens for any open seats; rolling admissions through April 20
APPLICATION REQUIREMENTS:
The following materials are required for your application to be complete:
Electronic Application
Statement of Purpose
Application fee: $65.00
Email addresses for threee people who will write letters of recommendation for you. Letters will come to us directly from these individuals through our application portal.
One transcript from each college/university attended, including any you currently attend. Unofficial transcripts uploaded by you are suffcient for the application review. Official transcripts will be required if you are admitted; these should be sent directly from each institution to Graduate Admissions.
Residential Status Questionnaire (for in-state tuition purposes)
Test scores for English proficiency for applicants whose native language is not English.
Applications are evaluated in this order:
Minimum qualifications met:
Bachelor's degree with 3.0 GPA or higher (earned before program start)
Verification Statement/completed prerequisites
Non-English speakers must show language proficiency; minimum scores required: TOEFL 90; IELTS 6.5, Duolingo 110
Personal Statement, evaluated for writing quality, engagement, ability to follow instructions, and fit with MSD program.
3.0 GPA or higher; special consideration given to nutrition courses and pattern of success in upper-level courses.
Resume; special consideration for dietetic related experiences and length of employment and/or repeat employment.
Recommendations
Tuition, Scholarship & Aid
Basic program costs can be found at Student Financial Services Graduate Tuition and Fees.
In addition, MSD students typically have expenses associated with:
Malpractice and accident insurance
Health Insurance*
Auto Insurance*
Background check
Academy of Nutrition and Dietetics membership**
Uniforms/lab coats/name tag
Travel related costs***
Education management software
Books and supplies
On-campus orientation travel
*All students must carry health insurance and auto insurance. Students electing not to purchases UVM Health Insurance must provide proof of another current policy. Note: See the Students Financial Services (SFS) graduate tuition page for information regarding Health Center fee.
**Membership in the Academy of Nutrition and Dietetics is required for all students.
***Travel costs depend on living arrangements, length of commute, and supervised practice site placements.
SCHOLARSHIPS & FINANCIAL AID
MSD Program Scholarship: A one-time award available to first-year students. For consideration, please describe in 300-500 words your commitment to UVM goals for Inclusion, Diversity, Equity, and Access and "Our Common Ground" and upload your statement (separate document) with your application.
Financial Aid: Students applying to the MSD program may be eligible for Federal Stafford and/or Federal Plus loans. Eligibility is based on your Free Application for Federal Student Aid (FAFSA) Application. If interested, be sure to fill out the FAFSA.
Learn more on our Student Financial Services site, or call (802)656-5700.
Program Information
Program Director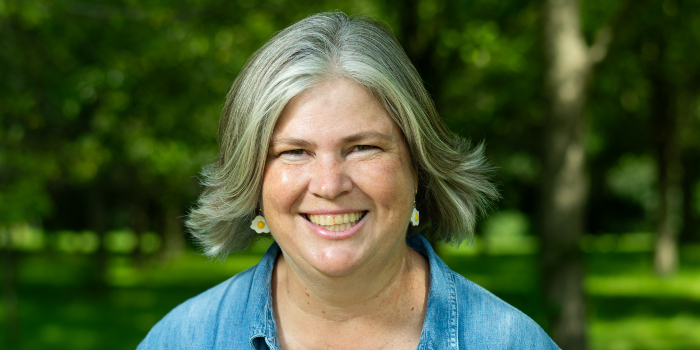 Dr. Farryl became the MSD Program Director on July 1, 2021 and has been a member of Nutrition and Food Sciences faculty since 2015. Farryl's focus areas include food security & nutrition assistance programs, inclusive and equitable approaches to community-based nutrition education, and global food sovereignty. She is passionate about developing and evaluating nutrition programs that are sustainable, inclusive, culturally-derived, and resilient. She has been collaborating with agricultural centers from rural Vermont to rural Kenya; along the way she strives to create community-engaged learning opportunities for her students.
Dr. Farryl believes the goal of teaching is to kindle in students the passion for life learning.  She hopes to transform students in a way that they become conscious and aware of the world around them. She wants her students to seek opportunities to broaden and expand their knowledge anywhere, in any circumstance, whether it is taking a moment to focus on breathing when they are faced with a challenge to reading the nutrition label on the back of a package.  She feels students are best prepared for their career if they are engaged, curious and willing to learn.
Program Coordinator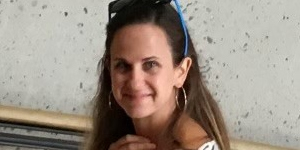 Rachel Stanton became the Dietetics Program Coordinator in the fall of 2023 to support the Master in Dietetics director, as well as the undergraduate dietetics director. Rachel is the first line of contact for student inquiries regarding the MSD program and its application process. She will assist students in the coordination of their clinical practice opportunities as well as facilitate connections between preceptors and students for their capstone project.
Mission & Goals
MSD Program Misson:
To educate and prepare graduate students who will successfully function as entry-level dietitian nutritionists with specialized knowledge of and ability to apply the principles of population health across all community health and nutrition practice settings. We invite you to read our MSD Program Handbook.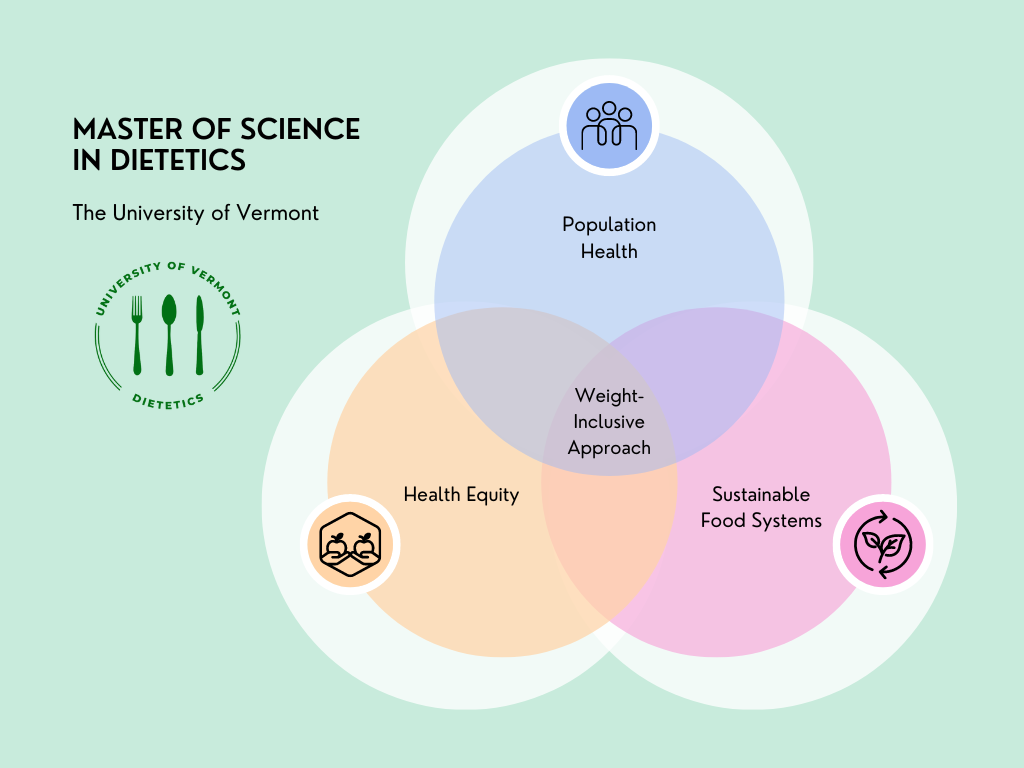 The mission of the University of Vermont is rooted in the land-grant university tradition of creating and discovering knowledge in service to the public good. As a UVM graduate student, you will join our dynamic mission where lively and rigorous minds work to create new technologies, revive traditional industries, conserve our natural resources, inform public policy, and enrich the cultural life of Vermont and the world. Today, UVM is a top research university of a perfect size, large enough to offer a breadth of ideas, resources, and opportunities, yet small enough to enable close faculty-student mentorship.
At UVM, our culture of diversity and acceptance come only from actively pursuing it. With a focus on Population Health, the UVM MSD program aims to address health inequities and disparities using a systems approach. The program explores social determinants of health (SDOH) while encouraging inclusion, diversity, equity, and access (IDEA). This program takes a weight-inclusive approach to improve population and community nutritional outcomes. Our dietetics program builds on the strengths of our university traditions while supporting culturally appropriate, inclusive solutions.
MSD Program Goals:
The MSD program at UVM has two overarching program goals:
PROGRAM GOAL 1:
The program will graduate students who are ready for entry-level practice as registered dietitian nutritionists.
Outcomes:
At least 80% of program students complete degree requirements within three years (150% of the program length).
100% of students will pass the MSD Comprehensive Exam with a score of 80% or higher.
At least 85% of students will be evaluated by the MSD Director and preceptors as consistently demonstrating skills to perform as an entry-level registered dietitian nutritionist for all competencies/learning outcomes.
At least 80% of graduates will indicate "good" to "excellent" level of preparation for entry- level practice.
At least 80% of graduates will take the CDR registration examination for dietitians within 12 months of program completion.
The program's one-year pass rate (graduates who pass the registration examination for dietitians within one year of their first attempt) on the CDR registration examination for dietitians is at least 80%.
Of graduates who seek employment, at least 70% will be employed in nutrition and dietetics or related field within 12 months of graduation.
At least 80% of employers will indicate that graduates have a "good" to "excellent" level of competency in: communication skills, critical thinking, problem solving, leadership, and application of research.
One-year post-graduation, at least 80% of graduates will indicate "good" to "excellent" level of competency in: communication skills, critical thinking, problem solving, leadership, and application of research.
PROGRAM GOAL 2:
The program will prepare graduates who have specialized knowledge of and the ability to apply the principles of population health across all community health and nutrition practice settings.
Outcomes:
At least 80% of students will demonstrate the ability to apply the principles of population health
At least 80% of graduates will report confidence in their ability to incorporate the principles of population health across all areas of practice.
One-year post-graduation, at least 80% of graduates employed in nutrition and dietetics will provide examples of how they have incorporated the principles of population health into their current employment and/or area of practice.
Student Learning Outcomes:
Graduates will possess the confidence, skills and knowledge to function successfully as entry-level registered dietitian nutritionists in the clinical, community or foodservice management setting.
Graduates will develop specialized knowledge and skills in Community Health and Nutrition with a focus on population health, through selected coursework, supervised practice experience and learn