Mimosa Collins, DNFS '10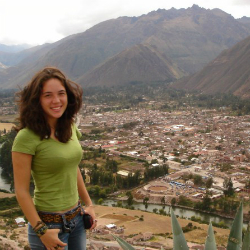 I hope this is helpful and I appreciate the opportunity to give back to the department that helped prepare me for the success I'm experiencing today!
My story from graduation to where I am now, a Registered Dietitian with not one but two dream jobs, is a testament to a quote by Steve Jobs, "You cannot connect the dots moving forward, you can only connect the dots looking backward. So you have to trust..."
Little did I know that spending a year in Peru before going straight to college would actually enhance my Dietetic Intern application, 8 years after the fact. Little did I know volunteering with Alternative Spring Break at UVM would connect me with the organization that eventually gave me the street credit to get my first job as a dietitian, 5 years later. Little did I know my Work Study position with the Department of Health would lead me to a job as a Public Health Nutritionist; drastically increasing the quality of my application to internships and giving me the counseling skills needed for my second job as an RD.
Continue reading Mimosa's story:
Six and a half years after graduation, I'm happy to write to you as the manager to a community nutrition program called Community Kitchens Northwest for Seattle Tilth (recently featured in the Seattle Times), and the lead RD at an intensive outpatient eating disorder clinic called, Center for Discovery. I am able to boast these statements because I took the long way. This destination was not direct and I didn't even apply for an internship until 2014, four years after graduating from the University of Vermont.
Upon graduation, I decided to repeat the trend I set after high school and get more life-education under my belt by interning with farms around the country. After all, how could I really talk about food if I didn't understand how to produce it?
The decision to learn how to grow food brought me to two different farms, Growing Power and Pie Ranch. Growing Power is a non-profit farm located in Milwaukee, WI and founded by Will Allen. He is known as a leader in the Urban Agriculture and Food Justice movement. He has received recognition from First Lady Michelle Obama during her Get Moving campaign and was invited to assist in the installation of a garden at the white house. Will Allen started a non-profit farm on 2 acres of land in what would otherwise be a food desert in the city of Milwaukee.
During my 3 month apprenticeship with Growing Power, I learned the importance of soil in the food system, sustainable growing methods in small spaces, and composting strategies that anyone can do. For more information on Growing Power, here is a 3 minute video created the season I was there: https://www.youtube.com/watch?v=vs7BG4lH3m4
Working at Growing Power primed me for my time at Pie Ranch, another incredible non-profit farm on the coast of California, just South of San Francisco. During my 9 month apprenticeship, I helped visitors ranging from Facebook executives to high school students experience the food system from farm to fork. This 7 minute video was created the year I was there and does a much better job than any collection of words at capturing the experience: https://vimeo.com/27347513
After a year of working in the field, I wanted to get back into nutrition. Accordingly, I contacted a former supervisor from a Work Study position I held at the Dept of Health in Burlington. I mentioned I was looking for a position and what do you know, an entry-level position was opening. I applied, interviewed over the phone, and made the trek back to work for their WIC Clinic as an Outreach Specialist. Within a year of working there I was promoted to Public Health Nutritionist, School Liaison and served the Department of Health for a total of 2 years.
Throughout this time, classmates were completing internships and eventually, I felt the pressure to seriously look into some myself. In the winter of 2013, I went through the application process and in April of 2014, was matched to SeaMar Community Health Centers. It took two month of studying to pass the licensing exam, one month to get my first RD job and four months to get my second one.
Six full years of diverse life experience lie between graduating from UVM and landing my dream jobs. Did I know living in Peru, volunteering with ASB, and hustling at the Dept of Health would get me where I am? Of course not. But the thing I decided to trust was my bliss, curiosity, and sense of wholeness.
So take your time, forge your own path, and stay open to the opportunities that are presented to you.
Maddy Born, DNFS '15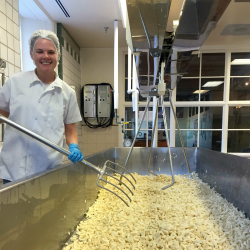 I graduated with a DNFS degree in May 2015.  I applied for the  spring matching for the Dietetic Internship, but unfortunately I did not get placed.  I was definately disappointed at the time.  It was March and I didn't exactly have a back-up plan, and with graduation impending I was feeling the pressure!
I decided I wanted to work in the field to gain some experience before taking another stab at an internship.  I took a step backward and reflected on the highlights of my undergraduate time to figure out where to start in the working world.  I realized that what I enjoyed the most were hands-on, food experiences such as the "kitchen and cooking science" lab course, Dr. Todd's beer class, and my practicum experience as a food science intern at Switchback Brewery.   With this, I decided to take a plunge into the food science world.
Continue reading Maddy's story:
And that is how I ended up as a Cheese-maker at Shelburne Farms !  I have been making raw milk cheddar cheese for a year and a half now.   I have gained an incredible amount of food science and food safety knowledge during my time at the farm.  I have also drawn heavily on what I learned from the food science courses at UVM.  For example, I am part of the HACCP team, I write sanitation plans and Good Manufacturing Practices, and I help with Quality Assurance of our products. 
Buzzwords from classes such as "rennet", "listeria monocytogenes", "FAT TOM" and "campylobacter" all came flooding back when i started working at the farm.  I even get flashbacks to freshman year Chem 23 because we take the Titratable Acidity of our milk/whey 8 times throughout a cheese make-day.  It's pretty incredible to be able to use a lot of skills we learned in classes and labs in my everyday life.
In addition to leading make-day, I have various other roles in the cheese-making operation.  Some morning I am driving to the dairy barn to recieve that day's milk.  Other days I am cutting 40lb blocks into 1/2lb pieces.  Still other days I am shipping packages or selling cheese at the Burlington Farmers Market.  Being a part of the whole operation, from milk to consumer, has been a very rewarding experience.
Some days, usually when I am elbows-deep in whey, I can't help but think, "How the heck did I get here?".  I never would have guessed this is the career path I would be on. 
I hope that sharing my experience will give you all some piece of mind that there are always other fun and interesting options.  Nutrition and Food Science is a incredibly diverse field with many career paths to offer.  Your undergrad course work has set you up for success, no matter what your path may be!
Holly Huston, DNFS '11
I took the skill set and knowledge I learned as a dietetics student and entered into an accelerated nursing program. I went back to school for another 16 months and graduated with a bachelors in nursing.
As a nurse I use my nutrition knowledge from UVM to help educate my patients, especially diabetics. My dietetics degree helped immensely towards my nursing degree.
Karen Dean, DNFS '10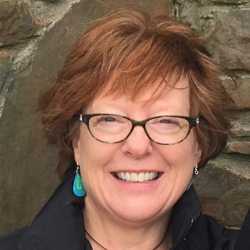 I am happy to share with you my life after UVM. I decided not to become a dietician for several reason after graduating with a dietetic degree.  It was hard to get an internship, and I needed to stay in Vermont because of my school age son.  I was considering one of the distance learning opportunities, but again, finding preceptors and still, there was going to be a fair amount of travel involved.
Another factor in my decision was that at the time of my graduation in 2010, there were not a lot of full-time dietetic positions in Chittenden County, and many dieticians that I knew were working several different part-time jobs. That scenario didn't appeal to me.
Continue reading Karen's story:
So I went for my DTR certification and obtained a job with UVMMV in-patient nutrition services. Two years later I changed jobs and became a health coach with the Community Health Team counseling patient in their PCPs offices around healthy eating habits and physical activity. During the 4 years I have been in this position, I have become a certified health and wellness coach through Wellcoaches and am planning to continue with national certification once it has been finalized.  I have also started wellness coaching for Employee Wellness at the hospital.  Additionally, through my job with CHT, I have become a tobacco treatment specialist, am a facilitator for Healtier Living Workshops in Diabetes, and as of October 2016, was trained as a facilitator for the YMCA's Diabetes Prevention Program.
In short, I am thrilled with where my dietetics degree from UVM has taken me, even without an internship.
Lauren Truncellito, DNFS '15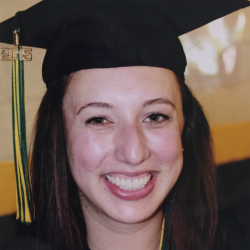 I found senior year as a Dietetics major to be a bit stressful between applying for dietetic internships and trying to decide what I really wanted to do post grad. I went through the grueling process of applying for an internship, and after many tailored personal statements, I wasn't matched with any of the 4 programs I applied to.
I thought my experience studying food systems in Oaxaca and my internship as a nutrition educator at a farmers' market would give me a leg up, and surely I was bummed, but I knew my grades probably weren't as competitive as some of my peers who landed those coveted spots.
Continue reading more of Lauren's story:
Upon graduation in May 2015, I had almost landed a position in the Food Corps working as a nutrition educator, but that didn't work out either (Good thing, or else I would've been in the middle of nowhere Iowa!). I then decided to stay in Burlington and manage a frozen yogurt store and reevaluate my career path. My passion for nutrition and public health steered me in the direction of an MPH, and I'm currently 3/4 of the way through the MPH program at Southern New Hampshire University. It's an online program, which has allowed me to work full time and get another degree!
Finally, in April 2016, almost a year after graduating, I landed a job as a Public Health Nutritionist in the WIC Clinic at the Vermont Department of Health in Burlington. I'm so happy here and grateful that the timing worked out, right when I was doubting my desire to work as an RD.
These last 6 months have taught me so much, and my hope is that in the next few years, my MPH and experience as a nutritionist will help me get a dietetic internship!
Kalyn Weber, DNFS '12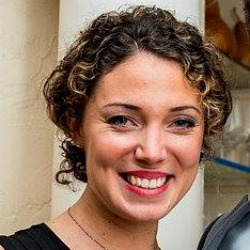 I applied for a few combined DI/MS programs my senior and was accepted to a few but ended up pursuing a dual degree (MS/MPH) instead at Tufts. I never completed my DI... mostly because I was just ready to start working and earn $$ instead of spending more on school.
While in grad school, I worked at MIT in their health and wellness department and actually taught a nutrition class to MIT first years.
Since completing my masters, I've had two jobs - both "healthcare adjacent." The first was as a population health consultant for an insurance broker and I now work for a company called athenahealth where I work with providers and healthcare delivery systems on identifying and closing care gaps in their patient population.
I had a teacher that used to tell us "there're many ways to cook an egg" and I think that really applies to the DNFS track. It is such an evolving field with many, diverse paths to success. I would encourage students to talk to as many experts as possible about different opportunities out there and make the most out of your time in school by learning (both in and outside the classroom) the skills and experience you think will be most beneficial to your growth.