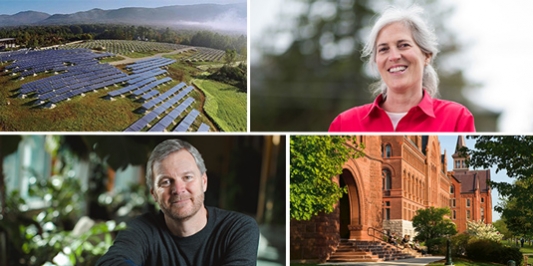 Meet our leadership team
The Gund Insitute for Environment is led by Director Taylor Ricketts, supported by a core team: a Communications Director, Director of Policy Outreach, Research Coordinator, and Administrative Assistant.
As a UVM-wide initiative, the Gund reports to the University Provost. The following groups advise and assist our team.

External Advisory Committee
This group of 5-12 academic, business, government, and non-profit leaders with global and regional perspectives will advise and assist the Director in determining priorities, launching initiatives, connecting the institute to key partners and stakeholders, and securing the resources needed to fulfill the Institute's ambitious mission.
Steering Committee
The Steering Committee is a group of 5-7 UVM leaders invested the Institute's success. It helps the Director to maintain campus-wide engagement, design programs, deploy resources strategically, and communicate the Institute's mission and contributions to audiences on campus and beyond.
UVM Faculty
UVM faculty who become Gund Fellows play a role in governance, advising the Director on funding and strategic decisions, thematic priorities, new Fellows and affiliates, and PhD and postdoctoral candidates.