James M. Jeffords Hall - Completed Project
Schedule: Completed Summer 2010
Project Manager: Michael Stevens
Project Architect: Freeman French Freeman, Inc. with Ellenzweig Associates, Inc.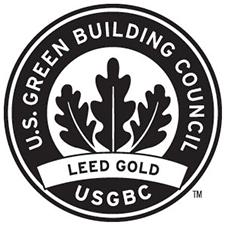 The new James M. Jeffords Hall houses the programs in the Departments of Plant Biology and Plant and Soil Science of the College of Agriculture and Life Sciences (CALS).
The design of this facility provides a visual "first impression" of the campus from the Route 2 ( Main Street ) western approach. It also complements nearby buildings and the structural elements of Stafford Hall, Aiken Center, Health Sciences Research Facility, and the Given Medical Building. The new building was designed and located to provide for physical connections including the transportation of plants and material to the greenhouses currently connected to Stafford Hall. The location of the building also recognizes the limitations of the major utility corridor that runs north to south between Main Street and the Health Sciences Research Facility.
James M. Jeffords Hall has received a GOLD Level of Certification in Leadership in Energy and Environmental Design (LEED) established by the U.S. Green Building Council.