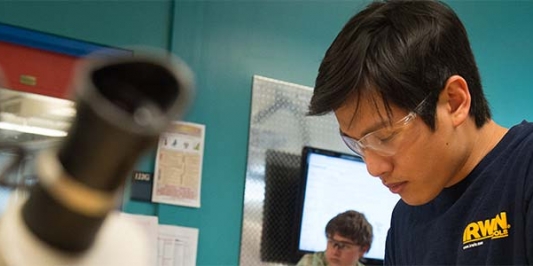 The department of Chemistry provides a minor program for the student who is pursuing a degree in another subject but still wants to obtain understanding of Chemistry fundamentals and concepts. Minoring in Chemistry can be particularly useful for students interested in entering the fields of medicine, biology, business, environmental science, and chemical engineering. The UVM department of Chemistry offers two minor pathways, which you can choose from depending on your academic and career goals. 
Pathway #1 (used by 95%+ of students seeking a minor in Chemistry):
Two semesters of general chemistry — CHEM 031 (or CHEM 035) & CHEM 032 (or CHEM 036)
Two semesters of organic chemistry — CHEM 141 (or CHEM 143) & CHEM 142 (or CHEM 144)
One speciality course in chemistry:
Analytical – CHEM 121
Inorganic – CHEM 131
Physical – CHEM 165
Note: CHEM 205 Biochemistry 1 is not an allowed option for the minor
Pathway #2:
Two semesters of physical chemistry (CHEM 165 & 260)
Organic chemistry, either:
CHEM 042 Intro Organic Chemistry
CHEM 141 Organic Chemistry 1
There are several prerequisite courses for this track:

For CHEM 165:
Two semesters of general chemistry: CHEM 031 & 032 (or CHEM 035 & 036, or CHEM 051 & 052)
One semester of physics: PHYS 011 or 031 or 051
Two semesters of calculus: MATH 019 & (020 or 023) OR MATH 021 & 022

For CHEM 260:
               CHEM 165 (prereq) plus (as a pre-/co-requisite) either CHEM 167 or MATH 121
Ineligible Majors:
You may not declare a chemistry minor IF your major is:
Any Chemistry major
A Biochemistry major
An Environmental Science major with a Chemistry focus track
Why do most students choose path #1?
Many UVM students routinely take our 4 semester introductory sequence of chemistry (CHEM 031, 032, 141, & 142) to satisfy a variety of degree requirements, either at the undergraduate level or as a requirement for a postgraduate degree program:
Undergraduate life science majors (e.g. Biology, Zoology, Microbiology or Molecular Genetics)
All professional postgraduate medical degree programs (e.g. M.D., D.D.S., D.V.M., O.D., ...)
Postgraduate biomedical degree programs where a Ph.D. is sought (e.g. Cell & Molecular Biology programs)
Once the 4 semester introductory sequence of chemistry courses have been completed, only one more course in chemistry is required for completion of a minor.