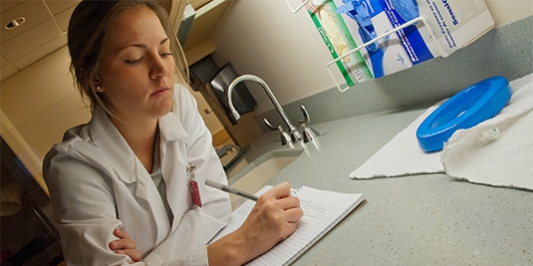 Our Program
Chemistry is often called the "central science" because it is the place where the physical, applied, and life sciences intersect. We maintain our remarkable reputation because of our program's world-renowned faculty in the cornerstone disciplines of chemistry: analytical, inorganic, organic, and physical chemistry. Our program offers a stimulating and diverse selection of undergraduate classes and labs that provide you with the skills and perspectives useful in any career.
A Culture Honoring Scholarship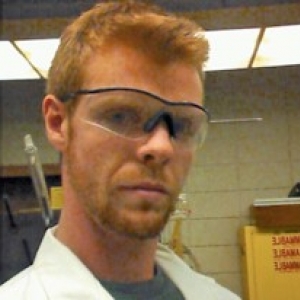 UVM mentors regularly assist students in receiving recognition for their research activities. In 2014, Christopher Kenseth '15 was one of two UVM students to win a coveted Goldwater Scholarship, a nationally competitive award that recognizes sophomores and juniors who have done outstanding work in science, technology, math, or engineering (STEM) disciplines and who are on track to become leading researchers and innovators in their fields. Under the guidance of chemistry professor Giuseppe Petrucci, Kenseth's research focused on the physical and chemical characterization of secondary organic aerosols, how they are formed in the atmosphere, and how they affect air quality, climate patterns and human health.
Combining Passion with Purpose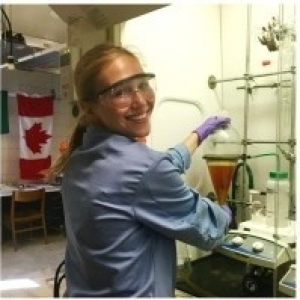 Summer Averill's interest in chemistry blossomed while taking AP Chemistry at her high school. Ecstatic to continue her studies in chemistry at UVM, she found many opportunities in the organic chemistry lab of UVM assistant professor Adam Whalley. "Summer has been working closely with one of my fifth-year graduate students, Robert Miller, and together they have developed a new and efficient method for the synthesis and functionalization of a highly strained molecule known as tetrabenzo[8]circulene," Whalley said. "This advancement will now allow us to begin testing this molecule as the active component in devices such as transistors and solar cells."