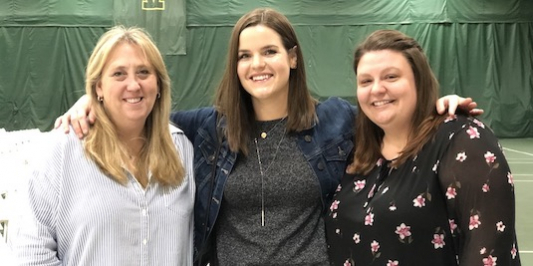 The education of our students is central to our mission at CALS. We value our students, and as we prepare you for your professional life, we want your experience at UVM to be rewarding. The materials on this website should serve to answer your basic questions as you navigate your academic requirements while also making UVM your new home. We strongly encourage you to meet with your advisor on a regular basis. Our Student Services team in the CALS Dean's Office is also here to support you on your academic journey.
Who are the members of the CALS student services team?
Kate Finley Woodruff
Associate Dean of Academic Programs
Kate Finley Woodruff manages the Student Services Office,  and oversees college recruitment, retention, and enrollment, as well as Orientation, Open Houses, Admitted Student Visit Days, and Commencement. She also works on college academic programming and community relations.  Kate was a faculty member for several years in the Department of Community Development and Applied Economics, teaching courses in public communication, socially responsible marketing, and non-profit marketing.  Hours: By appointment Email: cfinleyw@uvm.edu or call 802-656-1032.
Whitney Northrop
Enrollment Manager
Whitney is involved with academic matters that involve forms: Change of major/college, declaring a major, declaring a minor, permission to study abroad, permission to go over 18 credits, taking a course incomplete, Add/Drop/and Withdrawal, and the Senior Records Check. Whitney works with issues of academic standing, she coordinates the CALS Studies Committee and she manages degree audits for Commencement. Hours: M-F, 8:00 - 4:30 Email: Whitney.Northrop@uvm.edu or call 802-656-0289.
Emma Lane
Student Services Specialist
The SSS is involved in a wide variety of recruitment and retention efforts with students at CALS. They manage several scholarships, events, student representatives at CALS and updates the College website, catalogue and other marketing materials. They manage many events for CALS including Orientation Sessions, Open Houses, Admitted Student Visit Days, Advisor Workshops and Commencement. They are also involved with several UVM projects such as the schedule of courses, course evaluations, phone-a-thons and student banquets. Hours: M-F, 8:00 - 4:30 Email: calsstudentservices@uvm.edu or call 802-656-2980.
What are the academic probation procedures?
At the end of a semester if your GPA is below a 2.00, the CALS Studies Committee will meet to discuss your situation and decide what your status will be for the following semester. The following is a link to requirements for readmittance to UVM.
Your status in CALS is determined by the severity of your probation. A letter is sent to each student with the studies committee expectations.
The Student Services Office and your Advisor are available to help you avoid serious problems. Feel free to contact us for assistance.
In order to graduate from CALS, you need at least a 2.00 GPA. If you are interested in transferring into CALS, you also need at least a 2.00 GPA.
What if I am having personal or health issues?
If you are ill and missing only one day of classes, you can contact class professors by phone or e-mail directly and leave a clear message including your name, the section of the class you are in, and that you are ill and will be missing the class.
If you are ill or experiencing a personal problem that will cause you to miss more than a day of classes, you must contact Whitney in the Student Services Office. She will notify the instructors for you, but you will also need to work with that instructor to discuss his/her expectations in reference to your absence.
It is important that you as the student (not your advisor and not your parent) contact Student Services directly if at all possible. By doing so, we will have a very clear understanding of the nature of the illness or problem and how we can best help you.
We are here to help and can link you to other helpful resources such as the Center for Health and Wellbeing, the Counseling Center, or ACCESS (Accommodations, Consultation, Collaboration, and Educational Support Services)
Who is my advisor?
The advisor / student relationship should be one of the most significant aspects of a students college experience. Academic advisors provide essential guidance and will assist with course selection each semester. In addition, advisors offer valuable career information and often help students obtain useful practical experiences and may help establish professional contacts.
Your advisor assingment may be found in your MyUVM student information tab. If you have any questions regarding your advisor, please contact the CALS Student Services Office.