For Maintenance Emergencies (e.g., floods, power outages)
Call Service Operations Support (802) 656-2560 and press "1"
The Physical Plant Department (PPD) performs critical and vital maintenance and upkeep of all building, mechanical, and utilities systems and infrastructure and grounds of the University campus. The department maintains over 6.0 million square feet of facilities ranging from teaching areas, research laboratories, athletic facilities, offices, residential halls, dining halls and libraries.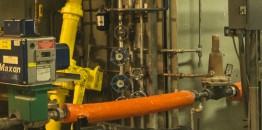 A Half Century of Centralized and Efficient Energy
We're celebrating the 50th anniversary of our Central Heating Plant.