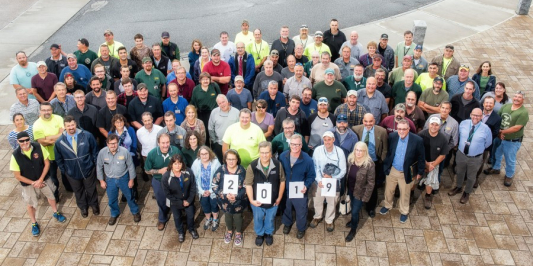 Our Mission
To maintain facilities, perform related services and provide responsible stewardship of the University of Vermont's physical assets in support of the University's mission.
Our Staff
Physical Plant is comprised of 160 staff members in a variety of operational units and crews. Our technically-proficient and customer-focused staff are responsible for the repair, maintenance, operation and upkeep of over 6.0 million square feet of buildings and over 450 acres of grounds. The facilities we maintain range in size and complexity from teaching areas, research laboratories, athletic areas, offices, residential halls, dining halls and libraries. Our staff keep all building, mechanical and utilities operating systems in good repair; make the campus a comfortable, safe and attractive place to learn, live, work and play; and respond quickly to the emergency maintenance and repair needs of the campus community. We perform routine, preventive, and corrective maintenance work, as well as elective, departmental-request work. Physical Plant accomplishes its mission using a blend of in-house personnel and contracted service providers.
Our Professional Associations
Physical Plant staff are active members in these professional facilities management organizations:
Department Awards and Recognition
2012 TCO Manager Vincent Brennan received the Snider Lifetime Achievement Award for long term involvement in the environmental profession and industry from the Environmental Information Association.
2012 FM Global Significant Progress Award presented by FM Global for ongoing committment to Property Loss Prevention
2007 International District Energy Association for committment to campus energy efficiency and environmental stewardship.
2007 College/University Recycling Program of theYear from the National Recycling Coalition, Washington, D.C.
2006 Vermont Governor's Award for Environmental Excellence in Resource Conservation- UVM Energy Efficiency Program. State of Vermont.
2005 Vermont Governor's Award for Environmental Excellence and Pollution Prevention- Campus Eco-Reps Program. State ofVermont.
View Our Beautiful Campus