B-roll Library
University Communications maintains a library of footage that may be used to support video projects. This type of supporting footage is called b-roll. Visit our b-roll library (continuously updated). Have a request for footage you'd like collected? Email your request to video@uvm.edu.
Collecting your own footage? Footage should feel natural, energetic, and in the moment. All of the rules of our brand's photography apply to video. Whenever possible, film action as it happens, and avoid staged shoots.
Hiring an outside firm? Make sure you obtain all footage owned by UVM, and share this footage with University Communications.
Working with University Communications
Interested in working with University Communications on a video project?
Email video@uvm.edu
with the following info:
Is this project a standalone video, or b-roll for future use?
Who is your audience?
What is this video about?
If there is an associated event or deadline, where and when might the video be shot?
Why are you interested in making this video? What is this video supporting?
Is there a call-to-action?
Where will this video live? (e.g. social media, webpage)
How might this video fit in with accomplishing your goals?
Music
Music can help convey the tone of your video, accent key points, and keep viewers engaged. Remember to follow copyright laws when selecting music. If you haven't invested in music for purchase, you can browse YouTube's library of royalty-free tracks.
Accessibility
Ensuring your video is accessible to all viewers is mandatory. While YouTube provides auto-captions on all uploaded videos, these captions often contain errors. You can edit the caption file yourself in YouTube or send a request to captioning@uvm.edu to provide an accurate caption file (also known as an .srt file). YouTube and Facebook provide the option to upload an .srt file with your video. Remember: providing captions is not only our legal responsibility, it can help improve the experience for any viewers who may be watching with sound off.
End Card
Our end card is an essential brand element. Use our animated end card at the end of every video. The end card should never be modified in any way. Always separate our primary logo (present on the end card) from any secondary logos used in your video. Download the end card.
Secondary Branding
Before including any secondary branding elements (for example, your school or college's logo), question if the element needs to be included. Is the logo necessary context for your video? Will it help frame the video that viewers are about to watch? If the logo isn't essential to understanding your video, jump right into your story. Remember that people will always be watching this video in a UVM context, whether it's on your YouTube channel, at an event, or embedded on your website. Get to your story faster, and skip the branding.
If you do need to include your logo, it should be featured at the front end of the video before your video title. Always separate logos from titles. When your school or college's logo appears, it should be the only thing on screen. Do not pair your secondary logo with a redundant UVM logo (remember, our logo is already in our end card). Do not use your logo as a headline, or as part of a sentence.
Refrain from including any additional call-to-action elements in your video (for example, a Twitter or Instagram icon). Instead, include interactive call-to-action URLs in the description of the video or on your webpage. Remember, the UVM website is already included on our end card.
Text in Videos
Lower Thirds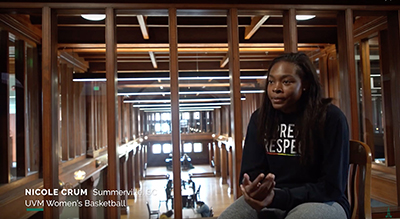 Information featured in the lower part of the screen is called lower thirds. Lower thirds should only be used for the main people featured in a video; generally, these are people who speak more than once.
When designing lower thirds, do not use more than two colors for text. Stick to font guidelines: Roboto (free font) or Brown (above).
Main Titles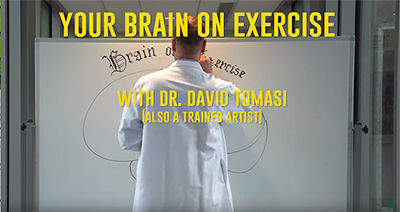 When designing main titles, utilize the GoBold font (above).
In most cases, there should only be one main title per video. This title should appear at the beginning of your video.
Text-Heavy Video Treatment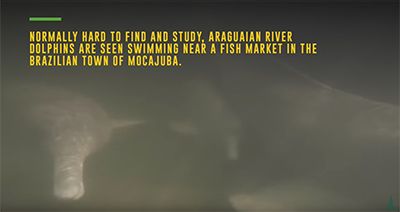 Making a video full of information, such as a recent ranking or research finding? The way you style text is key.
Start your text at the same horizontal and vertical lines, and keep your font size consistent throughout the video. Keep mobile viewers in mind when sizing your text.
Generally, GoBold works best for these types of videos (above).
If you're including a block of text, utilize another UVM-approved font, such as Tiempos or Roboto.
Other Notes on Branded Elements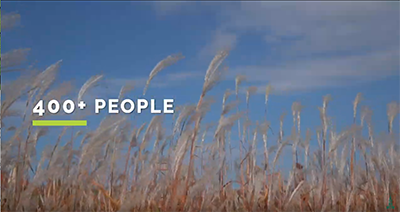 A thick colored bar (in green, above) may be used to anchor text in titles and lower thirds.
See examples of the typestyles explained above (PDF).
Read more about type usage, and read more about the UVM color palette.