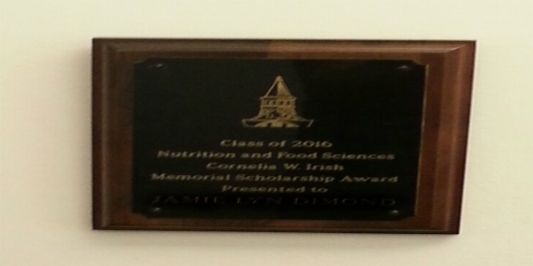 Each year NFS faculty choose outstanding students in the department to be recipients of the department's awards. Students receive their awards at a luncheon held each year in April.  Here are some of our past award recipients.
Agnes T. Powell Award:
This award is given in honor of Professor Agnes T. Powell, Professor Emeriti in Nutritional Sciences.  It is presented annually to the graduating senior(s) majoring in Dietetics who have demonstrated qualities indicating outstanding professional promise and potential.
2020 Recipient: Stevi Greenan
2019 Recipient: Chris Irish
2018 Recipients: Celine Marcotte and Priyanka Santhanakrishnan
2017 Recipient: Madeleine French
2016 Recipients: Cara D'Anello and Katherine Nash
2015 Recipients: Anne Hitchinson and Lisa Novinsky
2014 Recipients: Eliza Hamburger and Sierra Parker
2013 Recipients: Adam Paranoto and Heather Twible
2012 Recipient: Jillian Nyman
2011 Recipient: Erin Shippee
2010 Recipients: Lindsay Lawes and Eryn Rishell
2009 Recipient: Jessie Curran
2008 Recipients: Jennifer Balentine and Jenna Damareck
Bertha Terrill Award:
This award was created as a tribute to Miss Bertha M. Terrill and her 31 years of service at UVM.  Bertha Terrill is remembered as the founding Chair of the Dept of Home Economics, the first Dean of Women and the first woman Full Professor at UVM.  The purpose of this award is to acknowledge students who show special academic promise and achievement with the following guidelines:
The recipient shall be a resident of the State of Vermont
The recipient shall have a Junior , or preferably, a Senior Class standing
The recipient shall be studying some aspect of home economics
The recipient shall have an academic average of 3.0 or above for the preceding academic year
The recipient shall be helping to pay educational expenses through self earnings
The recipient shall be participating in two or more campus activities
In addition to the above criteria, the following preference shall be met whenever possible in selecting recipients for this award:
Preference shall be given to female students
2020 Recipient: Britt Richardson
2019 Recipient: Reem Bou-Nacklie
2018 Recipients: Ashley Archangelo and Justin Beauchemin
2017 Recipient: Margaret Turvey
2016 Recipeint: Michael Murphy
2015 Recipeint: Kylie DeGroot
2014 Recipients: Andrea Francis and Morgan Devoid
2013 Recipients: Harley Eriksen
2012 Recipient: Kayla Gatos
2011 Recipient: Danie Leahy
2010 Recipient: Nicole Rohrig
2009 Recipient: Morgan Rivers
2008 Recipient: Landon Schettini
Blair Williams Award:
This award is given in honor of Professor Emeriti Blair Williams, former Chairperson of Home Economics and the Human Nutrition and Foods Program.  Professor Williams was noted for her high professional standards, her broad range of interest in the area of human nutrition and foods and her deep concern for people.  The award is presented annually to the graduating senior who best exemplifies these qualities.
2020 Recipient: Isabella Alessandrini
2019 Recipient: Elena Sayers
2018 Recipient: Ivonne Headley
2017 Recipient: Ethan Smith
2016 Recipeint: Mattie Alpaugh
2015 Recipients: Chelsea Howland and Stephen Pierson
2014 Recipients: Carsan Dittman and Olivia Gross
2013 Recipient: Maria Carabello
2012 Recipient: Meagan Divito
2011 Recipient: Kimberly Davy
2010 Recipients: Steele Taylor and Heather Torrey
2009 Recipient: Brie Keefe
2008 Recipients: Carrien McLane and Emily Piazza
Nutrition and Food Sciences Faculty Award:
This award is presented annually by the Department Faculty, to the graduating senior with the highest scholastic grade point average in recognition of their continuous academic excellence and outstanding professional potential.
2020 Recipients: Delaney Acciaioli and Kenzie Provencher
2019 Recipient: Jesse Brinkman
2018 Recipient: Julie Davis
2017 Recipient: Frazer Carpenter
2016 Recipients: Mattie Alpaugh, Anna Ghelli, Jill McKenney and Ali Watson
2015 Recipient: Megan Morris
2014 Recipient: Emilie Riddle
2013 Recipients: Leah Conchieri and Danie Leahy
2012 Recipient: Todd Stanley
2011 Recipient: Jennifer Moltz
2010 Recipient: Kaitlyn Carreau
2009 Recipient: Kevin Stanton
2008 Recipient: Starr Budnick
Nutrition and Food Sciences Research award:
This award is presented to the graduating senior(s) who has excelled in undergraduate research while maintaining high academic standards and has demonstrated outstanding potential for a career in either basic or applied research in Nutrition and Food Sciences.
2020 Recipient: Sarah Geller
2019 Recipient: Katherine Bullock
2018 Recipient: Andrea Dest
2017 Recipients: Hannah Feinberg and Elise Mench
2016 Recipient: Dani Hansen
2015 Recipients: Rebecca Cochran and Margaret McKendry
2014 Recipients: Elizabeth Berman, Garabed Hartounian and Megan Morris
2013 Recipients: Danie Leahy and Maria Carabello
2012 Recipients: Clara Pedley and Kalyn Weber
2011 Recipients: Emily Potter and Ben Raymond
2010 Recipients: Erin Cain, Mosa Collins and Liz Schindler
2009 Recipient: Dana Notte
2008 Recipients: Jaime Leclerc and Dana Notte
Outstanding Dietetics Student Award:
This award is presented by the American Dietetics Association.  It's purpose is to recognize the emerging leadership and achievement of students in Association Accredited Dietetics Education programs and encourage their participation in the American Dietetics Association.  Leadership and professional potential are assessed through honors, student dietetic association activities and community service activities.
2020 Recipient: Lindsey McVie
2019 Recipient: Jesse Brinkman
2018 Recipient: Bailey Saneman
2017 Recipient: Jessica Pashko
2016 Recipient: Lindsay Poquette
2015 Recipeint: Margaret McKendry
2014 Recipient: Lauren Cole
2013 Recipient: Meri Louko
2012 Recipient: Lucille Glaize
2011 Recupient: Jamie Sheahan
2010 Recipient: Mary-Cate Langlois
2009 Recipient: Danielle Pothier
2008 Recipient: Emma Kopecky
Reuben and Rose Mattus Schoarship Award:
This award, given in the name of Rueben and Rose Mattus, founders of the Haagen-Dazs Ice Cream Company, is presented to the Nutrition and Food Sciences Major who demonstrates interest and enthusiasm for the study of food sciences, either in new product development or the improvement of existing products.
 
To encourage and help support undergraduate or graduate students at the University of Vermont enrolled in a degree program in the College of Agriculture and Life Sciences or the Graduate College with a preference given to students conducting research on ice cream or ice cream related products and the development and/or marketing of these products. This award has gone to students whose studies have involved dairy foods research of one sort or another including research on cheese, yogurt and frozen yogurt products.
2020 Recipients: Zoe Filan and Stina Sickmueller
2019 Recipient: Sofia Maranto
2018 Undergraduate Recipients: Alexander Doty and Grace Hoffman
2017 Undergraduate Recipient: Mikaela Sullivan: Graduate Recipient: Pat Polowky
2016 Graduate Recipient: Gil Tansman
2015 Undergraduate Recipient: Alexander racine
2014 Graduate Student Recipient: Jessica Gavell
2013 Graduate Student Recipient: Katie Coale
2012 Graduate Student Recipients: Jacob Lahne and Esmond Nyarko
2011 Graduate Student Recipient: Wenbo Wang
2010 Undergraduate Recipient: Katherine Coale; Graduate Recipient: Daniel Lynch
2009 Recipient: none
2008 Recipient: Thomas Pinello
The Cornelia Wheeler Irish Memorial Scholarship Award:
This scholarship was established in the memory of Mrs. Cornelia Wheeler Irish, UVM class of 1918, who taught in a one room school house and was a devoted wife and mother as well as a dedicated church and community leader.  This award is presented annually in the Fall Semester to a student majoring in Dietetics or Nutrition and Food Sciences whose continuous academic excellence, financial need and demonstrated potential for success in a career in human nutrition has distinguished him or her from their peers.
2020 Recipients: Sofia Maranto, Ian Price and Katie Schlepphorst
2019 Recipients: Emily Mitchell and Meggie Perron
2018 Recipients: Andrea Dest and Laura Jennings
2017 Recipients: Frazer Carpenter, Jamie Dymond, Savannah Nesbit and Jessa Sargent
2016 Recipient: Jamie Dymond
2015 RecipientsL Haley Braunegg and Kayla Fay
2014 Recipients: Louis Bruderer and Patricia Dansereau
2013 Recipients: Adam Paronto and Heather Twible
2012 Recipients: Erika Hesterberg and Sarah McMahon
2011 Recipient: Hannah Joerg
2010 Recipient: Christina Garin
2009 Recipient: Danielle Bois
2008 Recipient: Jamie Leclerc