Bertha M. Terrill Building Renovation - Completed Projects
Schedule: Completed in January 2010
Project Manager: Todd Merchant
Project Architect: Black River Design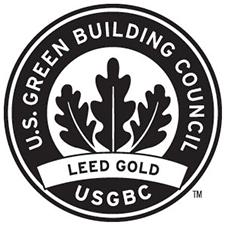 The renovation of historic Bertha M. Terrill Building, constructed in 1950, is home to the Department of Animal Science and the nutrition unit from the Department of Nutrition and Food Science. Renovation created durable, attractive and inviting spaces conducive to the occupants overall well-being and a healthy, productive working environment.
Renovations to this facility replaced an ineffective heating and ventilation system as well as provides central air conditioning throughout the entire building. In conjunction with the HVAC components of the project, the scope of work included new electrical and telecommunications distribution, new emergency power, new exterior windows, new plumbing distribution and fixtures, new ADA door hardware, new ceilings and floors throughout, and the expansion of the quantity of Animal Science laboratory facilities.
The Bertha M. Terrill Building Project has received a GOLD Level of Certification in Leadership in Energy and Environmental Design (LEED) established by the U.S. Green Building Council.