In 2022, the E.E. Cummings Crop Testing Laboratory has acquired a new grain analyzer! Thanks to a grant provided by the University of Vermont, we have upgraded from the original Perten Inframatic NIR, that we purchased when we opened the lab, to a new and improved Inframatic 9500. This NIR analyzes more grain types and provides more information about your samples. The Inframatic 9500 analyzes samples as whole grains rather than flour, so it is more important now than ever that samples are clean and free of debris to get accurate data. The sample submission and sample report forms will look a little bit different going forward. The submission form includes more grain types. It still asks customers to select wheat and barley sub-types and it is very important to identify these correctly for accurate analysis. The sample reports will now report protein and starch concentrations adjusted to 12% moisture content. There will be no changes in pricing for the NIR analysis. If you have any questions please contact our lab manager Hillary Emick at 802-656-5392 or hillary.emick@uvm.edu or uvmgrain@uvm.edu.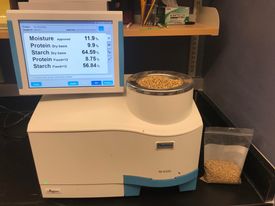 Inframatic 9500
The lab is equipped with near-infrared technology for protein analysis and employs a method to test for deoxynivalenol (DON) also known as vomitoxin. Occurrences of this vomitoxin in wheat at or above 1 ppm are considered unsafe for human consumption by the FDA. Contamination of wheat with DON is directly related to the incidence of Fusarium head blight and strongly associated with relative moisture and timing of rainfall at flowering.
Our lab also houses a sophisticated machine to test the Falling Number of wheat, an internationally standardized method for sprout damage detection. The Falling Number System measures the alpha-amylase enzyme activity in grains and flour to detect sprout damage, optimize flour enzyme activity and guarantee soundness of traded grain. Alpha-amylase activity is crucial for final product quality of bread, pasta, noodles and malt.
Understanding Falling Number in Cereal Crops fact sheet (PDF)
When to test for Aflatoxins (PDF)
Aflatoxins are fungal toxins and are produced by several different molds in the Aspergillius family.
Remember the results are only as good as the sample submitted!
If you have samples you would like analyzed, please send 1) payment and 2) a completed submission form — these must accompany all requests sent in. In order to get results that accurately reflect your product, be sure to employ good sampling techniques.