Welcome, Greg and Dana Rowangould!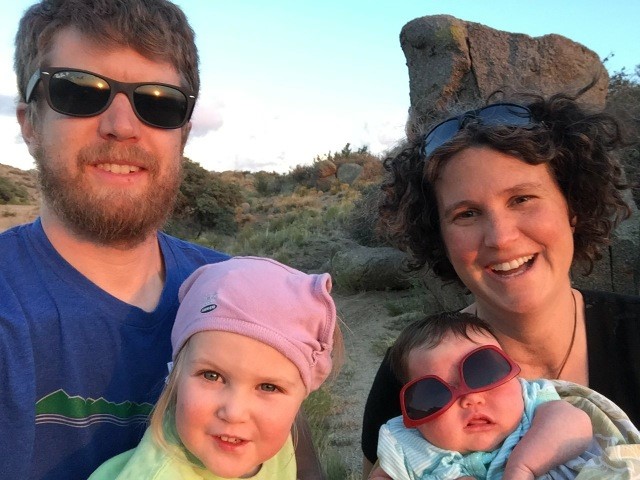 Co-directors, Dr. Lisa Aultman-Hall and Dr. Mandar Dewoolkar are pleased to announce two new members of the UVM Transportation Research Center team.
Dr. Greg Rowangould will join the CEE department as an Associate Professor in Fall 2019.  He will join us from the University of New Mexico (UNM) where he has been an Assistant Professor since 2012.  Greg also served as the Director of the New Mexico Local Technical Assistance Program (NM-LTAP) Center funded by the New Mexico Department of Transportation and USDOT Federal Highway Administration.  Greg's research expertise centers on understanding travel behavior and improving how we model, evaluate and forecast transportation system performance and environmental outcomes.  Recent projects have included understanding the transportation and land-use effects of new transportation technologies such as automated vehicles, evaluating disparities in vehicle emissions exposure, and addressing rural transportation challenges.  Since joining UNM Greg has been the lead PI on over $1 million in extramural funding.  He has supervised 10 graduate students and 3 professional staff.  Some of his graduate students will join us at UVM.  Greg will teach UVM's Introduction to Transportation Engineering for environmental engineering majors in Fall 2019 and the travel demand modeling elective for civil and environmental undergraduate and graduate students in Spring 2020.
Dr. Dana Rowangould will join the CEE department as an Assistant Research Professor.  Her research is rooted in climate change mitigation and land use and transportation policy. In recent years, her research has expanded to include the health and equity effects of transportation systems, with an emphasis on understanding transportation-related air pollution and the physical activity benefits of active travel.  Much of her work is informed by collaborations with environmental and justice-focused community-based organizations. Her work has been funded by nongovernmental organizations such as the Natural Resources Defense Council and EarthJustice, as well as government agencies.  Dr. Rowangould's graduate teaching experience includes sustainable transportation and health, and transportation economics.   Her graduate student mentoring includes Master's capstone students at the University of Washington.
Greg and Dana's passion for transportation research and education is rooted in a deep concern for the sustainability of communities and the environment. They are two of the five principles of the firm Sustainable Systems Research, LLC whose work focuses on providing objective, high quality research about the environmental, health, and equity effects of transportation systems to community groups. Together with their daughters, Greg and Dana are dedicated cyclists, gardeners, chicken keepers, hikers, and campers – interests that will make them feel right at home in Vermont.
Many of you will recall that the Transportation Research Center is leaving its home in Farrell Hall this summer to move to main campus.  Greg will join Lisa and the other CEE faculty in Votey Hall on main campus.  Dana will join the TRC staff and other CEE research faculty in Mansfield House on the main UVM campus.

Mandar and Lisa would like to thank the search committee, Dr. Eric Hernandez, Dr. Safwan Wshah, and Dr. David Novak for their dedicated work on this search.  Together with Lisa as chair they reviewed 80 applications and conducted many phone interviews.  Numerous meetings and careful review of finalists by the TRC staff was important and appreciated in this search.
PUBLISHED 4-15-2019