Stephen Montaño Presents Thesis Defense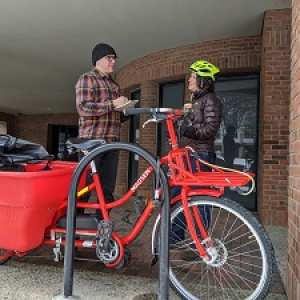 Effect of E-bike Use on Route Choice and Bicycle Infrastructure Preference
Date & Time
March 31, 2022
10 AM EDT
Abstract
As e-bikes become more popular, understanding how e-bikes may affect bicyclist travel behavior and infrastructure preferences can provide useful information to policymakers and bicycle facility designers to address inadequate bicycle facilities and potential safety concerns. We evaluate survey responses about infrastructure preferences of e-bike and conventional bicycle users, including their safety concerns in Chittenden County, Vermont. Generally, we find that conventional bicyclists and e-bike users have similar infrastructure preferences. The study finds that e-bike users tend to travel more frequently than conventional bicyclists, especially for utilitarian purposes. However, e-bike users may be more willing to use roadways with fewer bicycle facilities or higher-speed traffic. Safety perceptions of bicycling are slightly higher among e-bike users than conventional bicyclists.

Furthermore, we use a discrete choice model to analyze bicycle facility preferences from the stated preference responses. Bicyclists prefer buffered bicycle lanes over multi-use paths and bicycle lanes over facility-less roadways. However, the likelihood that a conventional bicyclist will opt for a bicycle facility over a facility-less roadway is higher than an e-bike user for the three types of bicycle facilities considered. Likewise, the perceived speed of vehicles traveling adjacent to the cycling route is also critical in route choice. Conventional bicyclists appear to have a stronger preference for traveling adjacent to vehicles where the posted speed limit is lower than e-bike users. This may indicate that e-bikes induce confidence in the rider, stemming from a lower speed differential when traveling adjacent to motor vehicles.

E-bikes are rapidly increasing in popularity, and while the needs of e-bike users are important, the needs of every bicyclist need to be considered and accommodated when designing policies and bicycle facilities. Policies to allocate a greater portion of the traveled way to bicycle facilities to allow for buffered or protected bicycle lanes may increase safety perceptions among bicyclists and improve the bicycling mode share in municipalities. Additionally, this study only begins to explore the safety concerns associated with e-bikes. Future research should further explore conventional bicyclists' safety perceptions of e-bikes as they continue to be more prominent on the road.
Erica Quallen Presents Thesis Defense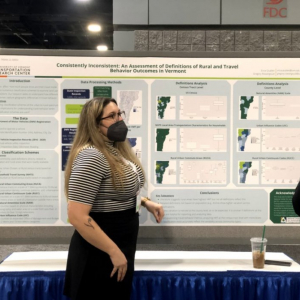 Travel Behavior, Attitudes, and Barriers to Change in Small and Rural Communities
Date & Time
April 1, 2022
1:10 PM
Kalkin 007
Abstract
Travel behavior and its underlying factors in small and rural communities has been historically understudied in transportation research. By understanding these factors and behaviors, a clearer picture of these regions can be drawn so that meaningful change towards greenhouse gas reductions can be realized. My research aims to examine barriers to making sustainable travel behavior changes such as using multi-modal transportation, reducing overall amounts of travel, or moving to locations closer to necessary services. I do this by first evaluating what "rural" means in terms of existing definitions of the term. I then analyze interviews conducted with Vermonters to get first-hand accounts of what types of change people think are possible as well as the barriers to achieving this change. The assessment of rural definitions analyzes vehicle miles traveled (VMT) calculated from statewide inspection and registration data under multiple definitions of urban and rural. Large discrepancies were found to occur in VMT depending on the definition used, and common presuppositions, such as rural areas being those that experience the highest VMT, are directly questioned. The results presented here suggest that multiple ways of defining rurality can conclude differing results, and that the way in which we classify rural areas should be reevaluated. The interviews then employed questions on day-to-day challenges of traveling, suggestions for reducing greenhouse gas emissions in their communities, responses to fuel prices, and opinions on electric vehicles were asked. Rural areas struggle most frequently with traveling long distances to reach services, while urban areas are more concerned with traffic, opinions on EV ownership were consistent across the state, with people being likely to consider owning an EV if costs of ownership were to decrease. These two components of my research highlight that rural travel behavior stereotypes may not accurately reflect reality and that while there are barriers, opportunities exist to bring about greenhouse gas emissions reductions from transportation in small and rural communities.
Summer Research Opportunities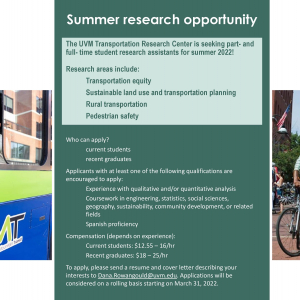 The UVM Transportation Research Center is seeking part- and full-time student research assistants for summer 2022!
Research areas include:
Transportation equity
Sustainable land use and transportation planning
Rural transportation
Pedestrian safety
Who can apply?
current students
recent graduates
Applicants with at least one of the following qualifications are encouraged to apply:
Experience with qualitative and/or quantitative analysis
Coursework in engineering, statistics, social sciences, geography, sustainability, community development, or related fields
Spanish proficiency
Compensation (depends on experience):
Current students: $12.55 –16/hr
Recent graduates: $18 –25/hr

To apply, please send a resume and cover letter describing your interests to Dana.Rowangould@uvm.edu. Applications will be considered on a rolling basis starting on March 31, 2022.
Summer Internship Opportunity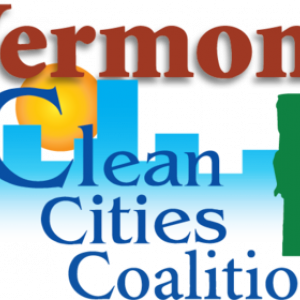 Vermont Clean Cities Seeks Summer Intern
Time Committment
30 - 40 hrs/week, June 13 - August 26, 2022 (start and end dates are flexible)
Compensation
Stipend Range: $3600 - $4800 (undergraduate or recent graduate)
$4500 - $6000 (graduate student)
Application Deadline
April 22, 2022
The Vermont Clean Cities Coalition (VTCCC) is a statewide program funded by the  U.S. Department of Energy's Clean Cities whose mission is to advance the economic, environmental and energy security of the U.S. by supporting local decisions to adopt practices that contribute to reduced petroleum consumption in the transportation sector. VT Clean Cities brings together stakeholders in the public and private sectors to deploy alternative and renewable fuels, idle-reduction measures, fuel economy improvements, and emerging transportation technologies. The VTCCC Clean Cities Intern works with VTCCC's Coordinator in UVM's Transportation Research Center to accomplish the goals of the coalition. The internship will provide many opportunities to network with businesses, industry, and government stakeholders. A dynamic working environment gives the opportunity to learn multiple work-related skills in a short period of time. 
The Clean Cities University Workforce Development Program (CCUWDP) is funded through the Technology Integration Program within the Vehicle Technologies Office at the U.S. Department of Energy in collaboration with Argonne National Laboratory. CCUWDP funds the Internship.
Major Responsibilities
We will consider the intern's interests in program placement, but responsibilities may include any of the following (based upon our current need and intern skill set):
Meeting and event coordination, including site visits, demonstration events, and on-line meetings.  

Representing the Coalition and communicating effectively in a variety of public and private forums, including meetings, events, and electronically. 

Assisting with educating stakeholders through monthly newsletters and electronic messaging about related legislation and regulations, new technologies, etc. 

Enhancing social media efforts and coalition website.

Conducting outreach, phone calls, emails.
Assisting with administrative support.

Maintaining the Coalition stakeholder email distribution lists. 
Current student (or recent graduate) pursuing a related degree, Communications, Environmental Studies, Social Sciences, or similar. 
Highly creative original thinker, who is eager to develop fun and engaging ideas to help us expand our online presence. 

Ability to quickly create and produce content with fast turnaround to follow relevant trends

Clear and effective written and verbal communication

Ability to work independently or collaborate with a team

Comfortable assessing analytics on social media platforms
Work with stakeholders to share stories, data, and local policy priorities

Eagerness to provide and receive feedback with an eye towards growth and development

Active familiarity with social platforms 

Strong familiarity of Microsoft applications 

Passionate about sustainability, clean transportation, and environmental justice; prior relevant coursework preferred but not required.
The internship activities are designed to be conducted, administered, and produced on-line and in-person, with supervision from VT Clean Cities Coordinator through regularly scheduled phone calls, email, and MS Teams video calls. The VTCCC coordinator will support their work and ensure that they have the necessary access to shared electronic files. The intern will be given a dedicated workstation, including a computer, and internet access, in an office at the Transportation Research Center in Mansfield House on The University of Vermont campus. 
There is a possibility of combining this position with a research assistant position to extend the hours or timeframe of the work with VTCCC. This would involve joining a team of researchers conducting interviews with car-less rural Vermonters to understand their unmet travel needs. The research project is being led by Professor Dana Rowangould at the UVM Transportation Research Center with a pay rate of $18 - $25/hr. depending on education level and experience. Spanish-language proficiency preferred. 
TRB 2022 Annual Meeting Recap
The UVM Transportation Research Center was well represented at the 101st Annual Meeting of the Transportation Research Board held in Washington, DC from January  9 – 13, 2022. Four students and three TRC faculty and staff members  presented their research on rural travel issues, transit equity and infrastructure monitoring, lead conference sessions, and  networked with colleagues and transportation experts from across the globe. 
Erica Quallen, a Civil and Environmental Engineering Master's student, who conducts research with the TRC, presented two posters describing her thesis research that aims to lay a new foundation for better understanding rural travel behavior.  Erica found the poster sessions invaluable because she was able to talk about her work and engage in discussions with a wide variety of people who were just as excited about transportation issues as she is. Her paper, Consistently Inconsistent: An Assessment of Definitions of Rural and Travel Behavior Outcomes in Vermont received a lot of positive recognition as a foundation piece of research furthering our understanding of rurality and how to measure travel behavior in rural areas. Erica's experience at the TRB Annual Meeting was energizing and reinforced her resolve to continue in the field of transportation research, as "no matter what project I take on, there will always be more questions to ask, and that's really exciting."
Sierra Espeland won the prestigious Dwight David Eisenhower Transportation Fellowship (DDETFP) Achievement Award: 2021 Top Ranked Master's Fellowship Fellow, for her research "Travel Burdens in Rural U.S. Households". Sierra is a first-year Civil and Environmental Engineering Master's student working with Dr. Dana Rowangould. She also presented preliminary results from her MS thesis research in a lectern session. 
Julia Clarke, a senior Civil Engineering BS student and Barrett Scholar shared the stage in a lectern session with some of the world's top travel behavior researchers to present her work on how the travel of Vermonters was affected by the COVID-19 pandemic. Julia's research with the TRC offers a unique perspective on the different impacts felt by people living in urban, suburban, and rural communities. 
A Summary of the research TR

C faculty and students presented is provided below:
Title: A Comparative Analysis of Opportunities and Barriers for Changing Travel Behavior and Reducing GHG Emissions in Small and Rural Communities
Clare Nelson: Undergraduate Student
Abstract
This paper examined travel attitudes in a majority rural state (VT) by speaking directly with VTers about day-to-day travel challenges, suggestions for GHG reduction, responses to fuel prices, and opinions on electric vehicles. Rural areas struggle with travelling long distances for services, while urban areas are concerned with traffic, with both rural and urban respondents being open to EV purchase if prices dropped. These interviews highlighted key questions for policy-makers to develop practical and effective policies to reduce GHG in rural areas.
Title: Consistently Inconsistent: An Assessment of Definitions of Rural and Travel Behavior Outcomes in Vermont
Abstract 
The varying definitions of rurality across state and federal departments do not allow for an accurate portrayal of community nuances and their travel behavior. VMT under multiple definitions of "rural" and "urban" were analyzed. The results suggest that different definitions of rurality conclude in differing results and the way rural areas are classified should be reevaluated in order to effectively target policies aimed at understanding the travel behavior and social characteristics of an area.
Title: The Impacts of COVID-19 on Travel Behavior in Small and Rural Communities
Abstract
COVID-19 impacted how people travel, and this study conducted interviews with Vermonters to better understand this change. Differences across urban, suburban and rural communities was compared. Those living in more rural areas did not experience significant changes in travel behavior; walking increased in all communities, suggesting that walking and biking levels during the pandemic should impact public policy as it relates to travel infrastructure. 
Title: A Flexible Itinerary-Based Fare Calculator with Detailed Transfer Modeling
Abstract
The ability to accurately estimate transit fares with a given itinerary has wide applications in equity and accessibility research, analysis of fare policy, and customer service. This paper outlines a fare calculation tool developed as part of an accessibility and equity analysis of seven major US urban areas.
Dryver Huston: TRC Associated Faculty, Professor, Mechanical Engineering
Title: Hydraulic Inspection Vehicle Explorer (HIVE 2.0) for Culvert Upgrades
Abstract
This project researched the design, fabrication and testing of a lightweight and low-cost inspection vehicle that enables movement through small, flooded culverts.
NCST: Call for Proposals for 2022 UVM Federal Research Grants
Eligible Applicants
Awards will be made to individuals or teams of researchers at UVM. Applicants must be approved to serve as a Principal Investigator (PI) at UVM to apply for an NCST faculty research grant.
Eligible Projects
NCST's goal is to produce research that directly supports the efforts of policy makers and professionals to improve the sustainability of the transportation systems. Proposed projects at UVM must fall under one of more of the following NCST research foci:
Environmentally Responsible Infrastructure and Operations
Multi-Modal Travel and Sustainable Land Use
Zero-Emission Vehicle and Fuel Technologies
Institutional Change
Within the NCST team, UVM contributes to the following topics:
Adaptation planning and resiliency
Long distance or intercity travel
Non-motorized transportation
Vehicle emissions
Workforce development
Proposals in these areas are particularly encouraged by UVM.
Three types of proposals will be considered:
Seed grant proposals for new ideas that are not well developed but address animportant topic with potentially large impact, for a maximum of $23,000 (total costs = direct + indirect costs)
White paper proposals to synthesize existing evidence and identify research gaps for critical policy questions, for a maximum of $37,000 (total costs = direct + indirect costs). White papers are aimed at a broad audience of professionals and policy-makers. The proposal should include a meeting with policy-makers, researchers, and/or practitioners as part of the white paper development process.
Research Project proposals by one or more PIs for a particular project, for $85,000 (total costs = direct and indirect costs) for one year.
Number of Projects Funded
Funding of 3-4 projects using federal fiscal year 2022 funding is expected.
Period of Performance
Successful applicants for project proposals receive one-year grants, with funding provided for the Fall 2022 term or earlier. Project completion dates will be one year from the start date and will end, without exception, before August 31, 2023. As discussed in more detail in the "Reporting Requirements" section, each annual grant must produce useful products including a final research report for the work and a 2-page Policy Brief
TRC Sends off 2021 Graduates
With Commencement around the corner, the TRC sends off several undergraduate and graduate researchers to start their lives and careers beyond UVM.  Some students are entering the workforce as transportation planners and engineers, while others are continuing their studies at the graduate level. Here are just a few ways our students will bring what they have learned from their research to support more sustainable, equitable, and resilient transportation systems in Vermont and beyond.
From Your Recycling Bin to the Roadway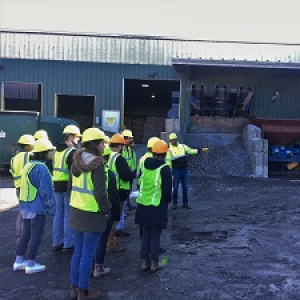 Professor Mandar Dewoolkar is leading a team on a new TRC research project, supported by the Transportation Infrastructure Durability Center, that is investigating how Processed Glass Aggregate may be able to replace sand-based materials in transportation projects in Vermont.
TRC Director presents Policy Insights at Capitol Hill Briefing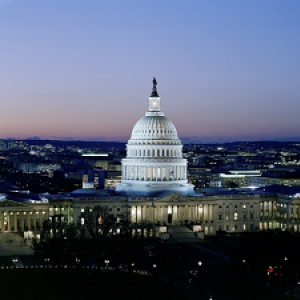 In February, UVM Transportation Research Center Director, Dr. Greg Rowangould, participated in a Capitol Hill briefing on electric vehicle markets hosted by the National Center for Sustainable Transportation. Dr. Rowangould addressed some of the successes, barriers, and policy gaps that Vermont and neighboring states in the northeast face with electric vehicle adoption as largely rural states in cold climates
Fall 2020 REU Students
With a semester like no other coming to an end, we want to highlight undergraduate students who participated in research projects with the Transportation Research Center throughout the fall. All of these students participated in the CEMS Research Experience for Undergraduates (REU) program, which provides funding for students to assist faculty with research during the academic year and summer term.