Glenn McRae, in his capacity as director of the Northeast Transportation Workforce Center (NETWC) presented on March 28  at the recent Academic Workshop for the USDOT's Intelligent Transportation Systems (ITS) Professional Capacity Building Program (PCB), hosted in Tampa, Florida. This two-day collaborative event is the sixth national workshop organized by the USDOT, where educators and practitioners define ITS entry-level workforce competencies, discuss educational needs, review existing training products and strategies, and develop strategies to fill any unmet educational needs. This workshop builds on previous workshops, leveraging findings and uniting all levels of ITS education to help promote an educational continuum for the ITS workforce.
This year's program was hosted in Tampa, the site of the Connected Vehicle Pilot at the Tampa-Hillsboro Expressway Authority. Faculty and program managers from 28 schools attended, as well as leaders from key professional organizations, including ITS America, the National Operations Center of Excellence, and ITE.  Attendees were able to tour the demonstration tracks supported by the pilot, as well as observing the operations at the FL DOT District 7 Regional Transportation Management Center.
TRC's Glenn McRae presented on the continuum of educational opportunity for integrating ITS into K-12, as well as post-secondary CTE and STEM programs at community colleges and universities, along with his colleague Dr. Stephanie Ivey (University of Memphis) who directs the Southeast Transportation Workforce Center.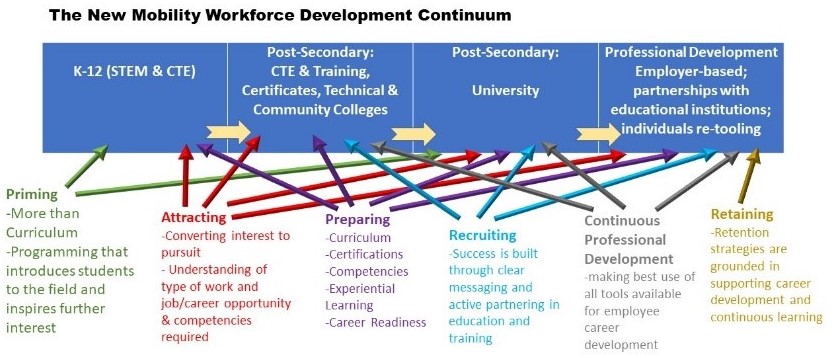 Building on the workshops and action plans developed, the UVM TRC will lead one of three initiatives to advance the effectiveness of the ITS PCB program, developing a community of practice among participating faculty, program managers, and practitioners. Other FHWA designated regional transportation workforce centers (SETWC & SWTWC) will lead initiative to profile ITS projects and professionals, illustrating career paths in ITS), and revise and develop new academic modules for ITS education at the community college and university level. This work is funded by the USDOT.
PUBLISHED 4-18-2019