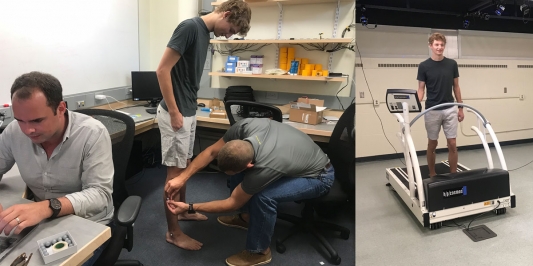 Promoting Undergraduate Research Experiences

Undergraduate summer research is an opportunity for CEMS students to experience working in a research environment and to develop a personal relationship with a faculty member. The CEMS Summer Research Experience for Undergraduates (REU) provides a stipend of $4000 to the student to support full-time research effort over a summer period. This amount is paid $2000 from a faculty grant or contract and $2000 from the College Dean's Office. Any undergraduate CEMS student is eligible to apply, although preference will be given to students in their sophomore or junior years. Senior students graduating in May are only eligible to apply if they are admitted to a CEMS Accelerated Master's Program (AMP) and will be continuing as an M.S. student in the fall.

The proposed project must fit within the general research area of the faculty advisor. In this way, undergraduates have the opportunity and resources to pursue independent research as well as work closely with active faculty members who are leading scholars in their fields. Project ideas can be independently generated by the student or selected from research topics that have been described by faculty members. It is expected that faculty mentors will be on campus for the majority of the summer and available to mentor the student.

The program is structured to reflect the application process and the execution of a program that would typically be funded by an external granting agency:
Students are required to submit an application describing a specific research project to be completed under the direction of a faculty mentor;
Applications are evaluated by a panel of UVM College of Engineering and Mathematical Sciences faculty, and the top ranked proposals are elected for funding; and
Awardees carry out the research during a single summer, create and present a poster describing their work and their results, and submit a final report detailing the outcomes.
In many instances, results may be suitable for presentation at regional or national conferences and/or publication.
How to Apply
Please read the Program Guidelines (linked below) for detailed instructions and then apply on Handshake at https://uvm.joinhandshake.com/jobs/4160021 for job #4160021.
CEMS Summer REU Program Guidelines 2021 (PDF)

Application Cover Guide (PDF)
CEMS Summer REU Application Dates:
Applications Open: Wednesday, January 6, 2021
Applications Due: Friday, March 5, 2021
Examples of Academic Year 2020-2021 REU Participants:
Civil and Environmental Engineering
Studying Biofilm Mitigation Using Magnetic Nanoparticles
Floodplain Habitat Modeling
Greenhouse Gas Emissions from Compost
Study of Tower Crane Collapse Failures
Studying Brewery Wastewater Treatment Using Algae
Metabolic Modeling of Medium-Chain Fatty Acid Production from Proteins
Electrical and Biomedical Engineering
An investigation of new models for wireless communication channels
Task Extrapolation of Muscle Synergy Functions
Reliability of Quantitative MRI Measurements of Cartilage in Subjects with Healthy Limbs
Agent-Based Modeling of COVID-19 Propagation in the Population
Dynamic Simulation of Satellite Swarms
Mechanical Engineering
Modeling the spread of COVID-19 due to complex air flow
Analyzing the Effects of Ligament Trauma and Reconstruction on Knee Joint Biomechanics
Reliability of Quantitative MRI Measurements of Cartilage in Subjects with Healthy Limbs
Properties of Polymer Nanocomposites
Computer Science
Algorithms for Differential Privacy in Data Analytics
Case Studies in DDuo for Differential Privacy
Integrating Evolutionary Algorithms and Differentiable Physics
Fully Homomorphic Encryption and Applications
Enhancing Motivation to Quit Smoking
Mathematics and Statistics
Computational Modeling and Analysis of Thermodynamics
Building Computer Verifiable Proofs of Theorems in Linear Algebra Using the Lean Theorem Prover
Clifford Algebras and Higher Dimensional Ford Packings
Elimination of spurious high-frequency artifacts in numerical modeling of distributed-feedback devices
Improving convergence of an iteration algorithm for Hartree-Fock equations modeling Helium on graphene.
Eigenvalue computation of large matrices and differential operators
Measuring Stigma Associated with Mental Illness from Social Media Data
Natural Language Processing features of Palliative Care Conversations
Paid Summer Research Experiences:
Joint Mechanics in Patients at Risk for Post-Traumatic Osteoarthritis
Quantifying Gully Erosion Along Vermont Roads and its Impact on Water Quality
Treating Bacterial Eye Infections With Targeted Gold Nanoparticles
Uptake of Targeted Activatable Nanoparticles Detecting Reactive Oxygen Species in Vitro
Elucidating the Potential of Anaerobic Digestion to improve Sustainability of Agricultural Systems in Vermont
Individual Particle Tracking Experiment Under Prescribed Oscillatory Flow Fields
Analyzing the Effects of Ligament Trauma and Reconstruction on Knee Joint Biomechanics
Biomechanics after ACL Reconstructive and Partial Menisectomy
CATMA Survey Study: Transportation Equity in Burlington, Vermont  
Redesigning and Evaluating the Universal ACS Surgical Risk Calculator for Categorical Data
Conversion of Food Waste into Medium-Chain Carboxylic Acids
Stiffness and Composition of Diseased Lungs Modulates Cell Behavior:  A Novel In Vitro Mo
Reducing Greenhouse Gas Emissions at Shelburne Farms
Markov Chain Project
Exploring the Accuracy vs. Performance Tradeoff in Differentially Private Multiparty Computation Architectures