Research
Maple research at UVM began in the 1890s. The Proctor Maple Research Center was established in 1946, when Governor Mortimer Proctor donated the former Harvey Farm in Underhill to UVM.
Our research has enhanced knowledge of the sap flow mechanism, weather variables affecting sap yield, carbohydrate metabolism, sap biochemistry and microbiology, syrup chemistry, and wood anatomy and physiology, as well as sugar maple health in relation to various biotic and abiotic stresses such as nutrition and climate. We have recently joined MapleResearch.org, where you can search for our publications.
Facilities
Our property consists of approximately 200 acres of wooded and open land. About 60-70 acres are sugarbush actively managed for maple syrup production and research.
In the Maple Production Research Facility, built in 2006, we conduct experiments on up to four evaporators simultaneously, each fed by a common sap source. With this set-up we have studied air injectors, pre-heaters, steam-away units, reverse osmosis, and other maple innovations.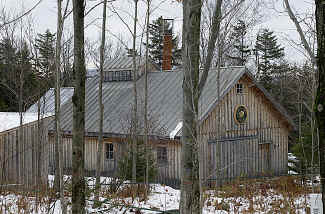 The Sumner Hill Williams Sugarhouse was designed and built in 1993 by sugaring operations manager Sumner Williams, with the assistance of Proctor staff, volunteers, and numerous donations of materials and services. The building was named for Sumner after an accident claimed his life in 1999. It now houses a Lapierre HyperBrix Reverse Osmosis machine and evaporator, which helped to double operational productivity in 2018.
The main laboratory building contains modern research facilities, offices, a kitchen, workshops, and a conference room for up to 75 people equipped for presentations and teaching. The conference room is available to UVM and other organizations for classroom teaching, meetings, and retreats.