Jake Gorton '19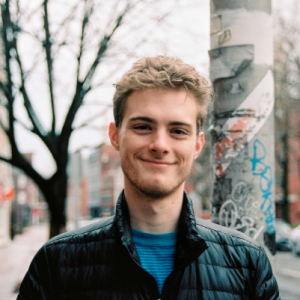 Major: Community Entrepreneurship
Internship: Vermont Craft Mead Company in Colchester, VT
Tasks: During Jake's time at Vermont Craft Mead Company he was able to learn all of the different roles of a small business from head brewer, accounts manager, and head of sales/marketing. He learned about the process of brewing 900 gallon batches of mead with the Head Brewer, then tracking the fermentation process using industry specific tools, and eventually packaging the beverage in cans and then cases. He also worked with the company owner to learn about administrative duties that come along with small businesses including tracking inventory, paying taxes, and submitting invoices. He also assisted with sales and marketing by working at various events that showcased their brand and products directly to customers.
Highlights: Learning what it takes to run a small business and receiving a job offer. "As someone who is studying Community Entrepreneurship, and who hopes to one day open a small brewery, the opportunity to work with a small company in the Craft Beverage industry, and to learn from the industry leaders in Craft Mead was an incredibly valuable hands on experience. Having actually been hired on at Groennfell has been a dream come true. I am enjoying the freedom and responsibility that comes along with working at a small business. While I do not intend on attempting to open my own brewing business anytime soon, I do intend to work for Groennfell post graduation and to stay involved with the craft beverage industry in future careers."
Hannah Albert '19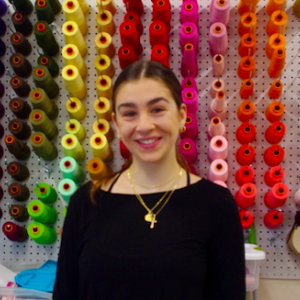 Major: Public Communication
Internship: Commando LLC in South Burlington, VT
Tasks: Assisted with online merchandising for various products, participated in social media management through the creation of new content, organized and put together packages for influencers to help promote various Commando products, aided in the release of new product photos with each new launch, collaborated in project management and execution, and helped support the marketing team to achieve project deadlines.
Highlights: "The highlight of interning at Commando is definitely gaining experience in the fashion industry. I have always loved fashion and wanted to pursue a career combining my interests with my Public Communication degree. When I discovered this opportunity, I was so excited to gain experience with a Vermont-based company that has presence in New York Fashion Week and among celebrities and stylists."
How did Hannah find this internship? Research and networking.
"My biggest piece of advice for anyone looking to go into a career in fashion or marketing is to secure internships that align with your interests while you're still in college. Often times employers want to see that you have 1-3 years of experience for an entry level position, so having internships can really set you up for success. Most of the internships I set up were from doing research and reaching out to the companies that aligned with my values and interests to see if they'd consider having an intern. This is a great way to practice networking and also learn more about the companies organizations you have interest in."
Katie Robinson '19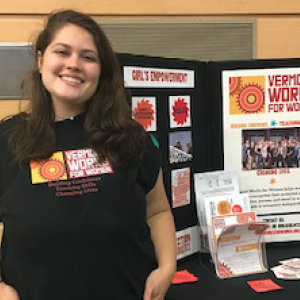 Major: Community & International Development
Internship: Vermont Works for Women in Winooski, VT
Tasks: Katie's internship focused on program development and implementation with the girl's program at Vermont Works for Women. She assissted with various office tasks, outreach at conferences and events, co-facilitating activities, program development and implementation, and working with survey data to track responses of participants at events.
Highlights: Katie was able to get hands-on experience in a non-profit that focused on the intersection of gender and development, while also being able to interact with the community that she was aiming to serve, which is middle school and high school aged girls who are encouraged to explore STEM and trade careers. She was able to gain professional skills and make meaningful network connections and friendships while determining that the non-profit sector is where she wants to pursue her professional and academic career.
How did Katie find this internship? She first learned of this opportunity at the UVM job/internship fair her first year as a student, and the opportunity stuck with her ever since so she decided to follow up. "I chose this internship because the organization's mission aligned with my interests, specifically gender equity and the empowerment of women and girls."
Jacob Rist '19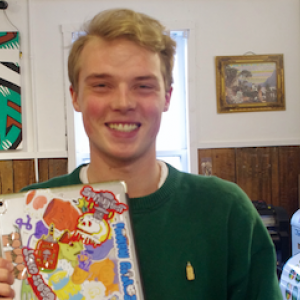 Major: Public Communication
Minor: Applied Design
Internship: The Sticky Brand in Burlington, VT
Tasks: Fulfilling orders for various businesses and vendors, using design software such as adobe photoshop, illustrator and Indesign to develop and print stickers.
Highlights: "I was able to see the stickers and banner I made at a show which is awesome. I think the reason why I found this job so enticing is the ability to constantly see your work being produced into a completed project. I am able to learn about graphic design and then have it transition into a physical product."
Brianna Hillier '21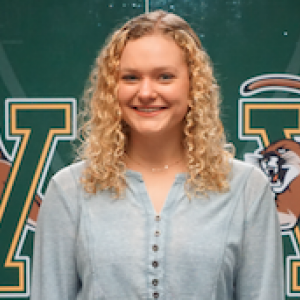 Major: Public Communication
Internship: University of Vermont Athletics, External Relations & Communications
Tasks: Brianna is responsible for live-tweeting the action during sports games, generating graphics to post while the games are being played, and post key statistics. She also does three hours of office hours a week where she works in the communications department at Patrick Gym. Sometimes it is to write press releases, athlete biographies, season prospectus, photo ID-ing and editing, graphic development, website management, game-day programs, and more.
Highlights: "The most memorable part of my internship during my time with the communications department was when the Men's basketball team won the America East Conference title last March. Major games like that are always an all-hands on deck situation, and I was assigned a media pass to run around the entire event taking pictures and videos to post to our social media. Overall, I've loved seeing all the behind the scenes work that goes into athletics."
Ben Johnson '19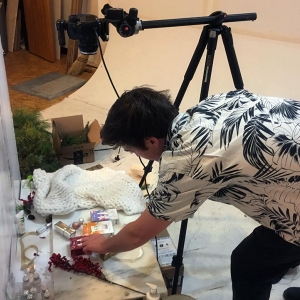 Major: Community Entrepreneurship
Minor: Applied Design
Internship: JAM Creative in Burlington, VT
Tasks: Ben's responsibilities at JAM Creative included aiding in pre-production process, retouching large quantities of production images, portraits, and wedding photos.
Highlights: The biggest highlight for Ben was being able to have the opportunity to go to actual weddings and events and participate in photo shoots like he would in an actual job, "Being able to have the hands-on experience that you do not usually gain in a normal class in college was the biggest thing I took away from my internship."
How did Ben find this internship? His Academic Advisor
Sara Meyer '19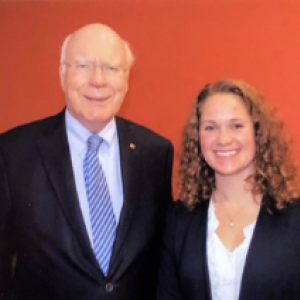 Majors: Community and International Development & Community Entrepreneurship
Minor: Public Communications
Internship: Senator Leahy of Vermont
Tasks: Assisting staff and caseworkers with any tasks or research projects, answering the office phone calls from constituents, opening and scanning mail, and responding to constituents and recording messages for the Senator.
Highlight: Participating in staff meetings with the DC and Montpelier office.
How did Sara find this internship? A suggestion from a family friend who had a similar internship in college.
Sophie Emery '19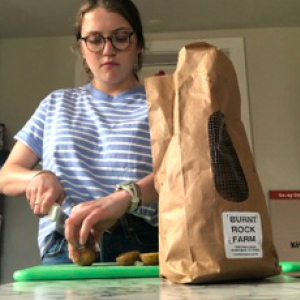 Major: Community & International Development
Minor: Community Entrepreneurship
Internship: Intervale Food Hub in Burlington, VT
Tasks: Weekly recipe creation based on the contents of the CSA basket for that week, develop digital content for recipies including photos and videos, post content to the Intervale Food Hub Instagram and send out to customers via the weekly newsletter. Conduct outreach via flyers and phone banking.
Highlights: "The internship program at the IFH offers an amazing way to see first-hand how the local Burlington community is making incredible strides to help local farmers support themselves and integrate themselves into an urban community. I found the creative aspect of this internship to be a real highlight. I got to put my creative side to use in a way I haven't done in a long time through the video and Instagram creation."
How did Sophie find this internship? Her academic advisor, Dan Baker, who suggested it to her after a conversation about her passion and interest in urban agriculture.
Nicho Ader '20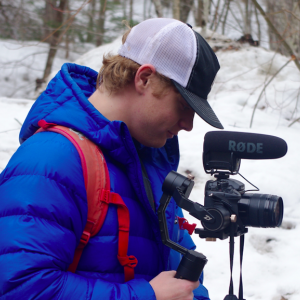 Major: Self-Design: Narrative Communications and Media
Internship: UVM Communications in Burlington, VT
Tasks: Tell captivating stories through video and strengthen organization and pre-production skills, cinematography, audio techniques and editing skills. Produce video of spring travel study to Ecuador, UVM clubs and interesting students.
Highlights: Traveling to Ecuador to shoot and edit a video promoting UVM Travel Study and building a fantastic relationship with his boss/mentor.
How did Nicho find this internship? CDAE's weekly internship email.
Meghan Brown '19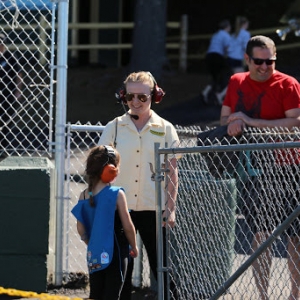 Major: Public Communication
Minor: Community Entrepreneurship
Internship: Thunder Road International Speedbowl in Barre, VT

Tasks: As a Communications Intern, Meghan was responsible for marketing and promotions including creating visual outreach materials, ticket sales, event day operations at the racetrack, and administrative tasks such as data input, paper filing, and pre-event preparations.
Highlights: Gaining experience in a field that she's passionate about. She gained valuable insight into marketing and promotions, event day operations, and how to run a successful business in the field of athletics. This internship has led to a career interest for her future while also gaining college credit along the way.
How did Meghan find this internship? First realizing her passion for racing, then using her network and connections to reach out to the business and ask if they had any internship opportunities. She urges anyone who is looking into doing an internship to not be afraid to ask a company they're interested in even if they don't have any postings.
Jessica Taylor '20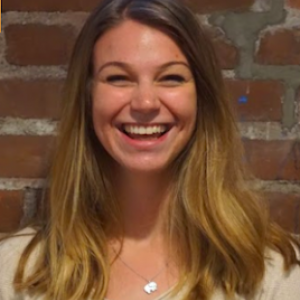 Major: Community and International Development
Internship: Development Intern at 1% for the Planet
Tasks: Jess does research on where to get donations and funds for 1% for the Planet. She looks at grants and checks to see if 1% for the Planet is eligible for those grants. This can be challenging because 1% for the Planet has created a network that connects companies and nonprofits, and often that is not what most grants are for.
Highlights: "I'm really enjoying learning about the working of a nonprofit and seeing how small scale nonprofits work. I like seeing how social initiatives are played out and it's cool to see all the pieces come together."

How did Jessica find this internship? When Jess took CDAE 166, Community Entrepreneurship, her group chose 1% for the Planet to donate their profits to. As a result of that, it was a company that she knew was in the area and was a company that she was interested in.
Robbie Sands '19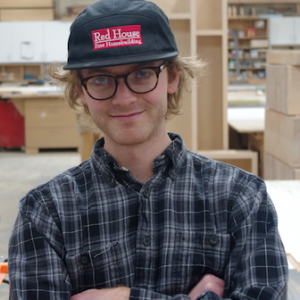 Major: Self-Design: Sustainable Community Design
Internship: Red House Building in Colchester, VT
Tasks: Provide estimates for projects, order and manage materials, assist with construction and woodworking, gather data on vendors and subcontractors and manage bookkeeping, payroll, invoice and billing.
Highlights: "Seeing my designs and SketchUp renderings get built for clients— it's cool to see a 3D model I made come to life. I also developed my understanding of construction and increased my confidence in the workplace. I am strong believer in small business and it was great to see how Red House operates. I hope to emulate this type of work in my future careers and endeavors."
Autumn Strom '21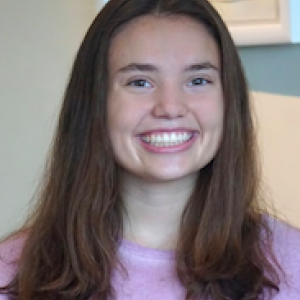 Major: Community and International Development
Internship: Manomet U360
Tasks: Manomet U360 is a nonprofit whose mission is to use science to engage people to create a more sustainable world. They are based in Massachusetts and the U360 program is for college students-- my program is made up of UVM & UNH students. Everyone is split into teams and you interview small businesses about sustainability. It is a two semester internship. At the end you choose a business to do a case study on; we look into the business's governance, environmental, social practices. I have weekly meetings. We just finished the stage where we research all the businesses. There is a lot of back and forth through email contacting the businesses. Then you zoom with your group and discuss what went well. After that I choose the business I want to focus on.
Highlights: The actual interviews are my favorite part; you get to learn a lot about businesses. Many of mine are local Vermont businesses from where I grew up. Some businesses have really cool sustainable practices that you wouldn't know from the consumer side.
How did Autumn find this internship? Someone came in to talk to my class about the internship.