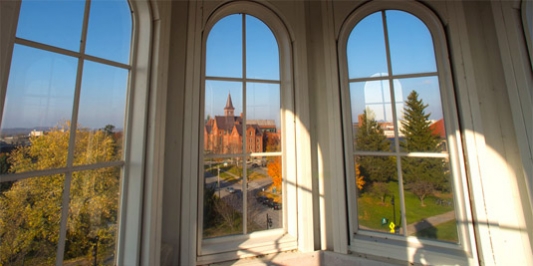 CDAE has three majors, seven minors, and participates in a cross-CALS minor, Food Systems, and a cross-college minor, Sports Management, for undergraduates.
Applied Design
The applied design minor offers the hands-on experience needed to visually communicate a wide range of ideas and information on digital or print media. This minor enhances any student's ability to visually express themselves or results of their work to a desired audience.
In addition to becoming proficient in software applications used in design, students participating in this minor learn design strategy and apply their knowledge to real-world projects, campaigns, or organizations.
Unique to Applied Design (15 total credits)
Embed graphic design in community projects.
Practical tools that enhance almost any profession.
Required Courses (9 credits):
CDAE 15: Visual Communication

One of the following:
CDAE 001 Drafting & Design in SketchUp
CDAE 018 Communication Design I
CDAE 016 Digital Illustration
 
One of the following:
CDAE 101 Drafting & Design: SketchUp II
CDAE 116 Communication Design II
CDAE 231 Applied Computer Graphics
Advisor Approved Electives (6 or more credits)
CDAE 111 Design:Narrative Media & Video
CDAE 112 Social Media:Theory 2 Practice
CDAE 114 Doc. Film for Social Change
CDAE 164 Design+Cultural Entreprneurshp
CDAE 195 Special Topics (When the topic is Publication Design)
CDAE 195 Special Topics (When the topic is Motion Graphics)
CDAE 195 Special Topics (When the topic is Inforgraphics and Data Visualization)
CDAE 276 Community Design Studio
CDAE 278 Applied Community Planning
CDAE 296 Internship

No more than two courses can count toward both a student's major and minor for CENT, PCOM, and CID majors or other CDAE minors.
Students must get approval from their minor advisor other advisor approved, upper-level, applied-design-related electives.
Nine of the 15 total hours must be at the 100 level or above.
Applied Design Faculty...
Community Entrepreneurship
If there was ever a hands-on major/minor, this is it. Community Entrepreneurship instills the foundations of successful enterprise development including strategic business planning, marketing techniques, and market analyses and projections. As entrepreneurship is a vital thread in the fabric of a community, students aquire entrepreneurial skills in the context of social responsibility and healthy community development.
Students gain real-world experience in entrepreneurship in multiple ways. Students become entrepreneurs in the risk-free classroom setting. Or they are partnered with entrepreneurs in the community through courses. And many CEnt students start enterprises of their own in the real world while they are still students or upon graduation.
CEnt Learning Goals
Learn trans-disciplinary theories, methods, and tools in preparation for starting and managing sustainable and ethical community-based enterprises.
Understand the key financial, marketing, and strategic planning concepts needed to manage a community-based enterprise.
Engage in service learning opportunities related to owning and operating a community-based enterprise.
CEnt Careers
business ownership and management
financial consulting
marketing and marke research
information technology
food systems
academic professor/researcher
Unique to CEnt
CDAE's award winning Dollar Enterprise course.
Community partnerships with organizations like Cabot, Hope for Women, Spectrum Youth Services, Intervale Community Farm, and Shelburne Farms.
Interaction with entrepreneurs in our areas.
Essential business skills partnered with community ethics.
CEnt Faculty
David Conner
Tao Sun
Qingbin Wang
Community and International Development
The community and international development minor offers students a structured opportunity to jump into the world and make a difference. Backed by rigorous coursework and experienced faculty oversight, students put ideas into action on the ground... here in Vermont or all over the world. What students find is that real world issues are more complex than they usually seem. There are underlying social, economic, and cultural factors that can hinder development or be an asset to it.
This minor includes a small and successful international program with projects in Peru and St. Lucia that continue working with the same communities year after year. Its strength comes from the integration of a student's individual interests into multidisciplinary teams that include both UVM faculty and students as well as international partners in developing countries.
CID Learning Goals
Learn transdisciplinary theories, methods, and tools that support sustainable and ethical community development.
Engage in service learning opportunities supporting community development.
Integrate applied economic, ecological, and policy principles in advancing sustainable community development.
Established International Programs
CID Careers
CID alums go on to work in the private, public and nonprofit sectors on issues related to environmental sustainability, global health, humanitarian relief, international education, microfinance, agriculture and food systems, peace and conflict resolution.
municipal/regional planning
nonprofit management
community organizing
appropriate technology transfer
alternative transportation coordination
academic professor/researcher
policy analyst
grassroots campaigner
operations officer
foundation officer
grants program officer
country consultant
planner
Unique to CID
Real-world development projects at home and abroad.
Established international courses working with the same communities year after year.
Opportunity to build and continue projects from: semester to semester; undergraduate work to graduate work; academic work to professional work.
Faculty with experience in grassroots development that are dedicated to teaching and mentoring students.
Multidisciplinary experience (aka working with experts in a variety of fields: transportation, health, engineering, etc.)
CID Faculty/Lecturers
Dan Baker
Thomas DeSisto
Josh Farley
Kelly Hamshaw
Ned McMahon
Qingbin Wang
Asim Zia
Consumer Affairs
Students minoring in CAF gain the tools needed to analyze and understand policy decisions that affect consumers and communities. Examples include the impact and effectiveness of labelling, certification on nutritional and consumer goods and consumer advocacy.
UVM students who add this minor to their programs typically have majors in ...
Unique to Consumer Affairs
CDAE works closely with and houses the VT Attorney General's Office Consumer Assistance Program.
Faculty who are regional champions of consumer research and law.
Minor Requirements
Required Courses (12 credits):
CDAE 127 Consumer, Markets & Public Policy
CDAE 128 The Consumer and Advertising
CDAE 157 Consumer Law & Policy
CDAE 159 Consumer Assistance Program
Choose One (3 Credits):
CDAE 102 Sustainable Community Development
CDAE 250 Research Methods for Applied Economics
CDAE 255 Applied Consumption Economics
Consumer Affairs Faculty
Jane Kolodinsky
Jason Duquette Hoffman
Consumer and Advertising
Ineligible majors: PCOM
The consumer and advertising minor focuses on advertising to meet the needs and evoke interest from the public consumer. This minor pulls from consumer affairs, advertising, design, and communication.
Unique to Consumer and Advertising
Explore ways to connect directly with target consumers.
Faculty experience and courses in a variety of disciplines.
Minor Requirements
Required Courses (12 Credits):
CDAE 15 Visual Communication
CDAE 127 Consumer, Markets & Public Policy
CDAE 128 The Consumer & Advertising
CALS 183 Communication Methods
Advisor-Approved Restricted Electives (3 Credits)
Consumer and Advertising Faculty
Food Systems
Envision A Sustainable Future
The Food Systems minor complements majors from across campus, including Natural Sciences, Social Sciences and the Humanities.
Interdisciplinary Curriculum
The design of the Food Systems minor offers students an historical perspective and structural framework for studying our contemporary food system across disciplines. Students will identify and examine complex issues involving food, from soil to table, and develop knowledge and skills to become a more sustainable and responsible food citizen.
Students choose from a selection of food systems-related courses for a minimum of 18 credits. View the list of required coursework on the courses page.
If you would like to declare a minor in Food Systems, please contact Serena Parnau.
Green Building and Community Design
The Green Building and Community Design minor allows students to explore the integration of design principles and application of renewable energy, natural building materials, and ecological landscape into building design and community development.
Unique to Green Building and Community Design
Innovative construction techniques merged with community design and planning.
Hands-on experience planning for and working with environmentally friendly materials.
Holistic approach to design that incorporates functionality as well as landscape features and energy flows.
Unique partnership with Yestermorrow Design/Build School.
 
Green Building and Community Design (15 credits)
GBCD Basics (Choose 3 courses/9 credits)

Energy and Sustainable Green Communities (Choose 2 courses/6 credits)

CDAE 001
Drafting and Design Drawing
CDAE 006
Energy Alternatives
CDAE 101
Computer Aided Drafting and Design
CDAE 102

 

Sustainable Community Dev (3 cr)
CDAE 118
Visual Presentation Techniques
CDAE 131
Light Frame Construction
PSS 137
Landscape Design Fundamentals
CDAE 171

 

Community and International Economic Transformation (3 cr)
 
CDAE 186

 

Sustain Dev Sm Island States (3 cr)
 
CDAE 276

 

Community Design Sudio (3 cr)
 
CDAE 273
Project Planning and Development
 
NR/CDAE 289
Advanced Ecological Design Studio
 
CDAE 295
Restorative Envir Dsgn Studio
 
ENVS 177
Intro to Landscape Restoration
 
PSS 156
Permaculture
 
PSS 208
Organic Farm Planning
 
PSS 238

 

Ecological Landscape Design
 
NR 185
SL: Place Based Ecological Dsgn
 
NR 288
Ecological Design/Living Technologies
 
CDAE 195
Applied Building Series (by Advisor Approval)
A note on courses ending in *95
Courses ending in *95 (e.g. 195 or 295) are either new courses or one-time offerings.

 

These can be applied toward a GBCD minor category if you receive pre-approval from your advisor.
Green Building and Community Design Faculty and Staff
Jane Kolodinsky
Josh Farley
Charlie Ferreira
Jane Petrillo
Public Communication
Communication doesn't happen in a vacuum. Public Communication students learn and use an integrated approach to communication that includes critically analyzing situations, managing information, and crafting messages that work in an increasingly global society.
By embedding real-world projects with classroom reflection, service-learning courses allow students to acquire the skills necessary to succeed in a professional environment. Whether they are creating press releases, analyzing case studies, or designing visual components, PCom students leave UVM with a competitive portfolio of work that allows them to jump right into the ever-evolving profession.
PCom Learning Goals
Learn trans-disciplinary theories, methods, and tools in preparation for supporting sustainable and ethical community-based public policies and communications.
Communicate effectively using appropriate technologies and employing written, oral, and visual techniques.
Engage in service learning opportunities applying public policy theories and communication skills in the public interest.
PCom Careers
social marketing
public relations for non-profits
communication planning
event planning
communication coordinator/ director
Unique to PCom
Combination of classes helps to build a student's individual confidence and fine-tune their communication skills.
Students incorporate knowledge and practice in teamwork, leadership and management, public service, and environmental responsibility into a framework for professional practice.
Students can earn academic credit for work on engaging social campaigns on UVM's campus, within Vermont, or related to CDAE's international programs.
PCom Faculty
Chris Evans
Sarah Heiss
Charlie Ferreira
Jane Petrillo
Tao Sun
Sports Management
The new SMGT minor reflects a unique cross-campus collaboration among the Rubenstein School's Parks, Recreation, and Tourism (PRT) Program; Community Development and Applied Economics (CDAE) in the College of Agricultural and Life Sciences; the Grossman School of Business; and the College of Education and Social Services (CESS). 
Minoring in SMGT requires eighteen credits; three required core courses and three selected from a specific group of course options in marketing, management, and entrepreneurship.