Spotlight on Romance Languages and Linguistics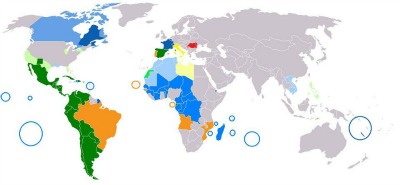 Argentina, Brazil, Canada, Chile, Colombia, Cuba, France, Germany, Italy, Mexico, Peru, Puerto Rico, Spain, and the United States are the fourteen native countries of the thirty-six faculty in the Department of Romance Languages and Linguistics (RLL). French, Italian, Portuguese, and Spanish are the four languages we teach, with Portuguese offered for the first time at UVM in 2009. They all share Latin as their common ancestor, which is why they are called "Romance" languages, i.e., related to the language spoken in Rome (though we do occasionally receive calls such as, "Is this the ROMANCE department?"). In 2009, Linguistics also arrived in our departmental home, and our name was officially changed two years later. (As far as I know, this combination of four Romance Languages and the related field of Linguistics is unique in America.) Linguistics is a popular program established by Professor Julie Roberts, the first linguist to have carried out a detailed study of the Vermont dialect; this dialect is beloved by many but, like other dialects, it is fast-changing as our little state becomes more global. (Did you know, as I learned from Julie's work, that rural accents are most pronounced in older men, whereas women's accents tend to be less extreme?)
In 2011, our longtime Chair, Gayle Nunley, began her wide-ranging work as Associate Provost for Faculty Affairs and Internationalization. At the same time, I started serving as Acting, then Interim, and finally as Chair of our large, diverse, and busy department. In this challenging and never boring undertaking, I am skillfully assisted by the incomparable Joyce Boyer, who worked with Gayle Nunley during her ten years' tenure as Chair.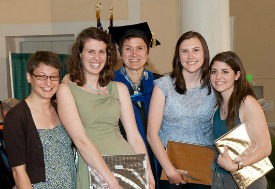 Between French, Italian and Italian Studies, Linguistics, and Spanish, we have about 150 majors and 370 minors. The best among these students are invited to join the National Honors Societies in French, Italian, Linguistics, and Spanish, each of which has a chapter in our department. Like other CAS departments, every year we select an outstanding senior among our various majors. In 2012, this was a group of bright and enthusiastic young women (picutred right) whom I was thrilled to introduce at the May CAS Honors Ceremony.
Our faculty also selects a promising second-year student for each of the four majors. These students receive prizes that come with a pedigree. In French, the sophomore prize is named after Marie Geno, who taught French culture for many years in our department. In Italian, the late and unforgettable Maria Franca Morselli, Botany professor and staunch supporter of Italian Studies at UVM, gives her name to the sophomore prize. The Linguistics sophomore prize takes its name from the late English professor Virginia Clark, who pioneered the study of Linguistics at UVM. The outstanding sophomore in Spanish receives a prize with a widely recognized name: that of Spanish poet Federico García Lorca, who spent some time in Vermont in 1929.
Our students enjoy weekly discussion groups in the various languages and in Linguistics, and some even compete through their language skills. Ernesto Ebratt is the Spanish-language coach for the UVM Spanish Debate Team, which placed seventh out of 20 teams in an international tournament at Cornell University (spring 2011). Many of our students study abroad all over the world, given the wide spread of Romance languages across the globe, and some of these courses are taught by our own faculty. McKew Devitt has taken his students to Spain to hike almost 200 miles on the Camino to Santiago, and to the Dominican Republic for sustainable service learning projects with a batey community.
Some unique courses created by RLL faculty on the UVM campus include "Gringos! Latin American Views of the U.S." (Martin Oyata), "Writing about Cinema" (John Waldron), "Lights, Camera, Paris!" (Meaghan Emery),"African American English" (Maeve Eberhardt), and "Whores, Homos, and More" (Paolo Pucci).
In addition to our majors and minors, we offer a Master of Arts in French, a program from which three of our French lecturers have graduated (Brenda Beaudette-Kaim, Sukie Drolet, and Marielle Macías-Aunave), and in which our talented administrative assistant, Holly Brevent, is currently enrolled. Our most recent faculty hires, as of this fall, are Eric Turcat (Lecturer in French) and Maeve Eberhardt (Assistant Professor in Linguistics). Our newest senior lecturers, promoted last spring, are Ernesto Ebratt and Rachael Montesano, both in Spanish. At the same time, Paolo Pucci (Italian) received tenure and was promoted to Associate Professor. Also impressive and worthy of special mention are our faculty members who teach in more than one foreign language: Adriana Borra (Italian and German), Anis Memon (Italian and French), and Carmen Ana Pont (French and Spanish). There are also those colleagues who have worked at UVM for a very long time indeed who deserve special recognition and much gratitude: Gretchen Van Slyke has been here since 1983, Sukie Drolet since 1987, and Patrizia Jamieson since 1988.
The faculty in the Department is comprised of publicly recognized teachers and scholars, and includes recipients of the Kroepsch-Maurice Award for Excellence in Teaching (Juan Maura), the Dean's Lecture Award for Excellence in Teaching and Research (Tina Escaja, Cristina Mazzoni, Gretchen Van Slyke), and the University Scholar Award for Excellence in Research (Cristina Mazzoni). Department faculty members who belong to the prestigious Phi Beta Kappa Society include Deborah Cafiero, Catherine Connor, Gayle Nunley, Carmen Ana Pont, and Irma Valeriano.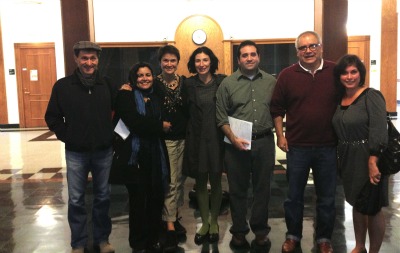 RLL faculty are active participants in the UVM community and include the President of the Faculty Senate (Julie Roberts), the Associate Provost for Faculty Affairs and Internationalization (Gayle Nunley), the Faculty Director of the Global Village Residential Community (Joseph Acquisto), the Director of Latin American and Caribbean Studies (John Waldron), a member of the Executive Council of United Academics (Yolanda Flores), and a College Commencement Marshall (Gretchen Van Slyke). Pictured are some faculty after a recent department meeting. Left to right: Antonello Borra, Tina Escaja, Cristina Mazzoni, Marielle Macías-Aunave, Ignacio Lopez-Vicuna, Juan Maura, and Debora Teixeira.
For nineteen years, the Department has sponsored the Hispanic Forum (pictured below), which this year was organized by Tina Escaja, Juan Maura, and Debora Teixeira, and was dedicated to Brazil, the largest home country of the newest language taught in our department: Portuguese. Some RLL faculty are mentors in the Global Village of residential "houses" dedicated to French (Joseph Acquisto), Italian (Antonello Borra), Portuguese (Debora Teixeira), and Spanish (Guillermo Rodriguez).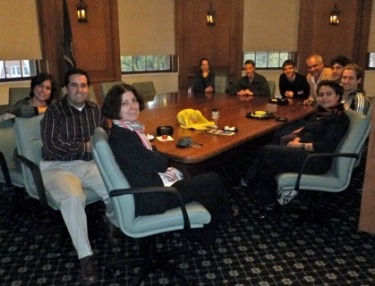 The most recent scholarly books published by RLL faculty include Joseph Acquisto's Crusoes and Other Castaways in Modern French Literature (2012)—if you enjoyed Tom Hanks in Castaway, you've got to look at Joseph's new book—and Ching Selao's Le roman vietnamien francophone (2011)—examining novels written in French by authors of Vietnamese origin. We also have faculty working, for example, on the intersection of neuroscience and literature (Catherine Connor), urban studies and queer theory (Ignacio Lopez-Vicuna), psycholinguistics and second language acquisition (Guillermo Rodriguez), and women's autobiography (Gretchen Van Slyke)—as well as many more literary, cultural, and linguistic scholarly subfields.
In addition to being literary, cultural, and linguistic scholars, we are also poets and pedagogues. The poetry of Antonello Borra (Italian) and Tina Escaja (Spanish), widely published in Italy, Spain, and the U.S., was recently featured in the anthology of Vermont authors, The WRUV Reader, and the poetry of Carmen Ana Pont has been published in the U.S. and Europe. Some faculty hold degrees in language education (Lourdes de Dios, Guillermo Rodriguez, Marthe Russell) and some have published language-learning books (Adriana Borra, Antonello Borra, Cristina Mazzoni, Carmen Ana Pont). Others extend their linguistic, literary, and cultural skills beyond the academy. Meaghan Emery coordinated for many years after school world languages clubs in local public schools; Abigail Sperry is a pianist and back-up vocalist for a local Latin orchestra that also conducts educational workshops on Afro-Caribbean music and dance, Grupo Sabor; David H. Uzzell Jr. works on global value chains and corporate social responsibility, and recently conducted fieldwork in Colombia about the largest export banana firm in the country, Uniban; Irma Valeriano volunteers with immigrants both in Vermont and in Mexico.
Since last April, the Department has had a Facebook page: https://www.facebook.com/UvmRomanceLanguages. The page presents upcoming events and information of interest related to Romance Languages and Linguistics—including posts that are just for fun, from faculty, students, and alums.
I will conclude with a story from a former student of mine who was a French major and Italian minor at UVM: "I got a part-time job making wine at a tiny winery in downtown San Jose. It's this adorable little place run by a husband and wife team... and their two-year-old... and the Italian grandfather. So one night about a week ago we're all there late, per usual, pressing grapes and trading stories and the grandfather is telling us about how his brother is an awful driver and impersonating Italian cops when the grandfather and the owner turn to me and apologize: 'Wait, sorry, Meg. Do you speak Italian? I could try to translate that for you but it's mostly offensive things anyways.' To which I responded by pointing at the grapes that he had misplaced in the press and were now spewing all over the back wall and asked him 'EHI! CHE CAZZO FAI?!' (What the **** are you doing?). Which set them off laughing so hard that no one was able to stop the leak until the back wall was completely purple. Ever since then I always get the late night shift with them, which usually includes dinner and wine (of course) and the potential risk of grapes in my hair. It's lots of fun. And they told me to thank you for teaching me useful Italian. I'm pretty sure it was all those scandalous Italian TV shows. And by scandalous, I mean my favorite."