Watershed Forestry Partnership
Future Forests for Clean Water
The Watershed Forestry Partnership facilitates research, communication, collaboration, and implementation of forest restoration and management practices that protect water resources in the Lake Champlain basin. We are a collaborative of practitioners, researchers, agency representatives, and others, who share best practices, new information, and coordinate efforts around funding opportunities and basin-wide restoration strategy. We are currently focused on riparian forest restoration as a key strategy to achieve water quality goals and provide other important benefits.
The Watershed Forestry Partnership is funded by UVM Extension, Lake Champlain Sea Grant, American Forests, PUR Projet, the U.S. Department of Agriculture Natural Resources Conservation Service, and UVM alumnus Bruce Lisman.
Looking for the Watershed Forestry program run by the Vermont Department of Forests, Parks and Recreation? We collaborate with them, but they are a different entity and program. To learn more about their work and/or contact their Watershed Forester, click here.
---
News and highlights from our partners
Report released on the shortage of native trees and shrubs for restoration projects in Vermont - October 2021
The Watershed Forestry Partnership and the USFWS Partners for Fish and Wildlife Program released a follow-up report to the June report. This one summarizes the results of a survey of current and aspiring growers of native trees and shrubs for restoration plantings. The report quantifies how much plant material is being purchased, how much is bought-in from out-of-state, and what the limitations and challenges are for growers. Read it here!
Report released on the demand for native trees for restoration projects in Vermont - June 2021
The Watershed Forestry Partnership and the USFWS Partners for Fish and Wildlife Program have partnered to quantify and address the native tree stock shortage in Vermont. Read the first report from the project, summarizing the results of a recent survey of organizations who buy native trees for riparian and wetland restoration projects.
Riparian Forest Practitioners Meeting scheduled for March 9-10, 2021
The Vermont Riparian Buffer Working Group annual meeting is being organized this year by the Watershed Forestry Partnership! Due to COVID-19, the meeting will take place on Zoom spread out over two days--March 9th and 10th (Tues-Wed). Save the date! The meeting will be structured similar to a conference, with a main introductory session we hope everyone will attend the morning of the 9th, and then a handful of different 1-2 hour sessions through the next 1.5 days that folks may attend as their interests and schedules allow. To learn more, and to see the (draft) agenda/schedule, click here. To RSVP for the meeting, please click here.
CREP Returns! - September 2020
After a 2.5-year hiatus, the Vermont CREP (Conservation Reserve Enhancement Program) is once again enrolling new projects! The program plants riparian forest buffers on land that is currently in agricultural production. Landowners who enroll in the program receive up-front incentive payments, as well as annual rent payments for the duration of the 15-year contract. the Farm Service Agency (FSA) covers 90% of the installation cost, and Partners for Fish and Wildlife (PFW) can cover the remaining 10%. Where needed, FSA and PFW will cover 100% of the cost for fencing, stream crossing, and watering infrastructure for grazing livestock.
CREP can provide some income for land that might be less productive, and/or help landowners install needed infrastructure, like fencing, for grazing livestock. But what are the other benefits of installing a riparian forest buffer? There are many! Buffers can benefit water quality; provide wildlife habitat and cool waterways for stream organisms; provide important carbon storage to help stabilize our climate; stabilize streambanks, and more! Read more about the benefits of riparian forest buffers here.
For more information or to inquire about enrolling in CREP, please contact ben.gabos [at] vermont.gov or phillip.wilson [at] vermont.gov.
---
Check out our Fall 2021 Newsletter (PDF) here!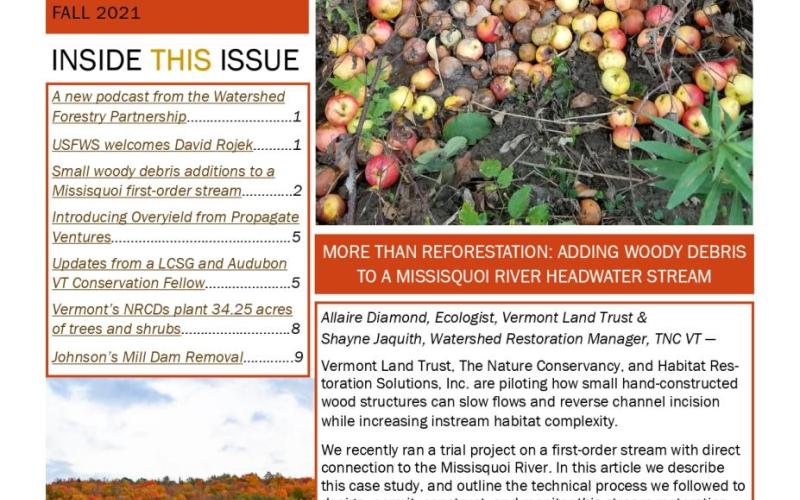 ---
If you would like to be on our mailing list to receive information about upcoming events or webinars, or to simply be part of the conversation, you can go to the UVM public list archives and search for "Watershed Forestry", or send an email command ("subscribe watershedforestry FirstName LastName") to listserv [at] list.uvm.edu from the email address where you want to receive the emails. Alternatively, you may contact Alison Adams, Watershed Forestry Coordinator, at alison.adams [at] uvm.edu. We also help maintain a Google Group for practitioners working in the Missisquoi basin to connect around riparian buffer planting work; if you're interested, please contact Alison at the above email address to ask to join!