Parks, Recreation and Tourism Program Mission
The Parks, Recreation and Tourism Program engages students in an integrative study of parks, recreation, and tourism that combines foundational skills and knowledge in the social sciences, humanities, and natural sciences. The Program links professional education in planning and managing outdoor recreation and tourism resources with the capacity to become flexible and creative innovators in a changing world. We aim to instill in our students, tomorrow's leaders, the values of community engagement, creative adaptation, and life-long learning.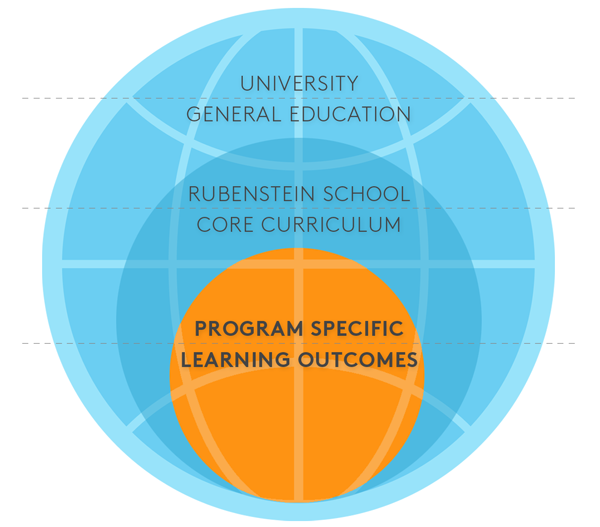 ● University General Education
Every student at UVM will take General Education courses on Sustainablity, Writing and Information Literacy and Diversity.
● Rubenstein School Core Curriculum
All Rubenstein School students will engage with the School's Core Curriculum: a body of knowledge, skills and values our faculty believe to be central to the study of natural resources and the environment.
● Program Specific Learning Outcomes
Each student will pursue the Program Learning Outcomes specific to their chosen major.
Parks, Recreation and Tourism Program Learning Outcomes
The Parks, Recreation and Tourism Program provides students an academic foundation for professional leadership.
Graduates from the program will be able to:
Sustainability
Explain how natural and social systems constrain and challenge sustainability within parks, recreation, and tourism settings.
Devise and advocate for policy alternatives and business, managerial, and operational solutions that balance positive leisure outcomes with environmental protection.
Feature sustainability principles and practices as a centerpiece in their business and management plans.
High-quality leisure experiences and human well-being
Apply a basic understanding of human perception and social behavior to recreation and tourism programs and services that enhance the well-being of participants and that provide beneficial improvements for the host destination.
Evaluate the design and delivery of recreation and tourism related programs and draw connections between specific programmatic elements and the beneficial outcomes that contribute to health and well-being of participants.
Recreation and tourism development for community well-being
Apply planning and management frameworks to recreation, tourism, and sport destinations/events that help develop local and regional economies, build community capacity, and enhance the quality of life in cities, suburbs, and rural areas.
Demonstrate an entry level ability to research and prepare tourism related business plans, management plans for parks and protected areas, event plans, grant applications, community plans, and other resource-based management plans.