USDA Higher Education Multicultural Scholars and Graduate Fellows Programs
Environmental and natural resource issues affect every one of us. Society needs citizens from diverse socioeconomic and ethnic backgrounds who understand the natural world and can work together to promote a safe and healthy environment. The goal of the Multicultural Scholars (Bachelor's level) and Fellows (Graduate level) Programs at the Rubenstein School of Environment and Natural Resources has long been to create a more inclusive curriculum and atmosphere in the School and to demonstrate the relevance of natural resources to all segments of society, which will lead to an increased multicultural diversity in the natural resource workforce.
The Rubenstein School has awarded USDA National Needs Masters of Science Degree Fellowships and Doctoral Multicultural Fellowships in various need areas of the natural resources field. These full fellowships provide tuition, health insurance coverage, and a stipend for multicultural students intending to pursue research related to environment and natural resources. These awards are available dependent upon Federal funding.
Nathaly Agosto Filión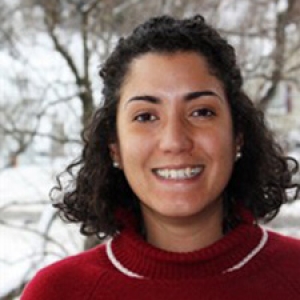 A USDA Multiculural Fellow, Nathaly Agosto Filión earned her M.S. in the Ecological Planning curriculum. Nathaly also holds a B.S. in Natural Resources and a B.M. in Vocal Music Performance from UVM. As an undergraduate, she led diversity initiatives on campus. Nathaly's graduate project, "Preparing and Adapting to Climate Change in Rural Dominican Republic: An Assessment of Community Preparedness for Lake Enriquillo Flooding," enabled her to return to her birth country to work at the community-level on climate change and disaster preparedness. Following graduate school, Nathaly served as a program officer on the U.S. Climate and Environment program team at the Institute for Sustainable Communities in Montpelier, Vermont. She is currently resiliency manager for Sustainable Jersey in Ewing, New Jersey.
Jacqui Cardoza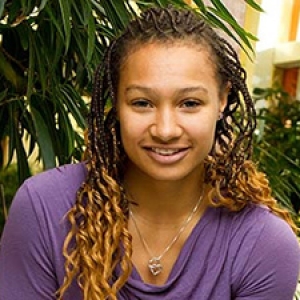 Recipient of a Donald H. DeHayes Multicultural Scholarship in the Rubenstein School, Jacqui was appointed to the Rubenstein School Stewards. She participated in UVM Alternative Spring Break for three years — first as participant and then as a leader. As a student director her senior year, she helped to organize all 15 Break trips and led students on a trip to Florida to partner with Give Kids the World. Jacqui applied her leadership and mentoring skills to her capstone senior project in environmental studies. She created a peer mentoring program for which she helped to train student mentors and advise new students. A study abroad in Kenya opened her eyes to health and social justice issues on a global scale. Her desire to do more drove her to co-found a student chapter of Partners in Health – Engage, an international organization that raises funds and awareness for global human health. Jacqui is now working on her Master's of Public Health in environmental epidemiology at the University of Michigan.
Joshua Carrera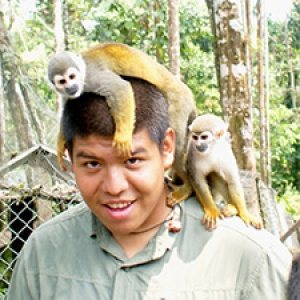 Joshua Carrera spent the first years of his life in Ecuador and returned to New York City, where he was born, to attend school. Through the High School for Environmental Studies in New York City, he discovered the Rubenstein School. He was awarded the Gilman Scholarship for study abroad, and through service-learning courses and programs in conservation and sustainability in Costa Rica, Brazil, and Ecuador, Joshua was able to reconnect with his roots and bring environmental knowledge to Ecuador. He attended graduate school at Colorado State University and earned a Master of Science degree in Conservation Leadership.
Maya Greally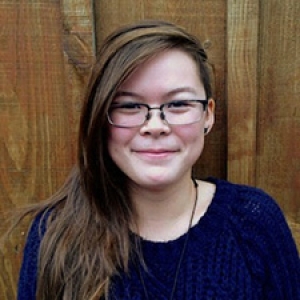 Maya is from Boston, Massachusetts. There, she grew her commitment to the environment at an early age, working on an urban and suburban farm, as well as leading her high school's environmental club. At the Rubenstein School she is a USDA Multicultural Scholar, and she hopes to explore the intersection of social justice and the environment, especially in relation to food systems. She hopes to do research exploring the different means of urban agriculture and what the future of sustainable food looks like. In the next year or two, she would also like to study abroad in China to work on creating sustainable infrastructure there and improve her Mandarin.
Pooja Kanwar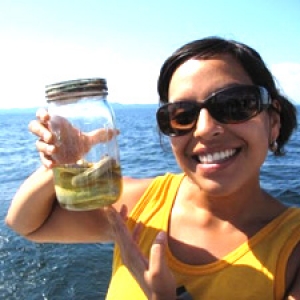 Pooja Kanwar was a doctoral student and USDA Multicultural Fellow in the Rubenstein School. She grew up in Iowa but has maintained the roots of her Indian background. For her undergraduate thesis work at the University of Iowa, she focused on water supply and sanitation issues in India and for her Master's research with Antioch University, she continued her work on rainwater harvesting and community participation in India. Her doctoral work with advisor Professor Breck Bowden involved international water resources management. Poojah is currently a natural resources planner with the USDA Forest Service at the Superior National Forest in Duluth, Minnesota.
Kesha Ram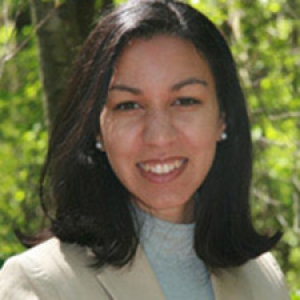 Kesha Ram was piecing together her career well before she graduated from UVM. While juggling a dual degree in Natural Resources and Political Science, her senior thesis research to help mold an environmental justice bill in Vermont, and the presidency of UVM's Student Government Association (SGA), she was running for the office of representative to the Vermont state legislature. She won her seat in the November 2008 elections as the youngest state legislator in the country. In addition, Kesha is the public engagement specialist at Burlington CEDO (Community and Economic Development Office). During her undergraduate years, Kesha was selected as a Morris K. Udall Scholar and a Harry S. Truman Scholar and was a finalist for the Rhodes Scholarship.
Mariah Rivera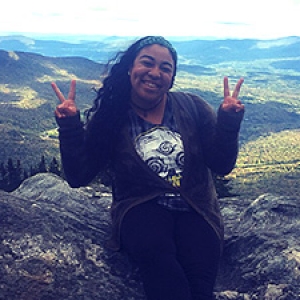 Mariah is a Wildlife and Fisheries Biology major and USDA Multicultural Scholar in the Rubenstein School. Her love for the environment came from attending an agricultural based high school and being an avid member in the National FFA Organization. She has worked at Connecticut's Beardsley Zoo for five years and has gained research experience analyzing the effects of invasive plant species growth on soil chemical properties. She hopes to travel the world and concentrate on learning and developing ways to strengthen wildlife regulations and protection.
Andrew Romano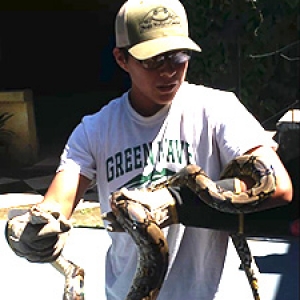 Andrew​ ​was​ ​born​ ​in​ ​Guatemala​ ​and adopted​ ​at​ ​8​ ​months.​ ​He first lived in ​Brooklyn,​ ​NY​ ​​but moved​ ​to​ ​Connecticut​ ​when​ ​he was​ ​in​ ​4th​ ​grade​ ​and​ ​has ​been​ ​here​ ​ever​ ​since. Since​ ​arriving​ ​at​ ​the​ ​University​ ​of​ ​Vermont as a USDA Multicultural Scholar,​ ​Andrew​ ​has​ ​gotten​ ​involved​ ​with​ ​a​ ​variety​ ​of different​ clubs​ ​including:​ ​Outing​ ​Club,​ ​Ski​ ​&​ ​Snowboard​ ​Club,​ ​Beekeeping​ ​Club,​ and ​Horticulture​ ​Club.​ His ​favorite​ ​club​ ​is​ ​by​ ​far​ ​the​ ​Wildlife​ ​and​ ​Fisheries​ ​Society,​ ​because​ ​this also happens to be his major.​ He also​ ​loves​ ​to​ ​travel and has​ ​been​ ​to​ ​London​, ​Guatemala​, and​ ​Italy.​ ​Within​ ​the​ ​United​ ​States,​ ​he ​has​ ​been​ ​to​ ​Palm​ ​Springs,​ ​California,​ the​ ​Grand​ ​Canyon​, ​and​ ​Yellowstone​ ​National​ ​Park.​ ​In the future, he​ ​would​ ​like​ ​to​ ​study​ ​abroad​ ​and​ ​is​ ​already looking​ ​into​ ​how​ ​to​ ​find​ ​a​ ​good​ ​opportunity​ ​in​ ​Australia.
Satish Serchan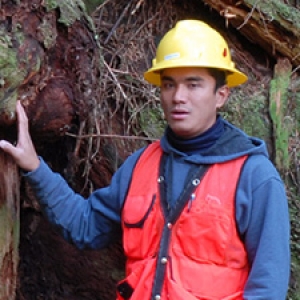 Satish Serchan grew up in urban Nepal where he experienced impacts of pollution on the environment. He came to UVM and, as a USDA Multicultural Scholar in Environmental Sciences, gained research experience analyzing stream dynamics and nutrient transport in Vermont and studying effects of global warming on an estuarine ecosystem in the Chesapeake Bay. After graduation, Satish worked with urban youth and greenspace in Baltimore. An internship with the Student Conservation Association took him to the USDA Forest Service Pacific Northwest Research Station, Juneau Forestry Sciences Lab, in Alaska. He is currently a doctoral student at Oregon State University with funding from the USDA Forest Service.
Catherine Van Even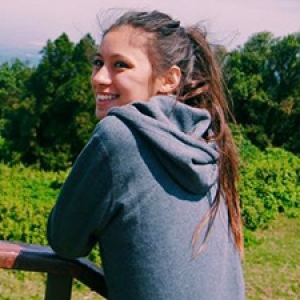 Catherine was born and raised in Boston, Massachusetts. As a USDA Multicultural Scholar, she identifies as half Chinese and feels that it is important to participate in the Asian Student Union here at UVM. She is also interested in Social Justice and wants to be involved with those events and initiatives on campus. Catherine tries to spend a lot of time outdoors and attend as many hiking trips as she can. She is excited for the winter and hitting the slopes!