Our home base for the semester is Costa Rica's Osa Peninsula, described by National Geographic as one of the most "biologically intense" places on our planet. While here, we will learn about sustainable development, tropical ecology, and rural livelihoods by living, working, and studying alongside local communities, academics, organizations, and cooperative organizations.
We will spend the first 2.5 weeks of semester working online, grounding ourselves in theoretical content, and preparing for our semester on the ground. We will then spend the first week traveling in San Jose, the capital of Costa Rica, meeting with global and national leaders ranging from climate change negotiators, politicians, candidates, members of the World Economic Forum, and local activists.
After San Jose, we move to Costa Rica's Osa Peninsula and through field-based labs, community-identified service-learning projects, readings, and presentations, we work to truly embark on a journey from understanding to action, by combining academic content with real world experiences visiting and working with:
Government agencies
Local farmers practicing commercial forms of agriculture as well as agroecology
Local and national non-profit agencies
Indigenous communities
National parks and private reserves
Grassroots community development and social justice projects
Marine and Terrestrial Wildlife Research, Rescue, and Rehabilitation programs   
Landscape-level ecological restoration projects
Why Costa Rica?
Costa Rica has a 70-year history of progressive social, economic, and environmental initiatives. When the nation abolished its army in 1948, the country was able to direct more of its limited resources to health care, land reform, education, clean water, and electrification initiatives for the benefit of all Costa Ricans. In the 1970s, Costa Rica participated in some of the first "debt-for-nature" swaps, as it led the developing world in land conservation strategies. It continues to be a global leader in environmental policies and programs and has developed a widely recognized green image. The economy of Costa Rica has also grown steadily since the late 1980s with expanding high-tech industries (medical industries, computer technology) and service sector industries (primarily tourism), and less overall reliance on agricultural commodities (coffee, fruit). As a result, Costa Rica is no longer considered a developing country but is now recognized as a newly developed country with an upper middle-income standard of living. Taken together, Costa Rica's political stability, friendly population, and safety make it an ideal place to study sustainable development in a climate of rapid economic, social, and environmental change.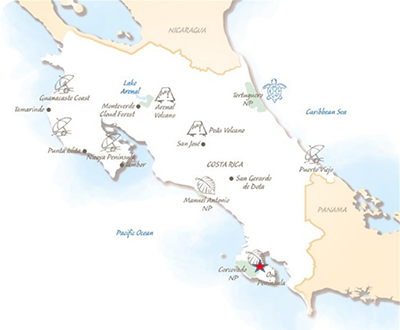 Why the Osa Peninsula?
Named one of the "most biologically intense places on earth" by National Geographic magazine, the tiny Osa Peninsula – just a little larger than Chittenden County, Vermont – is home to over 2.5% of the earth's biodiversity. More than half of the peninsula is protected by Corcovado National Park and the Golfo Dulce Forest Reserve.
People began settling on the Osa Peninsula only 60 years ago, and for decades it was described as a "wild west" of subsistence farmers, fishermen, gold miners, and loggers.  Over the past 15 years, outside pressures of economic and social change have begun to threaten the biological integrity of the Peninsula. The road onto the Peninsula was fully paved only ~10 years ago. Development proposals include a large-scale marina and resort, a nearby international airport, and new African palm and rice plantations. Small scale, locally owned businesses are at risk of being overwhelmed by a sudden influx of outside capital investment and well-meaning government and NGO development projects. In sum, the Osa Peninsula is a region poised at a crossroads, where hard decisions must be made about how to balance growth and conservation with local control.
Faculty and Staff
The program is led by Program Director and UVM faculty member Dave Kestenbaum. Dave has more than 25 years of teaching, research, and service experience in Costa Rica and on the Osa Peninsula. Throughout the semester, additional UVM faculty and staff are on the ground supporting the program and teaching the Rural Livelihoods in a Globalized World and the Tropical Ecology courses. Additionally, a variety of Costa Rican academics, government officials, Non-Governmental Organization (NGO) representatives, businesspeople, and local residents will deliver specialized content in all courses and are a presence throughout the entire semester.
The Experience through 5 Courses
All courses are for UVM credit and grades will be reflected on your transcript. To determine the applicability of these courses to your School/College degree requirements, speak with your academic advisor.
Costa Rica – Sustainability Theory and Practice (4 credits):
In theory and practice, sustainability can be expressed differently depending on ideological, political, academic or normative commitments. In this course, students will study, analyze, and apply frameworks from local communities & the biophysical and social sciences. This will be done in the classroom, in the field, and alongside leaders and community partners in Costa Rica. Students visit, study, and work with a variety of grassroots, national, and international organizations with the goal of understanding and contributing to sustainability and development initiatives.
Rural Livelihoods in a Globalized World (3 credits): 
The course focuses on how the people of the Osa Peninsula can become integrated with local, regional, national, and global economies in a way that maintains local control and preserves the environment on which they rely for their livelihoods. Some themes we explore include community-based research, rapid and participatory rural appraisal, commodity agricultural production, direct foreign investment, centralized government initiatives, and local entrepreneurial business development.
Tropical Forest Ecology in Costa Rica (4 credits): 
This class provides the biological science counterpart to the Rural Livelihoods class. It introduces students to tropical forest ecology by focusing on the physical structure, species richness, and species interactions in the lowland tropical rainforest ecosystem of the Osa Peninsula.  Using a combination of lectures and field work, students will gain extensive, first-hand experience with the rich biological diversity that supports livelihoods in the region and beyond.
Ecosystem Management: Integrating Science, Society, and Policy (3 credits):
This course applies ecosystem management principles to the complex and changing array of challenges in the Osa Peninsula region. Course content is combined with onsite experiences to integrate principles of sustainability and tropical ecology with peoples' land use practices on the Osa Peninsula. Students will holistically explore themes such as: ecosystem health, integrity, and degradation; transboundary issues, human needs, & values and behaviors; and the application of management principles considering diverse perspectives and livelihoods.
SL: Environmental Problem Solving & Impact Assessment (4 credits): 
This course serves as the integrative capstone experience for the semester abroad program. During the semester, students have been introduced to local organizations, the dynamics of sustainable development in Costa Rica, the political economy of rural development, principles of tropical ecology, and the variety of integrated approaches to sustainable land-use and management. The goal of this course is to provide a platform for integration and problem solving where students draw from the depth of knowledge they've gained, and apply it to a specific sustainable development project on the Osa Peninsula. Students will work on a variety of community identified service-learning projects such as GIS mapping, environmental education, community based wild-life monitoring, agroecology, food systems, and protected area management to name a few.
Costa Rica Course Equivalencies
UVM Gen-Ed Requirements:
SU Credits: NR 2740 CR: Sustainability Theory and Practice                          
SU Credits: NR 3050: Ecosystem Mgmt: Intg Sci, Soc & Pol 
D2 Credits: NR 2750: Rural Livelihoods in a Globalized World 
GS Credits: NR 4060: SL: Env Prob Sol & Impact Assess
RSENR Core-Curriculum:
NR 3050: Ecosystem Mgmt: Intg Sci, Soc & Pol 
NR 4990 – SL: Costa Rica Environmental Problem Solving.
Service Learning (SL) and Civic Learning (CL) designations:                                   
CL - NR 2740 CR: Sustainability Theory and Practice          
CL - NR 3050: Ecosystem Mgmt: Intg Sci, Soc & Pol                            
SL - NR 4060: SL: Env Prob Sol & Impact Assess  
Lab Based Science:
NR 2760: Tropical Ecology in Costa Rica
CDAE minors (these two classes will count as 2/5 courses for a CDAE Minor):
NR 2750: Rural Livelihoods in a Globalized World                               
NR 4060: SL: Env Prob Sol & Impact Assess       
LACS Minors:
Costa Rica Coursework may count for 6 content course credits. Check with your advisor.
Other Majors and Minors:
Check with your programs and advisors. Depending on your major or minor, you may have additional opportunities to count these classes towards other graduation requirements.
The remainder of the Costa Rica courses will serve as electives that could potentially count for concentration courses with advisor/specific program approval. For more information, visit the Academics and Study Abroad page on the Office of International Education's website.
Eligibility
All students are required to interview and submit an application via GoAbroad.
Students must be accepted to the program after an interview and be in good academic standing with UVM with a minimum GPA of 2.5.
This is a program open to sophomores, juniors, seniors, and second semester seniors of ALL MAJORS. Preference given to students with junior and senior standing.

Note: This program awards UVM academic credit, meaning transcripts are available upon program completion. This makes participating in the program during a senior spring semester possible.
For more information on Tuition, Financial Aid Eligibility, the application process, and other helpful information, visit and apply at go.uvm.edu/uvmcostarica.