Why Costa Rica?
Costa Rica has a 70-year history of progressive social, economic, and environmental initiatives. When the nation abolished its army in 1948, the country was able to direct more of its limited resources to health care, land reform, education, clean water, and electrification initiatives for the benefit of all Costa Ricans. In the 1970s, Costa Rica participated in some of the first "debt-for-nature" swaps, as it led the developing world in land conservation strategies. It continues to be a global leader in environmental policies and programs and has developed a widely recognized green image. The economy of Costa Rica has also grown steadily since the late 1980s with expanding high tech industries (medical industries, computer technology) and service sector industries (primarily tourism), and less overall reliance on agricultural commodities (coffee, fruit). As a result, Costa Rica is no longer considered a developing country but is now recognized as a newly developed country with an upper middle income standard of living. Taken together, Costa Rica's political stability, friendly population, and safety make it an ideal place to study sustainable development in a climate of rapid economic, social, and environmental change.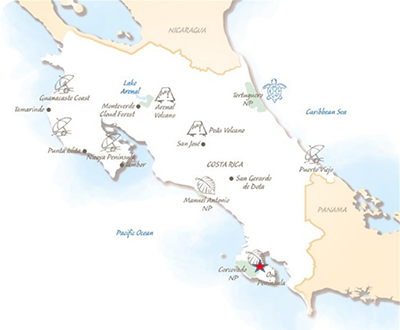 Why the Osa Peninsula?
The Osa Peninsula is one of the most bio-diverse places on the planet with more than half of its land base protected by the Corcovado National Park and the Golfo Dulce Forest Reserve. Conservation along with economic development has come to the Osa Peninsula only recently - the first significant period of immigration began in the late 1960s, and the road onto the Peninsula was only fully paved five years ago. For decades, it was described as a "wild west" backwater of subsistence farmers, fishermen, gold miners, and loggers. Within the past 15 years, the region has opened up to global capital investment and ex-patriot influence with a vengeance. It is a region poised at a crossroads; where hard decisions must be made about how to balance growth and conservation with local control.
The Experience through 5 Courses
Foundations of Sustainability - The Costa Rican Experience 
This course will introduce the academic concepts and theories from the sustainability literature and then bring students in contact with a variety of real world situations where these concepts are being applied. Students will travel to locations throughout Costa Rica that provide a diversity of natural environments (cloud forests, tropical dry forests, lowland tropical forests, etc.) and social contexts (reforestation projects, turtle nesting preserves, ecotourism projects, banana plantations, etc.) to illustrate the complexities and challenges of sustainable development practices.
Rural Livelihoods in a Globalized World
This course situates rural development in a political economic context within the broader globalized economy. The course will explore the dynamics of how commodity agricultural production (timber, beef, rice, palm oil, etc.), direct foreign investment, and centralized government initiatives can interact (or interfere) with the dynamics of local entrepreneurial business development. The course will focus on how local residents of the Osa Peninsula can become integrated with local, regional, national, and global economies in a way that maintains local control and preserves the environment on which they rely for their livelihoods.
Tropical Forest Ecology in Costa Rica
This class introduces students to tropical forest ecology by focusing on the physical structure, species richness, and species interactions in the lowland tropical rainforest ecosystem of the Osa Peninsula.  Using a combination of lectures, natural history walks, and data-collecting field problems, students will gain extensive, first-hand experience with the rich biological diversity that supports resident livelihoods on the Osa Peninsula and at the same time draws an increasing number of tourists to the region.
Managing for Sustainability
This course draws from principles of sustainability to integrate tropical ecology with peoples' land use practices on the Osa Peninsula. The course combines academic content with onsite experiences to consider ecosystem health and integrity, ecosystem degradation, human needs, values and behaviors, and the application of management principles within a holistic context. The goal of the course is to understand and apply ecosystem management principles to the complex and changing array of challenges in the Osa Peninsula region revolving around agriculture, forestry, wildlife, protected areas, tourism, fishing, ranching, mining, water quality, and transboundary issues.
Community Engagement for Sustainability (Service-learning course)
This course serves as the integrative capstone experience for the semester abroad program. During the semester, students have been introduced to local organizations, the dynamics of sustainable development in Costa Rica, the political economy of rural development, principles of tropical ecology, and the variety of integrated approaches to sustainable land-use and management. The goal of this course is to provide a platform for integration, where students draw from the depth of knowledge they've gained, and apply it to a specific sustainable development project on the Osa Peninsula. Students will work on a variety of community identified service-learning projects such as mangrove restoration, ecotourism development, palm oil BMPs, entrepreneurial education and outreach, among others.
Costa Rica Course Equivalencies
Students enrolled in Costa Rica Study Abroad can only receive credit for 2 Rubenstein School Core Curriculum courses.
Sophomores will receive credit for the following core courses:
NR 195: Tropical Ecology will substitute for NR 103.
NR 295: Managing for Sustainability will substitute for NR 205.
Juniors will receive credit for the following core courses:
NR 295: Managing for Sustainability will substitute for NR 205.
NR 295 SL: Community Engagement for Sustainability will substitute for NR 206.
The remainder of the Costa Rica courses will serve as electives that could potentially count for concentration courses with advisor/specific program approval.