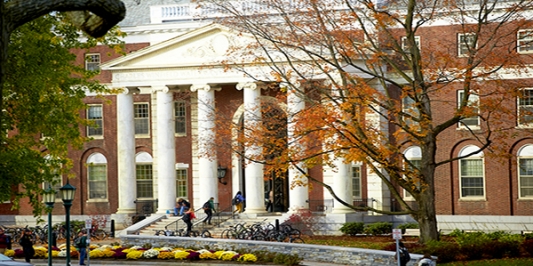 The University of Vermont (UVM) and Vermont Law & Graduate School (VLGS) offer a unique dual-degree program leading to a Bachelor's in three years and a Juris Doctor (JD) degree in two years. The UVM-VLGS 3+2 and 3+3 Programs enable highly-focused students to earn both degrees in less time and at less cost from two distinguished institutions.
Program Description
The UVM-VLGS 3+2 and 3+3 Programs provide high-achieving students with an opportunity to achieve a Bachelor's degree (BA or BS) and a Juris Doctor (JD) degree in a total of five or six years. The program is available to undergraduate students pursuing a Bachelor's degree. UVM students interested in pursuing a dual degree with VLGS are encouraged to pursue an undergraduate course of study that emphasizes critical reading, analytic, and expository writing skills.
Students complete three years of undergraduate study at UVM, then matriculate at Vermont Law & Graduate School where they complete two years of approved coursework for the JD degree from VLGS and are enrolled as full-time students.
Admission to the program occurs at the end of a student's first year at UVM. UVM students may apply for the dual degree program during their sophomore year if they demonstrate they can complete their undergraduate degree requirements by the end of their junior year.
Students must be enrolled as full-time students during the duration of their course of study at UVM. As students will complete their major requirements in a compressed timeframe, it is vital that students are planning how to complete all of the requirements from the beginning of their first year at UVM. Students should review the academic plan for their major and connect with the appropriate major advisor.
Students enrolled into one of the UVM-VLGS Programs will be admitted to VLGS and matriculate as full-time students if they meet admissions criteria. 
Credits from the first year at VLGS are transferred back to UVM to allow completion of the undergraduate degree from UVM.
Students who meet all requirements of the UVM-VLGS Program will be awarded the appropriate Bachelor's degree from UVM and a JD degree from VLGS.
Students who enroll in this program but choose not to complete the law degree after the first year of enrollment at VLGS will have their credits transferred back to UVM for the completion of the Bachelor's degree.
Requirements
Students apply to either the 3+2 or 3+3 Program no later than the end of their first year, and if approved, their sophomore year at UVM. Eligible students must have completed a minimum of 30 credit hours in two semesters of full-time study with a minimum GPA of 3.3 and must meet the LSAT requirement. A UVM student must submit a plan demonstrating how the student will complete all general education and major requirements by the completion of their junior year, except for those requirements that can be fulfilled by a course at VLGS. Students must maintain their GPA at UVM to continue in the program.
UVM and VLGS have a separate Admissions Agreement pursuant to which UVM students recommended by UVM designated coordinator who have achieved a GPA and LSAT score above the median acceptance scores at VLGS for the prior year are guaranteed admission to VLGS. If a dual degree program candidate fails to meet the academic requirements of the dual degree program, that student will still be eligible for admission to VLGS pursuant to this agreement but as a regular VLGS student and not as a dual degree student. This means that the student must complete all the requirements of the bachelor's degree at UVM.
Eligible candidates for the Program must be U.S. citizens or permanent residents. The number of students selected will be determined each year based on availability. Students must maintain their GPA at UVM to continue in the program.
Application Process
Program applications will be reviewed twice per year. Students should submit their application by October 28 (fall deadline) or May 1 (spring deadline). The application process includes:
Submission of the application form.
Essay (see application form for essay prompt and upload).
Minimum of one letter of recommendation from a full-time faculty member. Applicants are responsible for soliciting the letter of recommendation, and the faculty member will send the letter directly to the designated college contact by the application deadline.
VLGS agrees to accept any UVM student who meets the qualifications designated in this agreement as long as that student completes the VLGS application process no later than March 31 of the junior year. Applications completed after this date will be considered but admission to the dual degree program is not guaranteed. VLGS will waive the application fee for students in the dual degree program.
To gain admission to VLGS, UVM students must sit for the LSAT no later than October of their third year of study at UVM and must present a score that is equal to or greater than 153 and a UVM cumulative GPA of 3.3.  If a student's LSAT score falls below this standard, the student may seek permission from VLGS to retake the test. If a student earns an admissible score, the student may elect to retake the test to earn a higher score for scholarship funding.
Students must have completed the minimum requirements as set forth by the academic unit approving the applicable UVM degree program before matriculation at VLGS. VLGS reserves the right to deny admission to any students who have been subject to academic and/or disciplinary action.
Contacts
Prospective students, please contact the Office of Admissions.
Current students, for more information about the UVM-VLGS Programs in each college/school, please contact:
UVM Career Center Pre-Law Advisor
College of Agriculture and Life Sciences
College of Arts and Sciences
Rubenstein School of Rubenstein School of Environment and Natural Resources
Vermont Law School