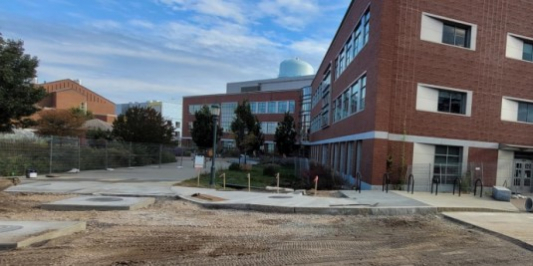 About Us
An in-house project & engineering team manages deferred maintenance projects and major utility upgrades, and provides technical expertise on engineering matters. The team's portfolio includes 40-80 projects per year of varying size and scope based on priorities such as: 
Life Safety and Code Compliance (Arc Flash electrical safety, abatement, fire alarm upgrades, other life safey compliance.)
Building Envelope (roof replacements, foundation waterproofing, windows, and any project to prevent water infiltration.)
Electrical and Mechanical (infrastructure upgrades, boilers, piping, sprinklers, and switch gears.)
Structural Deficiencies (bricks, porches, pavement, etc.)
Vertical Transportation (elevator modernization.)
Energy Efficiency Projects (to reduce energy costs)
What is Deferred Maintenance?
Deferred maintenance is the postponement of buildings and equipment upkeep from an entity's normal operating budget cycle due to a lack of funds. The Deferred maintenance backlog is the total amount of expenditures that would be required to perform maintenance projects that are not included in capital renewal and which were deferred as a result of unavailable resources or opportunity for scheduling.
Engineering Team
| Name | Title | Email | Phone |
| --- | --- | --- | --- |
| Mike Pelletier | University Engineer | Michael.Pelletier@uvm.edu | 802-656-2189 |
| Kevin Sweeney | Utilities Deferred Maintenance Project Coordinator | Kevin.Sweeney@uvm.edu | 802-656-2623 |
| Vacant | Retro-Commissioning Engineer |   |   |
| Vacant | Engineering Field Coordinator |   |   |
We're Hiring!