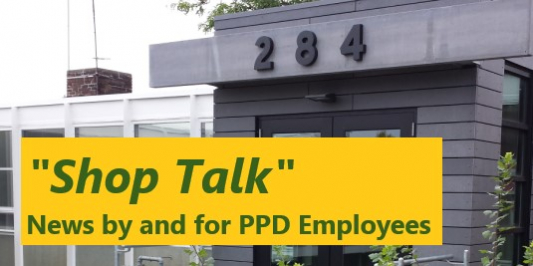 Employee "Comings & Goings"
Welcome to....
Kelley Tacy, Grounds Crew Leader, Grounds
Jerry Gernander, Zone Supervisor, South Zone
Parker Barrell, Journey Plumber, South Zone
Chad Kavanaugh, Master Plumbing Systems Technician, Medplex Zone
Brandon Conley, HVAC Mechanic, Davis Zone
Connor Ash, Assistant Operating Engineer, Central Utility Plant
Lisa Marshall, Office Support Generalist, Utilities Zone
Congratulations to...
Nate Walker, promoted to Grounds Crew Leader
Farewells & Best Wishes to...
Richard Straight, Carpenter, has retired 
Mark Gregoire, Buildings Tradesperson Specialist, has retired 
Longin Frankiewicz, Facilities Repairperson, has retired 
Matthew L. Farnham, Facilities Trades Technician has left our department
"News from the Crews"
A New "Snow Dump" for Grounds: Piles of snow that are removed from campus parking lots must be safely dumped elsewhere to melt slowly into the ground and not runoff into Lake Champlain. For the past several years, snow was being trucked away and dumped at a farm in Charlotte. This was a large expense for our department and the University. This past fall, Adam Frazier (Project Coordinator) and Matt Walker (Grounds Manager) searched all UVM properties for a closer, more ideal location. The new "snow dump" is next to the Commuter East lot (behind the Doubletree Hotel). The area has a fence to direct the snow piles away from the wetlands, and has been fully permitted, including an Act 250 permit. Great job being creative to reduce our operating costs. 
 
Dewey Hall Laboratory Upgrade:  In November, the Psychology Department asked for Physical Plant's help to improve the condition of Dewey Hall Fourth Floor for an upcoming accredidatoin inspection happening this March. Lynn Wood (Zone Manager) and the Trinity Zone Team were able to pull together a plan to update the area with new flooring, paint, lighting, and ceiling tiles.  They also worked with departmental stakeholders and the UVM Recycling crew to clean out areas and remove old equipment. If you're wondering about the large metal storage containers in the Dewey parking lot, they're storing some of the building furniture temporarily while the renovation work can be completed.
 
Waterman Boiler project: Many people are asking "Will the temporary boiler in the trailer sitting in the Waterman parking lot ever go away?"  The new boiler for the building was expected to arrive last October, and is now scheduled (we hope!) for late February. In the meanwhile, Ray Doner (Supervisor) and the Utilities Crew is keeping an eye on the parking lot boiler, and Mike Pelletier (University Engineer) is in continual communication with the supplier. 
 
Hills Building Update: Everyone and everything has been moved out of the Hills Building. Abatement work is underway until April 1, 2022.  The building will then undergo a total renovation to house a new Food Systems Research Center for the USDA Agricultural Research Service. Expected completion is the fall of 2023. Read more about the project 
 
Trinity Campus Housing: You may have recently seen the local news that a new residence hall is being planned for the Trinity Campus. This area of campus has been a designated "land bank" (meaning an area being saved for future growth and development) ever since 2003 when UVM purchased the former Trinity College. In order for UVM to build on the land now, the City of Burlington will need to change its current zoning setback (now 115 feet) to a much lesser value similar to the adjacent neighborhood. This project will take several years of planning -- including the figuring out of future utility service for the area-- before it can come to actual construction. 
 
Board of Trustees Tour the Campus:  The UVM Board of Trustees will be meeting on campus the first weekend in February. Dave Blatchly (Capital Renewal Engineer) is assisting with the logistics and details of a brief tour of several buildings that are undergoing renovation and construction.
"Compliments from Campus Partners"
From: Jarlath O'Neil-Dunne, Director of the Spatial Analysis Lab, Aiken 205
"....we had a pipe burst early morning on January 4th. I am so thankful to Matt Farnham, his colleagues, and ServPro for their speedy response and professionalism. Without Matt's quick thinking and timely actions, we would have suffered damages that would have severely impacted our operations for weeks to months and had damages well into the six figures. As things stand now, most of our computers are operational after drying out and we anticipate damage to IT equipment to be around $3,000. Furthermore, Matt followed up with me to confirm I was happy with the service – something that rarely happens at UVM. The level of pride that your team takes in their work is evident and I have been singing their praises to UVM leadership. If I can be of help in advocating for your unit in any way, please reach out to me. Thank you again for the marvelous support your group provided. My team and I are grateful."
From: Jamie Graham, Lab Technician, Biomedical & Health Sciences, after attending the IWMS Q&A Forum for Campus Stakeholders hosted each month by Steve Peary and Erica Spiegel
"You're doing awesome, thorough, thoughtful work. Thank you so much for all you're working on!"
More Kudos & Accomplishments
"At the beginning of the Covid19 pandemic when masks were scarce, Karen Lemire began making cloth masks. She charged a fee for each mask but donated all of the proceeds to the Vermont Food Bank. Some of my favorite masks were sewn by Karen. She even made straps with snaps to secure to the ear elastics of the masks so that I could be sure to not drop the mask when I was climbing in and out of my police car."     ~ Sue Roberts, Police Officer, UVM Police Services
Lynn Wood, Davis Zone Manager, was quoted in a recent Seven Days news story about Vermont Works for Women, a local non-profit organization. For several years, Lynn has been a volunteer Instructor in the Trailblazers program for women to learn about careers in skilled trades. Read the full news story here.
Congratulations to the following staff members who celebrated a 25+ Milestone Year of Service in 2021. Staff members received a certificate of appreciation during a small gathering held in November with Richard Cate, VP of Finance & Administration and Luce Hillman, Executive Director of Facilities Management. 
Mark Gregoire, Building Tradesperson Specialist (25 Years)
Thomas Chagnon, Facilities Repairperson (25 Years)
Raymond Doner, Zone Supervisor (25 Years)
Eric Swanson, Facilities Repairperson (30 Years)
Lori Bergevin, Office/Program Support Generalist (35 Years)
Robert Clarke II, Grounds Maintenance Specialist (40 Years)
Jack Corliss, Service Technician (40 Years)