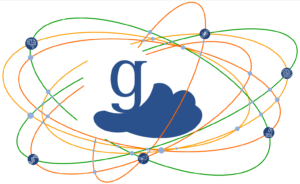 Globus is a web-based data management tool that enables researchers to easily share and receive large data sets with collaborators from other institutions.
Globus has been configured to work with data stored on Netfiles shares, VACC accounts, and Microsoft OneDrive – allowing UVM researchers to easily share and receive enormous data transfers using existing research storage solutions.
The following Globus collections are available for use – these can be used to transfer data to and from other collections you have access to. The UVM Netfiles collection can also be used to create guest collections, allowing you to share data with external collaborators:
| | | | |
| --- | --- | --- | --- |
| UVM Globus Collections | UVM OneDrive | UVM Netfiles | UVM VACC |
| Share w/ any collection you are a member of | | | |
| Guest Collections (share w/ external collaborators) | | | |
Getting Started
Login to Globus
Navigate to https://app.globus.org.
Click the Look up your Organization drop down and type in "University of Vermont". Select the "University of Vermont" option in the drop down menu and then click Continue.
If you're not already logged in to any UVM services you will be brought to a familiar UVM SSO login page. Enter your NetID and password to sign in.

The first time you log into Globus you will see a prompt like the one below. If you have used Globus previously with another institution, click the Link To An Existing Account button and follow the prompts given. If you have not used Globus previously, click Continue.
After successfully logging into Globus you will be brought to the File Manager tab. If you'd like to learn more about Globus, please read through our detailed overview of the Globus interface, and steps for transferring data between UVM services and external collaborators.

Overview of the Interface
After logging into Globus, you will automatically be brought to the File Manager tab.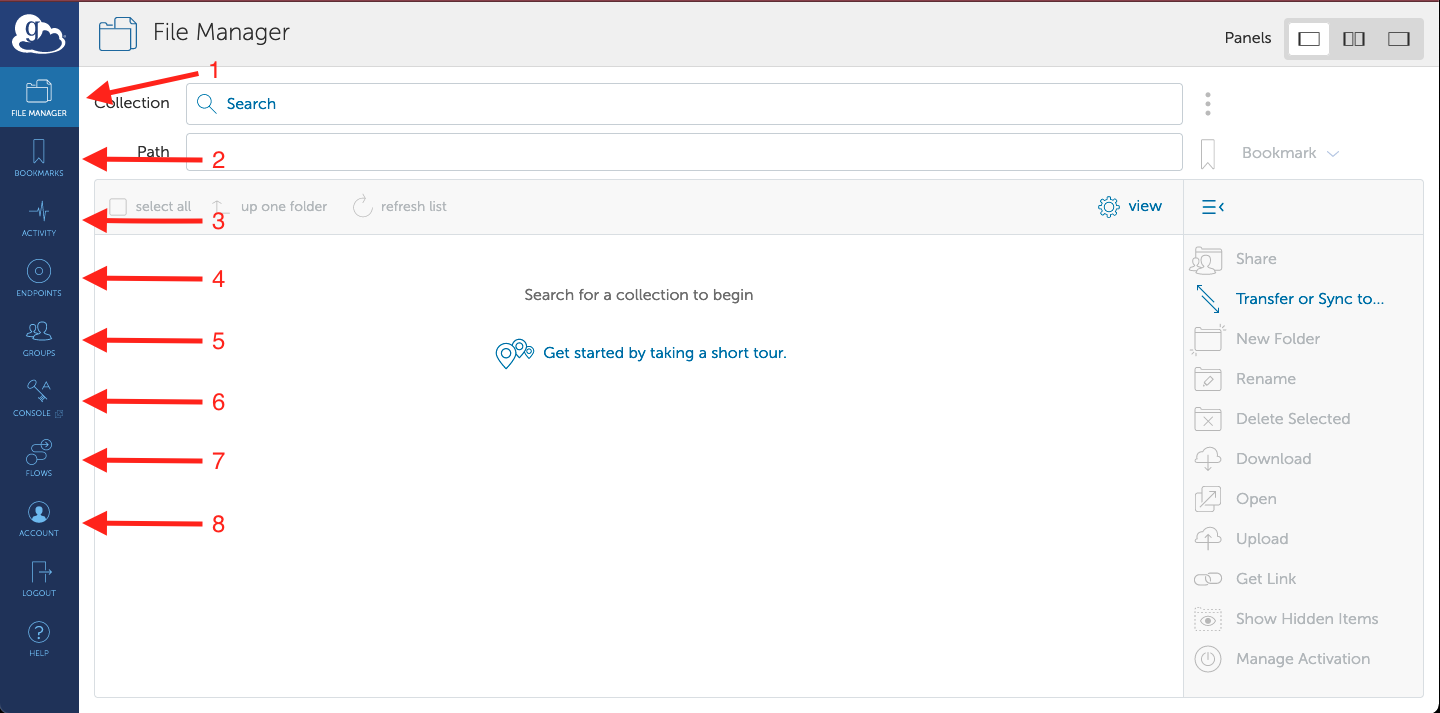 File Manager – This tab is used for transferring and uploading files to endpoints. For more information on how to use this function, consult the Sharing and Data Transfers section in this article.
Bookmarks – Globus allows you to bookmark commonly used endpoints. Instructions on how to bookmark an endpoint can be found in this tab.
Activity – Monitor transfers or uploads that are currently in progress. Transfers can also be paused and continued in this menu.
Endpoints – This tab is for managing endpoints (collections) that are owned by you. Edit endpoint attributes, add/edit metadata, or view active endpoints in this tab.
Groups – This tab allows you to create and manage groups for endpoint access.
Console – This is for administrators of endpoints to view endpoint activity.
Flows – Flows allow users to automate a series of transfers. This feature is in beta and is not advised for use by UVM at this time.
Account – This tab is for managing account identities and consents. For more information on adding an existing identity to your account, consult the Managing Globus Identities section of this article.
Sharing & Data Transfers
Transferring Data
Data is accessed via Globus "collections," sometimes referred to as endpoints. UVM currently has manged collections for Netfiles, VACC, and OneDrive. This example will focus on transferring data between UVM collections, but the same process applies to external collections you may have access to.
The following UVM collections are searchable from the "File Manager" sidebar menu:
UVM Netfiles
UVM VACC
UVM OneDrive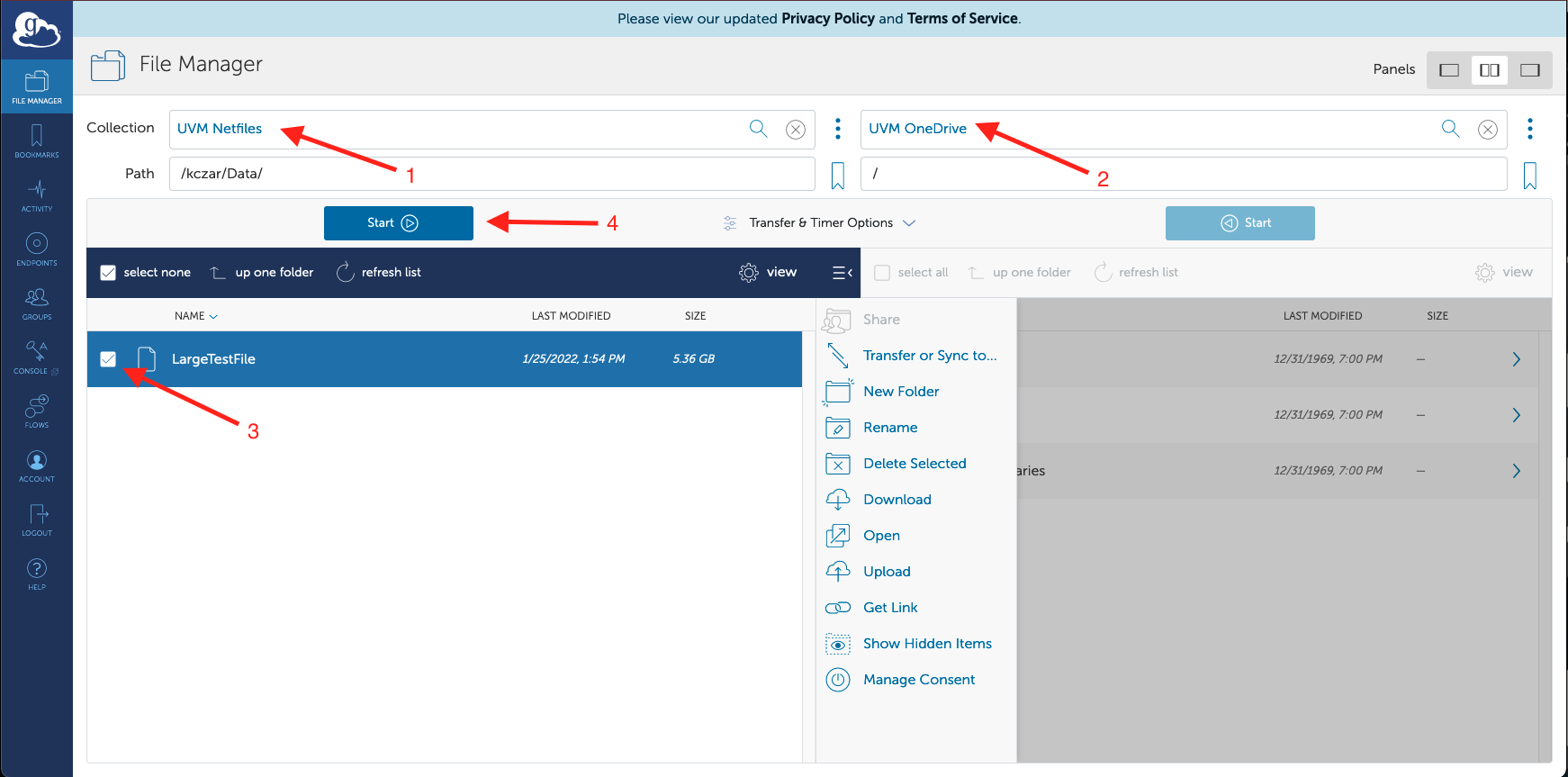 To transfer data between folders and shares that you have access to, use the following steps. This assumes you have logged into https://app.globus.org and are viewing the File Transfer tab.
Select the collection that you wish to transfer files from. In this example, the file being transferred is located in the UVM Netfiles collection.
Select the collection that you wish to transfer the file to. In this example the destination is the UVM OneDrive collection.
Check the box next to the file(s) you wish to transfer.
Click the Start button under your source. This will initiate a transfer. You can view the status of that transfer in the activity tab.
Sharing Data with Collaborators
Sharing data with collaborators requires granting access rights in the form of a "guest collection". The creation of guest collections is currently only available on the UVM Netfiles collection.
Select File Manager from the sidebar menu.
Navigate to your share in the UVM Netfiles collection.
Check the box next to the folder you want to share.
Click Share. This will open up the dialogue to create a new collection (endpoint) on the Netfiles collection.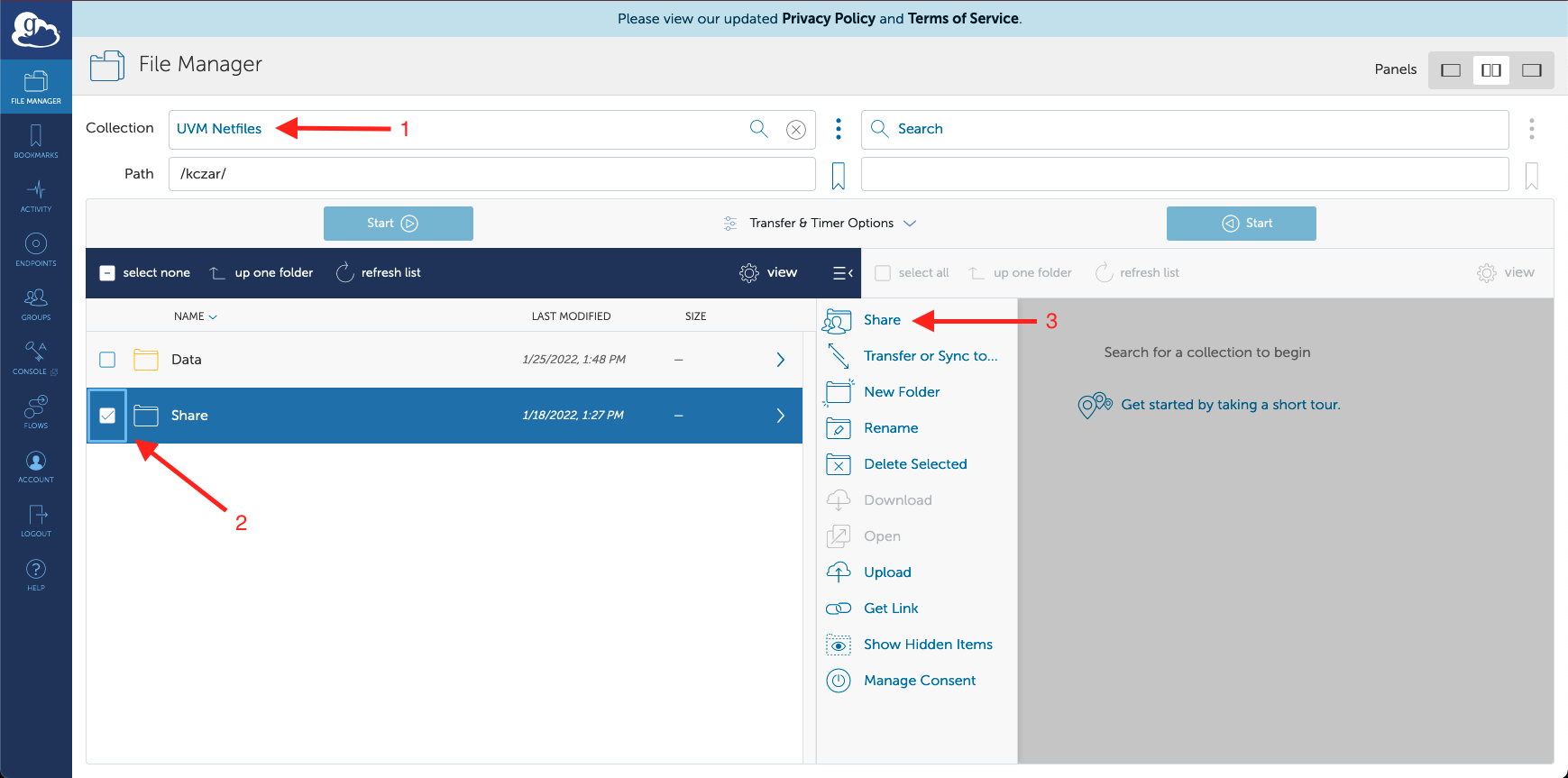 Click Add a Guest Collection.
Fill in the information about your share that will make it easier for users to find your collection. When you are done, click Create Collection.
Your collection has been created but only you have access to it. To grant access to other users, click Add Permissions – Share With.
Permissions can be managed on a folder basis within your collection. For example, if you wanted a user to have access to only some of the data stored in your collection, you could put the data in a folder and give that user access only to that folder. The path is relative to the folder you shared, NOT to the UVM Netfiles collection.

Select the path of the folder you want to manage permissions for, or leave it as the default "/" if you want to manage permissions for the whole collection.
Select how you want to grant access (single users, group, all users, public). Groups can be created and managed in the groups tab on the left hand bar.

Enter usernames or select the group that you want to have access to the share. **Users will be searchable if they've logged into app.globus.org before – if a user you'd like to give permission to is not appearing in search results, ask them to log in to Globus first.
Click Add Permission. The selected users or groups will now have access to your share.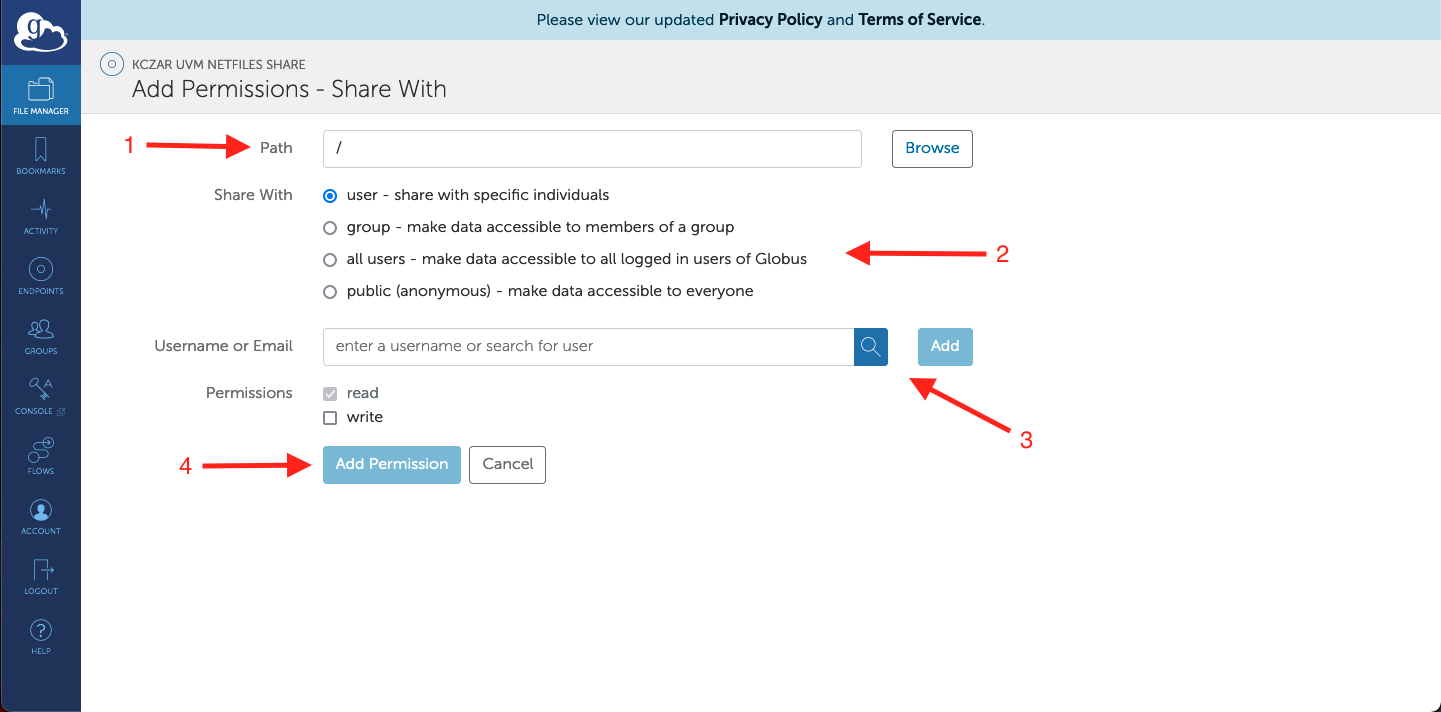 Managing Globus Identities
Linking identities from other institutions
Globus allows users to link identities from multiple institutions in the event that users have multiple accounts.
Steps to link another identity.
Start in the Account tab (app.globus.org/account/identities). On the right side of the screen, click the button that says Link Another Identity.
Select the institution you want to link and click Continue. If you want to link an identity that is not associated with an institution (email) click the Link an email address (a) link.
Your account is now linked and you will be able access collections from linked institutions with one login.