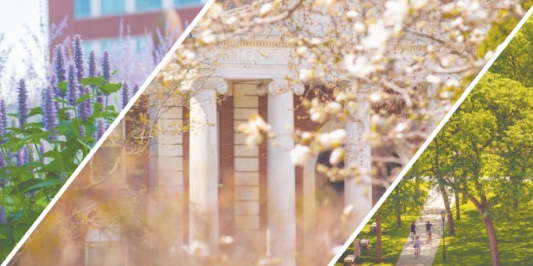 The Center for Health and Wellbeing is working closely with the University of Vermont and Vermont Department of Health to support students in protecting yourselves and understanding the services and resources available to help you keep your community safe, especially as you return to campus.
Here are some answers to questions we have gotten and topics that have come up related to COVID-19.
Symptoms
What are the most common symptoms of COVID-19?
Symptoms of COVID-19 typically appear 2-14 days after exposure, so you can spread the virus without even knowing it. These are the most common symptoms of COVID-19:
Fever or chills
Cough
Shortness of breath or difficulty breathing
Fatigue
Muscle or body aches
Headache
New loss of taste or smell
Sore throat
Congestion or runny nose
Nausea or vomiting
Diarrhea
What should I do if I have symptoms?
If you're sick with any illness, please stay home or in your room and call Student Health Services.  Student Health Services will talk you through next steps over the phone.

As with any sickness, like the flu or common cold, (which are different than COVID-19, but spread similarly), follow these additional guidelines to protect yourself and others:
To protect yourself:
Rest and stay hydrated.

Take Tylenol or other acetaminophen pain relievers, fever reducers, decongestants, or cough medicine to manage symptoms. If you have chronic health conditions, please call Student Health Services or your primary care provider before taking these medications.

Clean your hands often either with soap and water for 20 seconds or an alcohol-based hand sanitizer that contains at least 60% alcohol.
To protect others:
Cover your coughs and sneezes with a tissue.

Use a separate bathroom if available.

Avoid sharing personal household items (cups, dishes, utensils, towels, bedding).

Clean and disinfect all high-touch surfaces at least once a day.

Avoid public areas/transportation.
Should I go to the Student Health Services?
Please do not show up at a clinic, urgent care, or other health facility without calling in advance. Your provider will need to take special measures to protect other people in the clinic. Telemedicine may also be available, enabling you to consult a provider from home. Students may contact Student Health Services.
Protecting Your Health and the Health of Others
Give people physical space
This is called physical distancing. Stay at least 6 feet from people outside your household. This includes when taking walks outside and at the grocery store. 
Wear a face mask.
Since you may be infected and not know it, wearing a face covering whether or not you feel sick helps protect people around you from possible exposure to the virus. It's also required in all stores in Burlington, South Burlington, and many other areas, so yes, wear one. Keep reading for tips on how to best wear a mask below. We've got you (cloth) covered.
Clean your hands and avoid touching things that could be contaminated.
Avoid touching your eyes, nose, or mouth with unwashed hands. Since COVID-19 can get transmitted between your hands and other surfaces it's important to wash your hands often with soap and water for 20 seconds and sanitize surfaces like doorknobs, your phone, computer, counters, your bathroom, etc. at least once a day.
If you are on campus or away from home use hand sanitizer while you're out and then you're your hands when you get home.
Cover your cough.
Cover your mouth and nose with your elbow or a tissue when coughing or sneezing, and immediately dispose of the used tissue.
Wearing Masks
Do I need to wear a mask?
The Health Department recommends that everyone in Vermont wears a cloth face covering when you leave home or your room to help slow the spread of COVID-19. A mask helps protect others around you if you are infected and don't know it but it is not a substitute for physical distancing. Stores in Burlington and South Burlington require you to wear a mask or face covering so make sure you bring your mask when you leave the house (better yet if you wear it!).
How should a mask fit?
Cloth face coverings should:
Fit snugly but comfortably against the side of the face.

Be secured with ties or ear loops.

Include multiple layers of fabric.

Allow for breathing without restriction.

Be able to be laundered and machine dried without damage or change to shape.
Remember—your mask only works if it covers your nose and your mouth and touching your mask can spread germs.
How do I remove my mask and keep it clean?
Remove the mask using the ear loops or ties to avoid touching the front of the mask. Do not touch your eyes, nose and mouth when removing it.

Immediately wash your hands after removing it.

Don't put it where others can touch it or on counter tops or tables.

Clean cloth masks daily, by hand or machine, using detergent. Make sure it's completely dry before using.

It's best to have a few masks on hand so you can rotate for washing.
Testing
Who can get tested?
Anyone who does not have symptoms and wants to get tested can go to pop-up testing sites across Vermont, whether or not you have symptoms. Anyone returning to Vermont from another state can get tested after 7 days quarantining in the state.
How do I get tested?
If you don't have any symptoms, register for testing at pop-up testing site ahead of time. All test sites operate from 9:00 a.m. to 3:00 p.m. The test will tell you if you have a current infection. It is not a serology/antibody test, which means it will not tell you if you were infected in the past.

If you do have symptoms, call your health care provider to be referred for testing. If you are a student, call Student Health Services at 802-656-3350. Faculty, staff, and students far from campus should contact their nearest primary care provider.
Can I get tested at UVM?
Yes. In addition to testing students with symptoms through Student Health Services, UVM is working with the Health Department and National Guard to provide testing.

See our testing page for dates and information on signing up to get tested.
Returning to Vermont
What do I need to do when I come back to Burlington to live off-campus?
You must quarantine as soon as you arrive in Vermont. This means don't go out in public, even to the grocery store, to a job, or to hang out with your friends. That way you'll make sure you are keeping your friends and everyone in Burlington safe.

You have two options for quarantining:
Quarantine for 14 days and then get released if you have not developed any symptoms
Quarantine for 6 days and then get tested for COVID-19. If your test is negative you can end your quarantine.
If at any point during your quarantine you develop symptoms you should get tested immediately.
Are stores, restaurants, and other services open?
For the most up-to-date information on Vermont's phased reopening see the Governor's website. 
Are beaches and parks open in Burlington?
Beaches and parks are reopening across Vermont. While summer in Vermont is beautiful, please make sure that if you go to parks and beaches you do so safely. Wait to go out in public until you have either quarantined for 14 days or gotten your test results back after 7 days. Once you do go out in public, maintain a social distance of at least 6 feet between households, wear a mask, and recognize that other people may be at higher risk for illness than you.
For More Information
I want to learn more. Where can I find information?
Student Health Services can give you the ins and outs about what UVM is doing to support students and help you figure out if you should get tested.

Vermont Department of Health has information on staying safe, policies, and data related to COVID-19 in Vermont
What is UVM's plan? Where can I find resources to help me pay for food or housing?  What's happening with classes for the fall?
Check out UVM's centralized COVID-19 website.