UVM Is Welcoming Everyone Back to Campus in August
In a year that kept us apart in so many ways, the UVM community came together in solid and supportive teamwork to learn on campus, find new ways to connect—and to keep our COVID infection rate one of the lowest in the country. We're excited to welcome everyone back to campus in August to learn and live and explore together in person again. Stay tuned to this site for updates as summer unfolds.
COVID Testing this Summer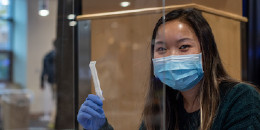 Weekly COVID-19 testing continues for students approved to be on campus. See your testing and on-campus approval requirements.
Catamount Kudos
"Jillian is the BOSS in the Testing Center. Major Queen vibes. I really appreciate her humor and fun."
Catamount Kudos celebrate the humans of UVM who make our days brighter. See and submit Catamount Kudos.
Get the facts about UVM's successful COVID year (pdf)
"So encouraging that virtually every single student I see walking about the neighborhood and campus is wearing a mask. They have firmly upended my earlier pessimism. I roundly express my appreciation for their show of respect for each other and those of us around them."
— Sean Mckenzie, Burlington