Fall 2022
Fall 2021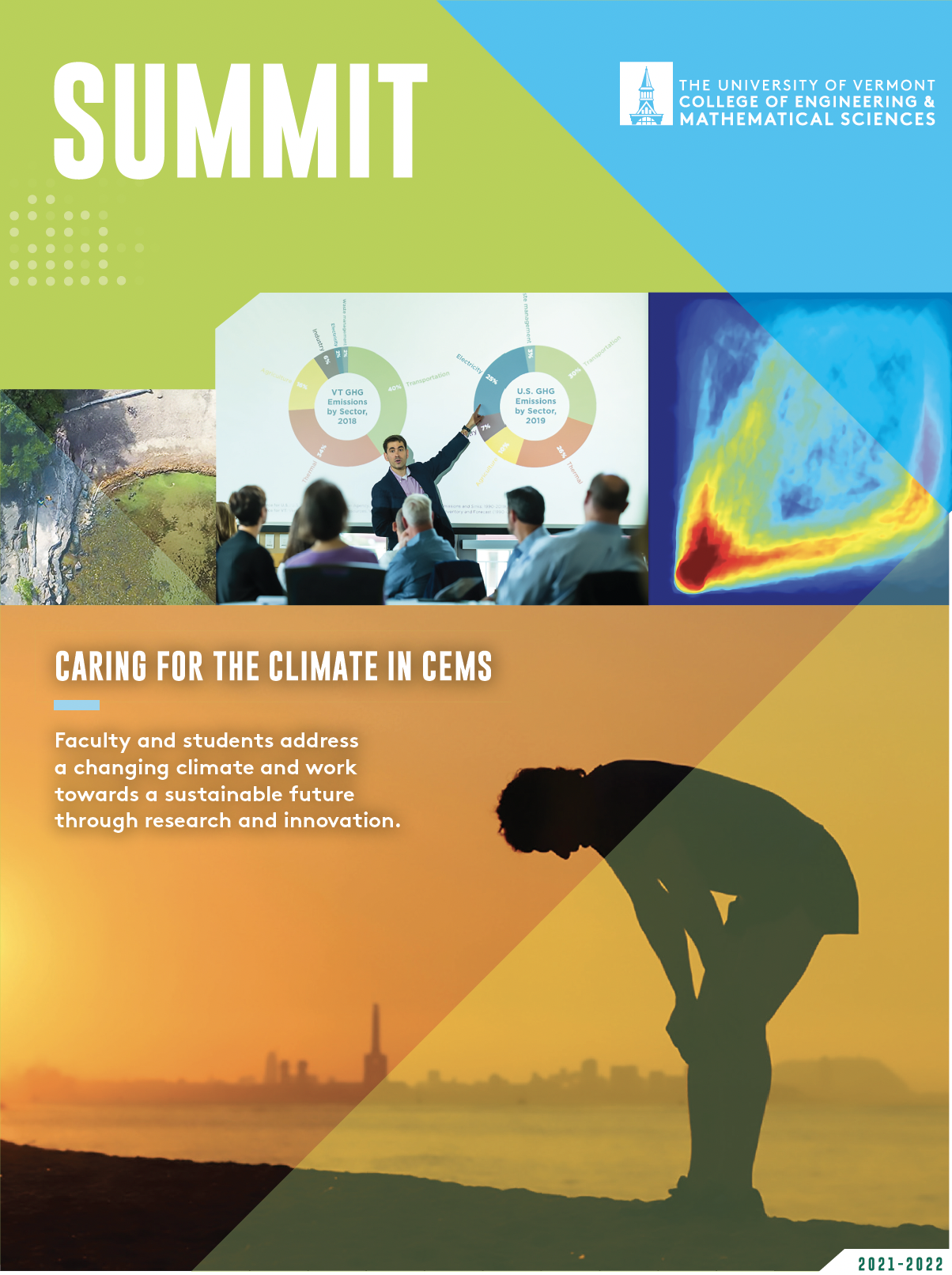 Fall 2020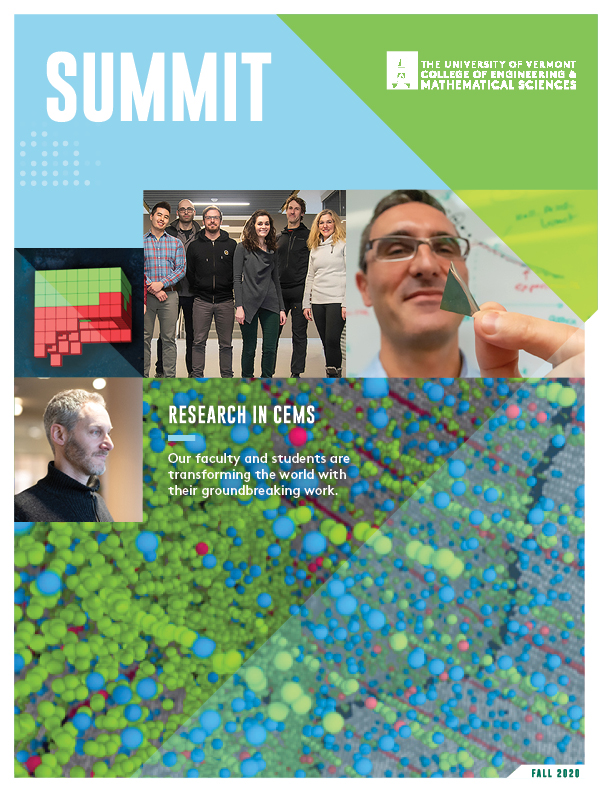 View entire Fall 2020 SUMMIT Magazine on ISSUU.
In this issue:
2020 Awards and Accolades
CEMS Covid Champions
Open Resilience: Teams across all industries have moved to a remote work setting. UVM is partnering with Google to understand how working will change in the coming years.
Inventing the World's Strongest Silver: Professor Frederic Sansoz is transforming more than materials.
Team Builds the First Living Robots: Tiny 'xenobots' assembled from cells are a whole new class of organisms – and they can be programmed. See how Professor Josh Bongard and his team helped create them.
Student Achievements
Girls Who Code: Lisa Dion impacts youth in computing.
Bridge to the Future: Graduate students in engineering management build vital connections.
New CEMS Faculty
Bionic Growth: Biomedical Engineering program granted ABET accreditation
Policy Solutions in Vermont Prisons
Forward Motion: UVM student's research on wearable sensors
Tiny Price Gap Costs Investors Millions
Meet the Class of 2020
Going the Extra Mile
Paying Their Success Forward

Spring 2019
In this issue:
CEMS News & Updates
Grace Hopper Celebration: Women in Computing
Engineering a Safer Chulha: Students Travel to India to Build Safer Stoves with Helping Hands Hospital
Computer Science Fair
Undergraduate Research
StatFest
Just Building: Student Highlight: Dia Brown
Research Awards
Tech Career Fair
Privacy Matters: On Social Media Your Privacy Is At Risk— Even If You Don't Have An Account
Early Detection: Wearable sensor could detect hidden anxiety, depression in young children
Alumni Giving: Greg Sweeny '70, Richard '66 and Elaine Barrett, Anthony F. Voellm '73 and Beth Zimmerman '93
Groundbreaking Data Science Partnership: $5 million gift establishes MassMutual Center for Complex Systems and Data Science Campus
Internship Opportunities
Victoria Hand Project
Looking Back: Class of 1968: Building the Hyperbolic Paraboloid Shells

Spring 2018
PDF Version
In this issue:
Smart Structures: How CEMS-led Research on Smart and Lightweight Polymers are Reducing Cost and Waste for the Automotive and Aerospace Industries and Beyond
CEMS News and Updates
Reliable Renewables: A Team of CEMS UVM Researchers Want to Balance Supply and Demand in the Nation's Electrical Grid, One Packet of Energy at a Time
A Cyber Approach to ACL Rehab: Toth and Skalka BME Grant Breaks New Ground
Wheels in Motion: Engineering Students Work with NASA to Develop a New Lunar Navigational Tool
Biomedical Engineering Students Dive into Research
Student Engineers Her Future with Help of UVM's Fab Lab
A New Angle on Gerrymanders: UVM Mathematicians Invent Tool to Judge
When Voting Maps Have Been Unfairly Drawn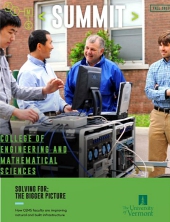 Fall 2017
PDF Version
In this issue:
CEMS News and Updates
Expanding Innovation
In Memoriam: Ken Gross
Researchers Discover an Early-warning System for Depression in Social Media
What Lies Beneath. Solving for the Bigger Picture
Real-world Solutions for Cars and Communities
A Passion for Collecting and Understanding Natural Data
The Power of Student Innovation
Alumni Spotlight: David Hosmer
Votey 2.0 Upgrade and Discovery Building Labs

Spring 2017
In this issue:
CEMS News & Updates
A New Wrinkle in Conductivity
Reddit Brings Evolutionary Robotics Class to the World
UVM's New Data Science Degree
Greed for Speed
Making it Real
Alumni Spotlight: Nick Strayer
Looking Back: When Votey was New

Fall 2016
PDF Version
In this issue:
CEMS News & Updates
CEMS Welcomes New Faculty and Staff
Healing with Seaweed
Alternative Energy Racing Organization
Racing Toward the Future
Close to You: Biomedical Engineering
Biomedical Engineering: New Major Opens Cutting Edge Field to Students
Innovation in Action: Senior Projects Design Night Showcases Engineering for the Community
Alumni Spotlight: Cynthia Barnhart, Nicole Mason, Greg Santoro
Engineers Across Centuries

Spring 2016
In this issue:
FEATURE STORY: LEARNING THROUGH SERVICE
For their senior capstone, students in the Civil and Environmental Engineering Program help area nonprofit and government agencies move forward with engineering projects.
SHOWCASING INNOVATION
Computer science students participate in CS Fair to display their creations.
CEMS CLUBS LIVEN UP SCIENCE FOR KIDS
Club members have middle schoolers test their engineering prowess.
BUILDING APPS FOR CLASS
Students learn the ins and outs of app-making in Chris Skalka's Mobile and Embedded Devices class.
ADDING RENEWABLES TO THE GRID
$1.5 million grant will help CEMS professors research ways to make the electric grid accommodate power from renewable energy sources.
DIRTY PIPELINE
Study shows how fracking interacts with abandoned wells to release methane.
CELEBRATING DIY
Maker Faire pairs with engineering competition to introduce kids in grades K-12 to STEM fields.
WHAT MAKES A SKI HUM?
Olympic Skier uses Advanced Structural Analysis to study beam loads and go faster.
ALUMNI PROFILE: KEN PIDGEON '84
JOSH BONGARD TALKS ROBOTS ON REDDIT

Fall 2015
In this issue:
ENGINEERING THE CLASSROOM
How the new Vermont Engineering Initiative is preparing K-12 teachers to add engineering design to their curricula.
DISCOVER CEMS
The Governor's Institutes of Vermont hits the sweet spot of summer learning, while UVM breaks ground on its new STEM building complex.
NEW FACULTY SPOTLIGHT
The next wave of new faculty and staff at CEMS spans expertise in fields ranging from big data to geotechnical engineering.
A BRIDGE TO CROSS
A model steel bridge from the college's ASCE student chapter scores high marks in the National Steel Bridge Competition.
MAKING THE SMART GRID SMARTER
Funded by the National Science Foundation, an interdisciplinary team at CEMS is tackling problems such as energy conservation and climate change.
SPARKING NEW IDEAS
Four CEMS research groups win seed grants for moving their ideas to the marketplace.
A FLUID SITUATION
CEMS professor George Pinder applies modern medicine to an age-old ecological problem.
HACKING 101
An all-night hackathon in Votey Hall leads to new apps for improving student life at UVM.
SHOOTING FOR THE STARS
How Professor Doug Fletcher is studying the ways materials perform in the hostile environments of space.
THE LIVES OF STRUCTURES
New techniques are helping Professor Eric Hernandez predict the life spans of bridges and buildings.
WHERE NUMBERS MEET MEDICINE
The FDA looks to UVM biostatistician Chip Cole in assessing biosimilars, or generic copies of biological drugs.
MAKING THE GRADE: STUDENT PROFILES
How Katherine King's love of math and stats led to her new job with the Mayo Clinic, while Presidential scholar Nick Martin aims for the aerospace industry.
A TWITTER EARLY WARNING SYSTEM
A team of CEMS scientists taps the social-media network to mine evidence of drug interactions.
A LEGACY OF GENEROSITY
Growing up poor in the Northeast Kingdom sparked a desire in Richard Fisher '47 to give back to CEMS.