Why CEMS?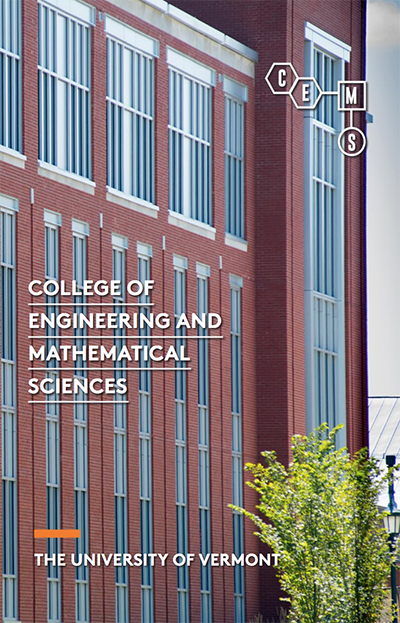 Our students and faculty are immersed in an atmosphere of discovery that stretches across disciplines to find answers to complex and challenging problems in engineering, mathematics and computer science.
Our students learn from and work with faculty members who are pioneering new knowledge at the forefront of engineering and the computational sciences. Participation in this research-enhanced environment opens a world of possibilities for students and produces inspired individuals: critical thinkers and creative leaders to address the opportunities and challenges of tomorrow.
View the UVM Campus from a Quadcopter
"No one wants to film someone else on a powder day," says Julian Tryba '13, explaining how he conceived of the Eleview. After a monstrous snowfall his junior year, Tryba and friends headed to Jay Peak, where in between runs, they daydreamed about a device that could follow them down the mountain, filming them without the need for a designated cameraman.
What Makes CEMS Unique:
Undergraduate Research Opportunities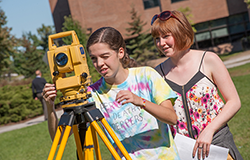 First-year students learn by doing in introductory design courses. Sophomores, juniors and seniors have the opportunity to join research teams of individual faculty members working on a variety of socially relevant projects. As seniors, engineering students work in teams in order to solve real-world engineering problems. Electrical engineering and mechanical engineering student teams work on multidisciplinary design projects in collaboration with clients from industry or with faculty on research-related devices. Learn more about research opportunities at CEMS
Richard Barrett Scholarship
Barrett Scholars conduct inquiry and investigations that make original intellectual or creative contributions to the engineering discipline. The program provides prestigious, competitive awards to outstanding undergraduate engineers who wish to pursue a specific research project under the mentorship of a faculty member.
Award Winning Faculty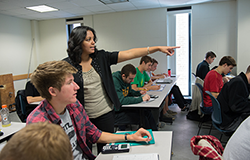 Many CEMS professors are top researchers who have been recognized for unique and groundbreaking contributions in their fields.
CEMS is fortunate to have numerous faculty members who are winning of early career awards -- highly competitive, prestigious national awards for research contributions made early in one's career.
Active Student Groups

Participate in a club or association such as Alternative Energy Racing Organization (AERO) the Society of Women Engineers, the Computer Science Student Association, CS Crew, American Society of Mechanical Engineers (ASME), American Society of Civil Engineers (ASCE) and others.
In these groups, you'll find like-minded students who work on interesting projects, and help each other get through our rigorous academic curriculum, and developing professional skills needed for today's workplace.
Through the Department of Student Life you'll find multitude of other student organizations where students explore common interests in music, outdoor recreation and more. Getting involved at UVM is a great way to enhance your Academic experience, make new friends, and overall have a good time.
Unique Structure of College

CEMS is home to one school — The School of Engineering — and two departments — The Department of Computer Science and The Department of Mathematics and Statistics. The cross-pollination of ideas is only possible in a setting like CEMS, where students have the opportunity to gain knowledge of supporting disciplines within and outside the college.
Providing a Broad Education
In the College of Engineering and Mathematical Sciences (CEMS), we believe in educating engineers, scientists and mathematicians in just this broadly inclusive way, providing students with a rigorous education in the technical disciplines, supplemented with study of the liberal arts to develop their critical thinking and leadership abilities.
As a "public ivy" with an internationally distinguished faculty, the University of Vermont (UVM) is well poised to provide its engineering students with a unified engineering education. CEMS students have access not only to our talented engineering, computer science and mathematics faculty, but to a community of teacher-scholars across the campus of a small research university.
Burlington: An Emerging Tech Center

Burlington is making headlines as an entrepreneurial, high-tech center where creative minds mingle. In 2015, Forbes listed Vermont's largest city as one of the country's top 10 most innovative tech hubs. A recent Atlantic Monthly story called Burlington a "Silicon Valley in Vermont." The Kauffman Foundation ranked the state of Vermont No. 5 in the U.S. for business startups.
The UVM-based Vermont Center for Emerging Technology was ranked by the University Business Indicator Index as the 11th best university- and college-oriented business incubator globally and the 5th best nationally.
Learn more about why Burlington and Vermont are great places to live
Internships and Links to Industry

The college's new internship coordinator, Alicia Ellis, is revamping the internship program to ensure more students benefit. Last summer, several students in CEMS' competitive paid internship program worked in fields ranging from Environmental Engineering at Casella Waste Systems Inc. in Vermont to IT development at State Street in Massachusetts. In 2016, many more students will win competitive placements. Beyond the competitive program there are even more opportunities for students to land jobs and paid internships, network with potential employers and attend resume workshops.
UVM FabLab

An incubator for ideas and a place to engage people's imaginations, the UVM FabLab makes rapid-prototyping tools available to UVM students and faculty. The lab provides the opportunity for interaction in developing and testing innovative products and designs. We encourage projects that support research, innovation and creativity.