How did you get involved with WRUV?
 During my campus tour at UVM, we walked through the WRUV hallway and I was fascinated by the image of the booth and the DJ on air. I stopped outside the door and peered in. I was caught by the then program director and station manager who happened to be inside. They opened the doors to the station and asked me if I needed help. I eagerly explained that I was a prospective student studying music and had never seen a radio station before. With our classic Death to Corporate Radio banner hanging behind them, they urged me to come train in the Fall. Right after that, I told my parents I wanted to attend UVM. We hadn't even finished the tour yet. 
 In the Fall I trained with WRUV, was graveyarding by November and had made the Executive Board by April as their Public Relations Director. I had found my home here on campus. 
Tell us about a typical day/shift at the radio station
 A typical shift at WRUV for me looks a little like this: I wake up in the morning and check my emails to see if there are any new questions or concerns that have populated overnight. I spend about an hour answering emails and then I'll head into the station. At the station I sort mail, go over our bills and finances, check in with our equipment and clean up around the space. I check in with EB [Executive Board] to ensure all of their projects for the week are going smoothly and offer assistance anywhere I can. I begin work with our engineer on a few technical advancements we are working on and then I head home for the day. 
 If it is a day that I am DJing, I head in about 30 minutes before my show and pick out some music to play on air. I set some mood lighting in the booth and plug in my headphones, close the door and turn up the volume. I spend about two hours talking and sharing some of my favorite songs of the week, and then I close up my area, return any music I used, and hand the booth over to the incoming DJ. 
How have you adapted to the challenges of remote work and learning this semester?
 This semester so far has been quite daunting. WRUV is currently completely remote which means we are broadcasting from home and our automated system. We are also working with our finances completely remote and all of our meetings happen in virtual spaces. We have been quick to adapt to engineering our shows at home, communicating frequently via emails and text messages, learning how to process payment remotely and still maintain a positive outlook. We are working to foster community spirit and have recently had our first full station meeting virtually, which made me feel nostalgic and grateful for the community we have here at WRUV. WRUV will be returning to broadcasting from the booth live on Monday [October 12th]. We have been working tirelessly to create a safe and inclusive plan to re-enter the station and all the details have finally fallen into place. 
Has your taste in music changed or grown since you began working at WRUV? Or are you more devoted than ever to your favorite genres and artists?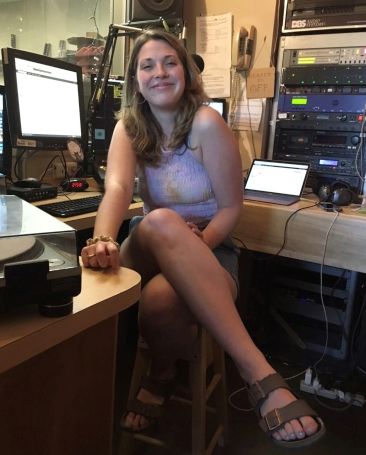 When I entered WRUV I was primarily passionate about indie rock music, especially the louder angrier kind. Although I still have a soft spot in my heart for indie rock and speak a lot of time listening to it still, I have grown to love other genres that I never thought I would be interested in. I have a deep appreciation for Female dominated hip hop due to our past station manager always playing that in the station. I have learned a ton about Indigenous music and have started listening to jazz more frequently due to my time in the station. It's a beautiful thing to always be encountering something new when you tune in. It's even more wonderful to be able to discuss that genre with someone who is passionate and informed about it. Talking to someone about the music they love is the quickest way to get to know the person and to fall in love with the music yourself. 
What skills have you developed as a result of your time at WRUV?
 My time at WRUV has been the most educational experience of my life. WRUV has given me the platform to find my voice as a leader and as an artist. It has given me a safe space to be authentic and open. Here I have learned to manage a large rotating staff whose life experience is quite diverse. I have learned how to write contracts and budgets. I have learned how to sufficiently delegate work and lend support to my teammates. I have learned the legalities of the FCC and the steps that are necessary to ensure we are functioning safely. I have learned how to reboot a transmitter and how to operate with a clear mind in an emergency. Honestly this position has prepared me for the many obstacles I believe I will encounter in my future. I am forever indebted to WRUV for all of the knowledge it has afforded me. 
What's the best thing about working at the radio station? 
 The best thing about working for WRUV is the staff. Our staff is comprised of people from all different walks of life who are insanely passionate about the medium of DJing. They are inspiring and incredibly welcoming people. It is their voices that make WRUV unique and exciting.  It is the community we build off of our love for sharing music that is the best thing about WRUV. 
Have your classes at the Music Department influenced your work at WRUV? Or has your work at the radio station given you particular insights that were relevant to your Music courses?
 Being a Music Tech and Business major has been beneficial to my time as a DJ and station manager. Taking a class on Arts Management inspired me to create new and innovative ways to network budget and curate events for WRUV. My time in studying copyright with Alex Stewart fueled my ability to adapt quickly to the intricacies of licensing and legalities of radio broadcast. I was even able to adapt my time in studio production to help run live shows for WRUV Exposure (a live local band session).  Working as Station Manager has also helped me through my courses at time, having been through some of the examples used in class or having already experienced some of the topics we were discussing gave me a different view and I believe helped me learn on a deeper level.
Why did you choose to major in Music Technology and Business? Do you have plans for after graduation?
 I chose to major in Music Technology and Business because of my brothers. I grew up with two older siblings who were both devoted to music, always creating and innovating in our house. They were the people who brought me to my first basement show or showed me Logic or how to play the G chord on guitar. I worked for a few music venues and tours in my hometown and helped with a high school record label my senior year of high school. It was then I decided I had to be involved in live music for the rest of my life. So when the University I planned to attend had this new major, I jumped at the chance. Currently I am looking at graduate school for Music Business and some entry level jobs at music venues, touring companies and record labels. So, fingers crossed!
What are some standout tracks/albums you've been listening to lately?
 My go-to album right now is Jay Som's 2019 Anak Ko album. Give it a listen and then go listen to all their other albums!