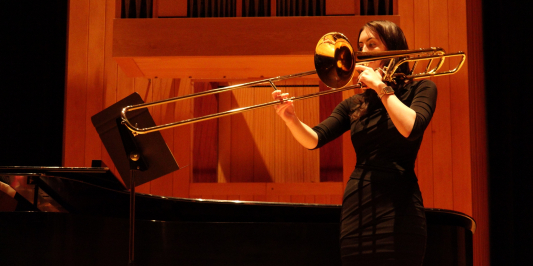 Frequently Asked Questions
Where will auditions take place?
Auditions are held at the Music Building, 384 South Prospect St. in Burlington. Check in with us in the Music Building Recital Hall lobby when you arrive. Parking is free on weekends.
If you plan to stay overnight in Burlington, see this list of recommended hotels close to campus, and note the ones which offer discounted rates to prospective students and families.
What if I cannot make any of the scheduled audition dates?
Please email us at music@uvm.edu and we will do our best to find an audition date that works for you and our faculty.
Can I still be considered for a scholarship if I don't do an on-campus audition?
We strongly encourage an on-campus audition so that you can tour the facility and the rest of campus, and speak with faculty and students about our program. However, we know that distance and weather sometimes make a live audition impossible. In these cases, we will consider outstanding audio/video auditions for scholarships.
I will need accompaniment during my live audition - how does that work?
We provide a faculty accompanist on our designated on-campus Entrance Audition Days. E-mail PDFs of your music/charts to music@uvm.edu. You may also use a recorded accompaniment track on your phone/computer. Notify us in advance if you will be using one.
If you audition outside of our Entrance Audition Days, a faculty accompanist may be available for a fee. Ask us for details. You may also play unaccompanied, with your own accompanist, or with a recorded accompaniment track on your phone/computer.
Are there more in-depth visit options during my time in Burlington?
In addition to the tours offered by our students on Audition Days, and the meeting you will have with our faculty, we are happy to facilitate additional activities.
If you are in town on a weekday, you may wish to sit in on a class, ensemble rehearsal, or concert.
Some of our faculty offer trial lessons; please contact them and inquire about their policies.
You can schedule a campus tour through Admissions.
How do I audition if I am already a UVM student?
Current UVM students may schedule an Entrance Audition at the beginning or end of the semester. Please email music@uvm.edu for more information or visit the office.
Is an audition required for music minors?
No, music minors are NOT required to audition. Learn more about the music minor.
What does "primary instrument" mean?
While music majors are encouraged to study and play multiple instruments at UVM, you must choose one primary instrument. This will be the one on which you do your Entrance Audition, end-of-semester playing exams, annual performances, and Senior Recital.
What should I wear?
Dress for an interview. Business casual (no sneakers or jeans) or all black concert attire.
What if I don't pass the audition?
If you don't pass the Entrance Audition, you will not be able to declare the music major at this time, but you may attempt the audition multiple times! Students who do not pass the audition on their first attempt will often take applied lessons with our faculty for one or two semesters to prepare for their next audition attempt.
Prospective students who do not pass the Entrance Audition may still be admitted to UVM in another major, or undeclared, and may retake the audition during their first or second year at UVM.
I have waived the right to view my teacher's letter of recommendation, or I submitted it as part of my Common App. Do I need to submit it again?
No; we can retrieve the letter from Admissions. Teachers may also email letters of recommendation directly to music@uvm.edu.
Can I double major with music?
Yes! Many of our students choose to double major. The B.A. in Music offers flexibility to accommodate another field of study.
Prospective UVM applicants are admitted under a single major, or undeclared. Which major to indicate on your UVM application is up to you. In any case, you must pass the Entrance Audition before you can declare the music major.
UVM students in CAS can declare a double major in music after passing the Entrance Audition – usually after completing their first semester. UVM students in other colleges should apply for the music major using the change of college form. Discuss with your college advisor if you have questions.
If you have any other questions, please contact us: music@uvm.edu or (802) 656-2295.