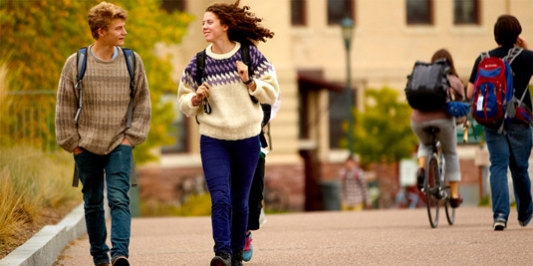 From playing shows around downtown Burlington, to traveling around the globe, our students pursue their musical studies outside the classroom in many different ways.
Student Performer Spotlight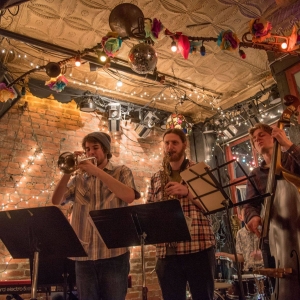 Playing with a band at open mics, coffeeshops, and other concert venues is part of the quintessential college music experience. Learn about students' musical pursuits in our Student Performer Spotlight Series:
Study Abroad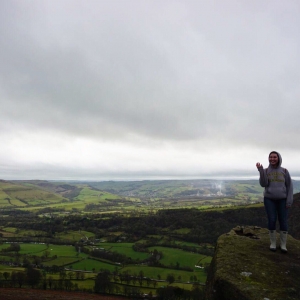 Many students wonder, "Can I study abroad as a music major?" The answer is: yes! UVM has abundant resources for those interested in study abroad. The Office of International Education holds study abroad fairs and will provide you with information on the programs best suited for your interests and curricular needs.
Experiencing the arts in Europe
Victoria King '19 is a double major in Psychology and Music Technology and Business. She wrote about her unforgettable study abroad experience in Europe:
"On the search for new and exciting experiences, I decided to go abroad as an exchange student at The University of Leeds, in England. While there, I took a Music for Video course, learning the theory, process, and practice of film scoring as well as the industry standards of another country.  While I only took one music course abroad, I always found a way to involve myself in the British music scene. I chose to live in Devonshire Hall, the residential hall known for its welcoming atmosphere to musicians. It offered practice rooms within feet of our living space, and I was able to meet so many British music students who were as interested in American music programs as I was in their programs. In fact, one of my flat mates was in the university musical, which was ironically "Legally Blonde" (where the British actors were instructed to speak in American accents). I thought it was so interesting how our cultures can be so different at times yet our common ground was the appreciation and practice of performing arts. I would also go to music events outside the university. My favorite thing to do after class or on the weekends would be to go into the city and see various bands. I went to jazz nights at coffee shops, I saw bands of all genres play at various pubs and clubs downtown, and I even travelled by bus to Manchester to see one of my favorite bands on tour. The possibilities to involve yourself with the music scene some way, are endless.
"Not only did I get to experience British music culture, but as I traveled to Germany, Austria, and the Czech Republic during spring break, I immersed myself in the top musical cities of the western world and found myself walking the same streets as notorious composers. The Sound of Music scenery and history did not go unnoticed in Salzburg and I met Mozart's history wherever I went. I appreciated Dvorak in Prague, and Beethoven along with many other composers in Vienna. One of my most memorable experiences was on the coast of Southern Ireland. One night, I went to hear traditional Irish music at a local pub, with people were Irish step dancing to the sound of fiddles, accordions, and mandolins. Then in the morning, I attended Easter Mass at sunrise, with Irish Tin whistles playing for the service. If I wrote about all the musical experiences I have had my time abroad, it would be a book, but these few were some of the most unforgettable. It is one thing to read about the music history and culture of other areas of the word, but it is another to experience it. Explore new places, meet new people, hear and see new things; it can be life changing."
Summer Programs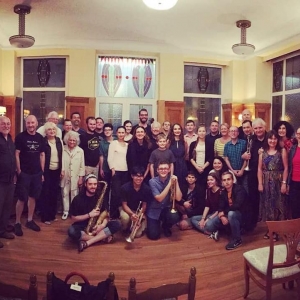 Music in the Alps
Cameron Gilmour '20 is majoring in Music Technology and Business, and minoring in philosophy. He studies jazz saxophone and jazz bass in the Department of Music and Dance. In the summer of 2018, he attended a program in Austria called Music in the Alps, presented by Irena Portenko's Masters Academy of Performing Arts (Meisterakademie für Darstellende KünstlerInnen). It is an intercultural program for young and professional musicians which promotes talent, diversity and innovative ideas in music performance and education. Cam now works for Music in the Alps, producing videos and doing outreach for the festival.
He reflects: "Personally, it is safe to say that this festival has changed my life. The group of people you are working with are incredibly passionate, accepting, and talented. I immediately felt like I was a part of a family. Working with Sergei Kvitko (one of the world's most respected classical recording engineers) could have been super intimidating; instead I gained a close friend and mentor. This biggest draw for me besides Austria's incredible scenery is and was the music. Some of the most talented people I have ever met, both in jazz and classical. My perspectives were widened, I got valuable networking, and learned a ton about both making and recording music in a professional setting. If this were a Yelp review, I'd give a 9.7/10 (would recommend to a friend)."