CLUBS & VENTURES
Even with a rigorous course load, many of our students use the SI-MBA experience to put new skills into practice immediately. From starting a rapid response venture to tackle the COVID pandemic, to mobilizing to bring a new ventilator to communities in need, to running projects in the SI-MBA consulting group SIMPACT, our students step into the accelerated 12-month program knowing that every day counts.

Than Moore (SI-MBA '20) boxing up gowns to be repurposed by healthcare facilities facing PPE shortages during the COVID-19 pandemic.
COMPETITIONS
In addition to applying new skills on projects close to home, we also encourage our students to put them to the test on the national stage.
Most recently, SI-MBA students took home the top prize at the 2019 Total Impact Portfolio Challenge, hosted by Bank of America, the University of Pennsylvania's Wharton Social Impact Initiative, and the Good Capital Project.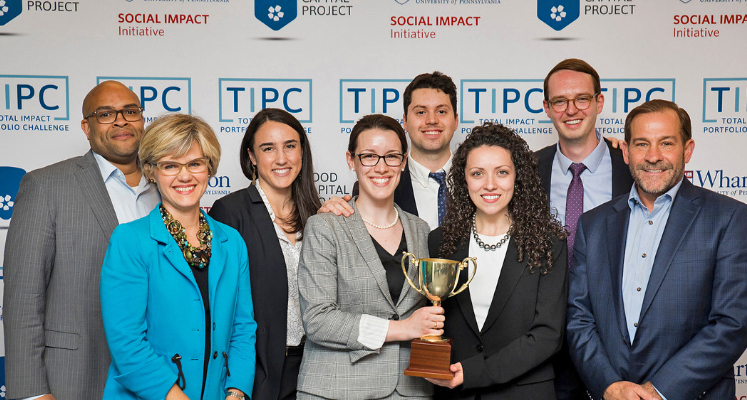 Winning SI-MBA students Emily Klein, Alyssa Stankiewicz, Andrew Mallory, Maura Kalil, and Peter Seltzer alongside competition judges Michel Lear of Bernstein Private Wealth Management, Jackie VanderBrug of Bank of America, and Glen Macdonald of Bronfman Rothschild. (Photo: Chris Kendig)