Bringing Renewable Energy Use to UVM
A comprehensive campus renewable energy feasibility study was conducted over the summer of 2012 to help determine how significant a role campus-based renewable energy can play in UVM's progress towards carbon neutrality and to generate scenarios to aid in renewable energy planning at UVM. The study examined opportunities for solar PV, solar thermal, geothermal, fuel cells, biomass, and wind across UVM's campus. The deliverable analysis of this study and renewable energy campus map will serve as foundational knowledge for future decisions about resource allocation to renewable energy installation projects on campus.
Aiken Solar Trackers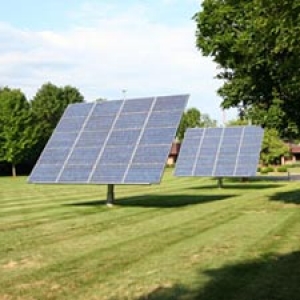 Commissioning Date: December 26, 2010
Project Manager: Todd Merchant
This project, supported by a $200,000 grant from the student-supported Clean Energy Fund, involved installation of 17 solar trackers on a highly visible portion of UVM land that is leased to the U.S. Forest Service (USFS) on Spear Street. These tracking photo voltaic panels result in a reduction of at least 35 Metric Tonnes of CO2 equivalent per year and 875 Metric Tonne CO2 equivalent of greenhouse gas over the long lifetime of the project. Electrical power generated from these trackers is net metered back into the electrical grid and produces renewable clean energy that contributes to the George D. Aiken Center's LEED Certification.
Images:
Equine Center Solar Panels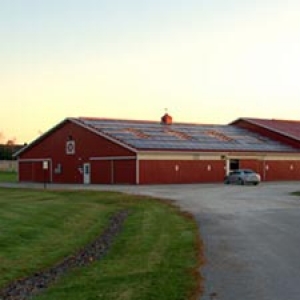 Commissioning Date: August 18, 2012
Project Manager: Todd Merchant
The University's Clean Energy Fund (CEF) sponsored this project which includes the installation of a 32kW static electric grid-tied photovoltaic system at the University of Vermont's Miller Research Equine Center.  This solar panel arrangement is projected to generate power that offsets the electrical demands of the horse barn including computer, lighting, appliances and other miscellaneous equipment. The 134-panel rooftop array covers most of the Equine Center south-facing roof, and includes En-phase micro-inverter technology, which enables real-time monitoring and analysis of power production for each individual solar panel, improving energy harvest and system reliability. A net-metered system, the power that is generated will be directed into the utility grid.
Images:
Sandia Phases 1 and 2 National Laboratories Photovoltaic Projects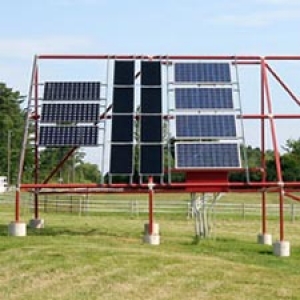 Phase 1 Commissioning Date: July 14, 2011
Phase 2 Commissioning Date: July 12, 2013
Project Manager: Todd Merchant
The Sandia National Laboratories Photovoltaic Project is conducting a Systems Long Term Exposure (SLTE) experiment, specifically designed to field small grid-tied systems in three diverse climates (New Mexico, Florida and Vermont) for the purpose of measuring degradation of the systems.  This is a controlled study of the PV modules having some level of baseline testing prior to installation.  In order to measure low levels of change in a relatively short period, well characterized data collection hardware and best practices will be used.
The University of Vermont, in coordination with New Mexico State University (NMSU), will develop outdoor photo-voltaic test capabilities in support of a Sandia National Laboratories research project. Work includes administrative, engineering and construction tasks required to install, make operational, and collect operating data from a number of 1KW grid-tied systems.  These systems will be monitored by NMSU to measure system degradation rates with the expectation that these rates will be representative of systems deployed in climates with periods of severe cold, such as Vermont.
Images: