Slade Hall Upgrades - Completed Project
Schedule: Completed
Project Manager: Kate Coffey
Architect: Vermont Integrated Architecture, P.C.
Contractor: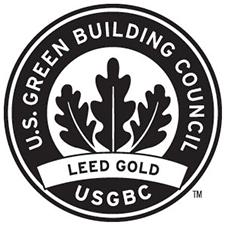 Slade Hall was the first new building constructed on land The University of Vermont acquired from the Buell family in 1921. The original design of Slade consisted of twenty-five single bedrooms located on all three stories of the building.  Throughout the years, the basic layout of Slade Hall has remained unchanged.
Slade Hall is a 24-bed residence hall on the Redstone Campus, built in 1928 and is 8,737 gsf, including a basement and three floors above. The building requires renovation and repair, including: damage to the building foundation from water infiltration; especially through the basement walls during periods of heavy precipitation; roof replacement; repair and replacement to the interior and exterior wood trim; ceiling, wall and floor surfaces that need to be refinished and/or replaced, renovation to the kitchen and bathrooms throughout the facility and electrical upgrade to the service and distribution.
Slade Hall Upgrades has received a GOLD Level of Certification in Leadership in Energy and Environmental Design (LEED) established by the U.S. Green Building Council.