In the past few months, ALC Director Ernesto Mendéz, has visited Brazil on two occasions: the first was for the 2018 Latin American Scientific Society of Agroecology (SOCLA) Meeting and the second to present a keynote address at the 8th Annual Agroecology Congress of the State of Santa Catarina.
Highlights
Within the SOCLA congress, a separate meeting brought together representatives of SOCLA, the new North America SOCLA chapter, the Brazilian Association for Agroecology (ABA), and the new European Association Agroecology Europe. The meeting focused on finding common ground to further strengthening agroecology as a field that embraces and expresses itself as a science, a social/political movement and in practice. The meeting had a particular emphasis on the importance of bringing these three dimensions together. Of key relevance is the opportunity to collaborate on publications and events  with a common agroecological agenda, with representation from different constituencies from around the world.  At the ALC, we are excited about strengthening our partnerships with agroecology movements happening in North America, South America, and Europe.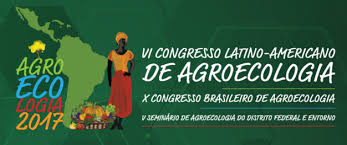 The second visit to Brazil was for Ernesto to present a keynote address titled 'Agroecology: Challenges and Opportunities' at the 8th Annual Agroecology Congress of the State of Santa Catarina, which took place in Santa Rosa de Lima, a town known as the 'capital of Agroecology'. Here, Ernesto joined ALC collaborator Professor Abdon Schmitt Filho, from the Universidade Federal de Santa Catarina, with whom we are working on developing a stronger partnership around agroecology and Participatory Action Research (PAR). Dr. Schmitt Filho has a long-standing PAR process with smallholder farmers, working on rotational grazing and silvopastoral systems, to support biodiversity conservation of the Brazilian Atlantic forest. Abdon is already collaborating closely with UVM Professor Joshua Farley (Dept. of Community Development and Applied Economics), who is recognized for his outstanding work in ecological economics. We are hoping this will lead to stronger collaborations within UVM (two UVM College of Agriculture and Life Sciences professors) and with our Brazilian partners. This partnership aims to advance linkages among agroecology PAR and ecological economics, and promote student and faculty exchanges between the two campuses. All three professors are also affiliated with the UVM Gund Institute for Environment.