ALC members attend 1st USFSA Political Education Course
By Martha Caswell, in collaboration with Nils McCune, Megan Browning, and Efren Lopez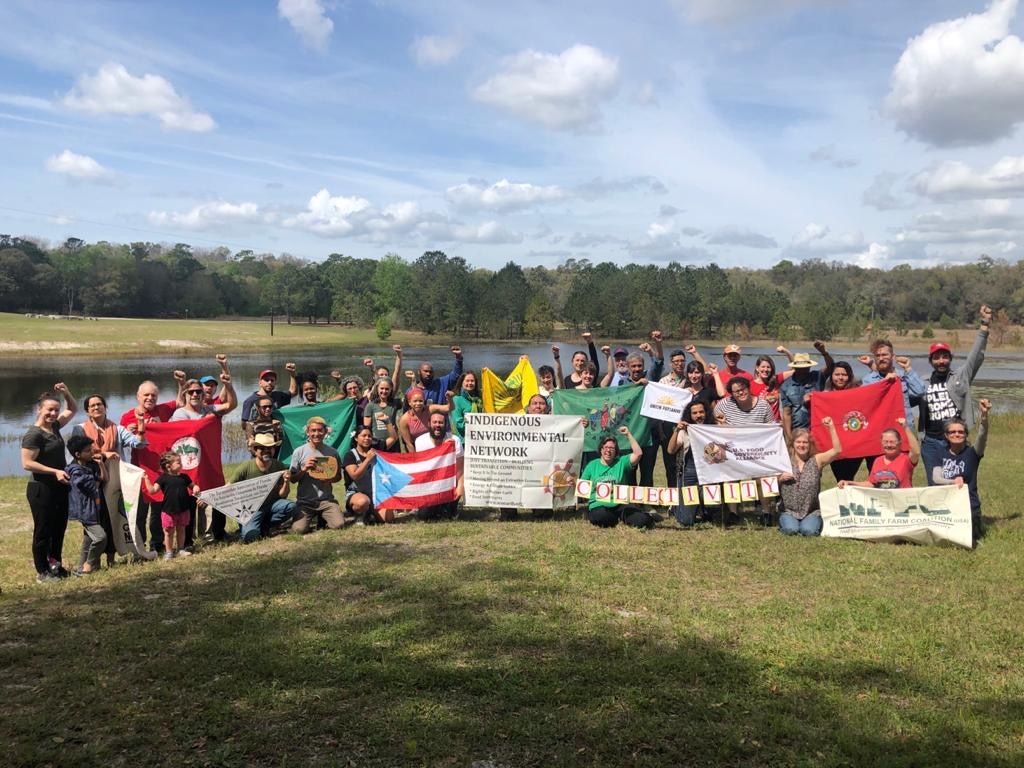 In the days right before we were asked us to stay home, the US Food Sovereignty Alliance (USFSA) held their first national political educational course in Apopka, Florida. We were hosted by the Farmworker Association of Florida and the course was designed following a methodology of political formation developed in Latin America through the efforts of La Via Campesina (LVC) member organizations including the Brazilian Landless Workers' Movement, Movimento dos Trabalhadores Rurais Sem Terra (MST), Organización Boricuá of Puerto Rico and the Asociación de Trabajadores del Campo (ATC) of Nicaragua, and others, which calls for an education of the mind, body and spirit. Participants came from the US, Puerto Rico, Mexico and Canada. Each drawn by the possibility of what we could create and learn by spending a week together focused on the history and future of food sovereignty in the US, and wanting to build a common political analysis of the food system that would lead us forward.
According to a 2018 publication from the European Coordination of La Via Campesina, food sovereignty is a 'concept in action' that "…offers itself as a process of building social movements and empowering peoples to organise their societies in ways that transcend the neoliberal vision of a world of commodities, markets and selfish economic actors. There is no one-size-fits-all solution to the myriad of complex problems we face in today's world. Instead, Food Sovereignty is a process that adapts to the people and places where it is put in practice. Food Sovereignty means solidarity, not competition, and building a fairer world from the bottom up."
So, there we were, nearly 40 of us – gathered in the cabins and grounds of a summer camp, to listen, learn, unlearn, and strategize. We came as farmers, activists, members of coalitions, and representatives of front-line organizations, each trusting that this was a critical step in our movement forward. Though neither of us was officially there representing the ALC, both Nils and I were there – Nils as a delegate of LVC and I on behalf of the Agroecology Research Action Collective. The ambitious agenda of the week left less time for individual connections than everyone hoped, but we covered a lot of ground, and uncovered/rediscovered a lot of truths. Our food system is broken. It has been built on a base of exploitation of land and peoples, and yet that narrative has been carefully and intentionally covered up. Our work is to interrogate both our past and present, to recognize where we are complicit and bravely face the discomfort of seeing ourselves in what is wrong. Only then, and through building solidarity with others, will we be able to achieve the transformation we seek. This blog from Agrarian Trust's Megan Browning catches the essence of the week, https://agrariantrust.org/news/globalize-the-struggle-globalize-hope/
One of the closing observations of the event was that to make this transformation we will need revolutionary discipline and revolutionary healing. So, surround yourselves with good revolutionary people (even if only virtually), and follow Adrienne Marie Brown's advice that joy is a form of resistance. Megan ends her post with a poem written by Efren Lopez, one of the incredible youth participants representing the Community Agroecology Network . I'll do the same – it deserves more than one reading.
the tools that those frogs spoke about by the fire ~efren lopez
cool pools form on victory
missing the wet steps i took
from my casita to the library
it's a foggy feeling, but
the warmth from the pier by the pond
it was part of the healing
the snap back raised my head
chin up! this fight isn't a bed
back and calm and partially better
only then did i realize the weather
one huge storm!
from street to street
from coast to coast
from sea to sea
from pole to pole
one huge storm!
while our methods to bare
might reappear invisibly
i recall that other feeling
that hasn't fleeted
explaining why we made the effort
to come together in the first place
because
it really takes a heart for the land
to understand
that the resistance to the forces
before us
the ones who hate our guts
calls us ruts
deprives our dignity
lack of pity
have no chance
when the seeds we sow
food we cultivate
has our hands not pointed
but loosely gripped
to the tools that we made
for each other
passing them to one another
circling our
collective battles
we sit
humbled
their resiliency
our resistance
in joy!
in joy!!
in joy!!!