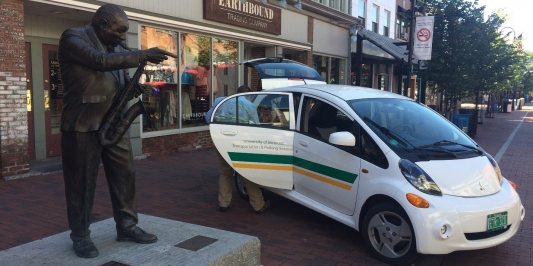 UVM's commitment to energy conservation and climate action is driving ongoing efforts to green the University's fleet.
Background
UVM has already taken several steps to decrease the use of petroleum-based fuels on campus. In 2009, UVM Transportation and Parking Services (TPS) replaced their 9 diesel buses with buses powered with compressed natural gas (CNG). In 2017 TPS acquired the fleet's first electric plug-in cars: an all-electric Mitsubishi MiEV for enforcement staff and an all-electric Nissan Leaf as an employee-pool car. UVM has an on-going effort to add electric, plug-in hybrid, and hybrid vehicles to the fleet and continues to right-size and downsize where possible. 
In 2016, UVM TPS collaborated with Burlington Electric Department to install four dual-port level-2 electric vehicle charging stations across campus, and two level-1 stations in the Gutterson Garage. In 2019, UVM TPS has received grant funding and installed six additional dual-port level-2 EV charging stations on campus. Today, UVM has 10 dual-port L2 stations and 2 single port L1 stations on campus.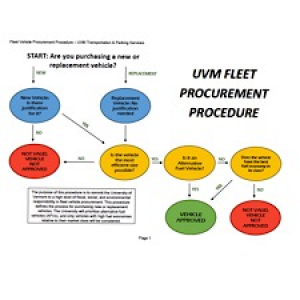 Procedure
When replacing or purchasing new vehicles, UVM's fleet vehicle procurement procedure (PDF) aims to educate departments on more sustainable methods of transportation and the availability of alternative fuel vehicles (AFVs). The process shown below ensures that only AFVs and vehicles with high fuel economies will be considered for purchase.
Per the procedure, once a vehicle has been selected, approved, and purchased, the vehicle must be registered with Transportation and Parking Services and a University Vehicle decal must be picked up and applied. 
Fleet Procurement Procedure (PDF)
Pre-Approved Replacement Fleet Vehicles (subject to change as data updates)
University of Vermont can take advantage of the State Fleet Contract and Climate Mayors EV Purchasing Collaborative to purchase vehicles, including electric and hybrid vehicles from Nissan, Ford, Hyundai, and Toyota. 
UVM Fleet Electric Vehicle Incentives
Burlington Electric Department (BED)
 customers are eligible for a $2,300 rebate on the purchase or lease of a new qualifying all-electric vehicle (EV) or $2,000 rebate on a plug-in hybrid electric vehicles (PHEVs).  BED is also offering customers an $1,300 rebate on the purchase of a used/pre-owned EV or PHEV. Vehicles must have a manufacturer's suggested retail price (MSRP) of less than $50,000 and be registered in Burlington, VT. For more information, including how to apply, see the BED
Electric Vehicles
website.
Green Mountain Power is offering electric car incentives, including $2,200 for a new all-electric vehicle, $1,000 for a new plug-in hybrid, or $1,500 for a used all electric car and $750 for a used plug-in hybrid electric car.  Interested customers are encouraged to visit GMP's EV rebate page for additional details. 
GMP also offers $200 discounts on electric bicycle purchases or conversions.
Federal Commercial Clean Vehicle Tax Credit Businesses and tax-exempt organizations that buy a qualified commercial clean vehicle may qualify for a clean vehicle tax credit of up to $40,000 under Internal Revenue Code (IRC) 45W.  The credit equals the lesser of:
15% of your basis in the vehicle (30% if the vehicle is not powered by gas or diesel)
The incremental cost of the vehicle
The maximum credit is $7,500 for qualified vehicles with gross vehicle weight ratings (GVWRs) of under 14,000 pounds and $40,000 for all other vehicles.
To determine if you vehicle was assembled in North America (and therefore eligable for this credit) use the AFDC VIN decoder. 
Electric Vehicle Charging Station Incentives
Fleet Vehicle Procurement Procedure Requests
Definition
University Vehicle: A vehicle owned by the University used to service the University infrastructure on a daily basis as part of the normal job-related duties or to respond to campus emergencies.  All University vehicles must be registered with Parking Services and display a valid UVM permit.  All UVM permits must be removed and returned to Parking Services upon sale or disposal of the vehicle.