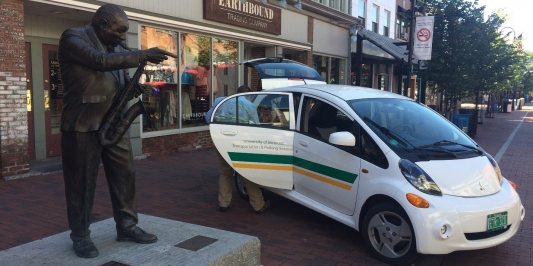 UVM's commitment to energy conservation and climate action is driving ongoing efforts to green the University's fleet.
Background
UVM has already taken several steps to decrease the use of petroleum-based fuels on campus. In 2009, UVM Transportation and Parking Services (TPS) replaced their 9 diesel buses with buses powered with compressed natural gas (CNG). In 2017 TPS acquired the fleet's first electric plug-in cars: an all-electric Mitsubishi MiEV for enforcement staff and an all-electric Nissan Leaf as an employee-pool car. UVM has an on-going effort to add electric, plug-in hybrid, and hybrid vehicles to the fleet and continues to right-size and downsize where possible. 
In 2016, UVM TPS collaborated with Burlington Electric Department to install four dual-port level-2 electric vehicle charging stations across campus, and two level-1 stations in the Gutterson Garage. Since then, UVM TPS has received grant funding and installed six additional dual-port level-2 EV charging stations on campus.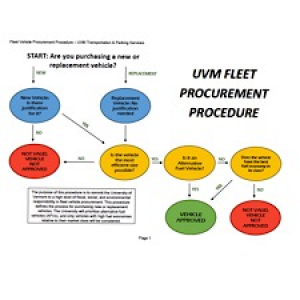 Procedure
When replacing or purchasing new vehicles, UVM's fleet vehicle procurement procedure (PDF) aims to educate departments on more sustainable methods of transportation and the availability of alternative fuel vehicles (AFVs). The process shown below ensures that only AFVs and vehicles with high fuel economies will be considered for purchase.
Per the procedure, once a vehicle has been selected, approved, and purchased, the vehicle must be registered with Transportation and Parking Services and a University Vehicle decal must be picked up and applied. 
Fleet Procurement Procedure (PDF)
Pre-Approved Replacement Fleet Vehicles (subject to change as data updates)
University of Vermont can take advantage of the State Fleet Contract and Climate Mayors EV Purchasing Collaborative to purchase vehicles, including electric and hybrid vehicles from Nissan, Ford, Hyundai, and Toyota. 
Electric Vehicle Incentives
Burlington Electric Department (BED)
 customers are eligible for a $1,200 rebate on the purchase or lease of a new qualifying all-electric vehicle (EV) or plug-in hybrid electric vehicles (PHEVs). Moderate income customers are eligible for an additional $600 rebate for an EV or an additional $300 rebate for a PHEV. BED is also offering customers an $800 rebate on the purchase of a used/pre-owned EV or PHEV. Vehicles must have a manufacturer's suggested retail price (MSRP) of less than $50,000 and be registered in Burlington, VT. For more information, including how to apply, see the BED
Electric Vehicles
website.
Green Mountain Power is offering electric car incentives, including $1,500 for a new all-electric vehicle, $1,000 for a new plug-in hybrid, or $750 for a used electric car (either all-electric or plug-in hybrid).  Interested customers are encouraged to visit GMP's EV rebate page for additional details. 
GMP also offers $200 discounts on electric bicycle purchases or conversions.
$1,500 for purchases of plug-in hybrid electric vehicles

$2,500 for all-electric vehicles
Larger incentives are available for individuals from households that qualify for Vermont's Weatherization Program:
$4,000 for plug-in hybrid electric vehicles

$5,000 for all-electric vehicles
Qualified Plug-In Electric Vehicle (PEV) Tax Credit
A tax credit is available for the purchase of a new qualified PEV that draws propulsion using a traction battery that has at least five kilowatt-hours (kWh) of capacity, uses an external source of energy to recharge the battery, has a gross vehicle weight rating of up to 14,000 pounds, and meets specified emission standards. The minimum credit amount is $2,500, and the credit may be up to $7,500, based on each vehicle's traction battery capacity and the gross vehicle weight rating. The credit will begin to be phased out for each manufacturer in the second quarter following the calendar quarter in which a minimum of 200,000 qualified PEVs have been sold by that manufacturer for use in the United States. This tax credit applies to vehicles acquired after December 31, 2009. For more information, including qualifying vehicles and sales by manufacturer, see the Internal Revenue Service (IRS)
PEV Credit
website. Also refer to IRS Form 8936, which is available via the
IRS Forms and Publications
website.
Electric Vehicle Charging Station Incentives
Fleet Vehicle Procurement Procedure Requests
Definition
University Vehicle: A vehicle owned by the University used to service the University infrastructure on a daily basis as part of the normal job-related duties or to respond to campus emergencies.  All University vehicles must be registered with Parking Services and display a valid UVM permit.  All UVM permits must be removed and returned to Parking Services upon sale or disposal of the vehicle.